Nature Foundation donation supports bike repair stations, exhibit and education programs
9/18/2023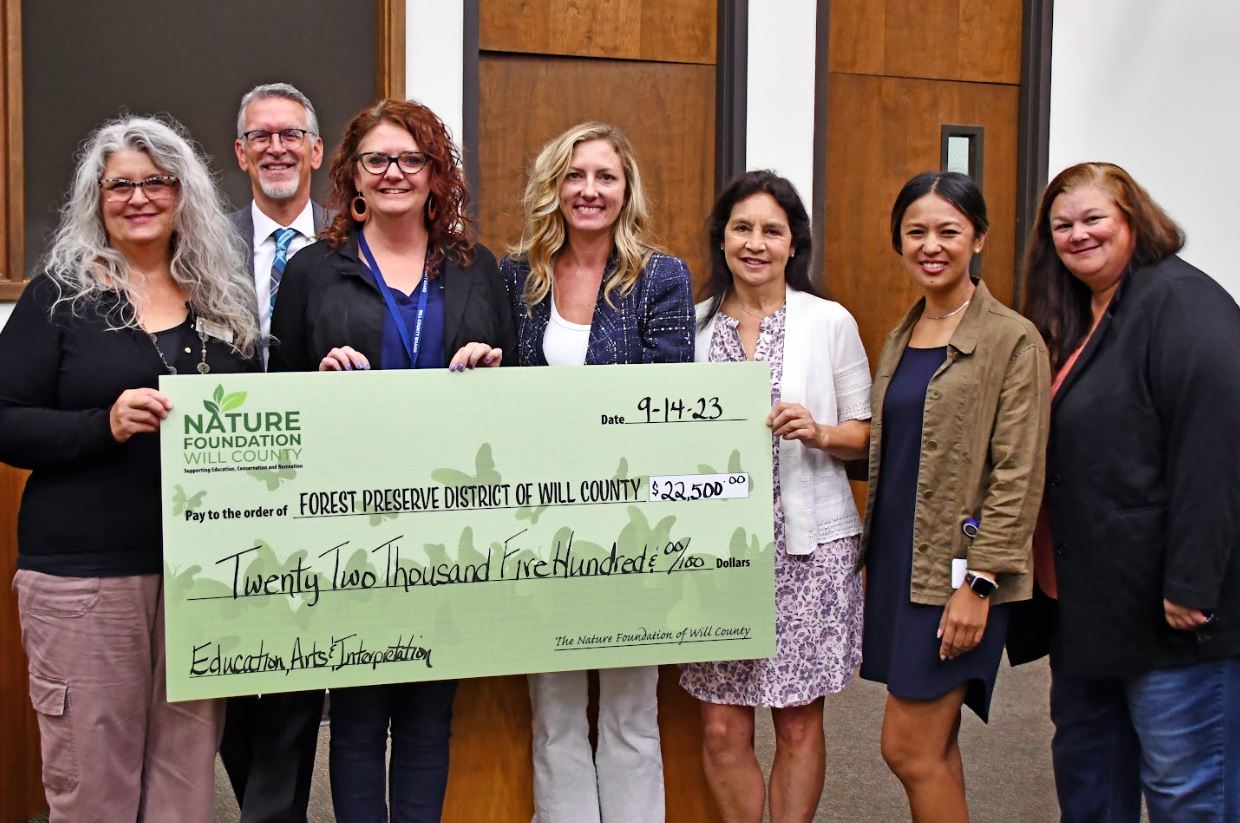 Pictured from left to right are: Nature Foundation of Will County Executive Director Cynthia Harn, Forest Preserve Executive Director Ralph Schultz, Forest Preserve Board President Meta Mueller, Foundation Chairwoman Ragan Pattison, and Forest Preserve and Foundation board members Julie Berkowicz, Elnalyn Costa and Sherry Newquist. (Photo by Glenn P. Knoblock)
The Nature Foundation of Will County presented the Forest Preserve District with a donation check totaling $22,500 at the Forest Preserve Board's Sept. 14 meeting.
Foundation Board Chairwoman Ragan Pattison detailed how the funds will be used.
The money will go to:
"Golden Opportunity: Botanical Illustration" exhibition, which will be on display from Oct. 15 through Dec. 31 at Four Rivers Environmental Education Center in Channahon.
Two new bicycle repair stations installed at two trail intersections: Old Plank Road Trail and the Hickory Creek Bikeway and Spring Creek Greenway Trail and Veterans Memorial Trail. The Foundation donation for this project was a match for funds donated by the Joliet Bicycle Club.
STEM and STEAM education and a Connecting Kids with Nature Bus Scholarship program. Pembina and Aux Sable Liquid Production has partnered with the Foundation to offer support for the Forest Preserve's education programs. As part of a three-year, $40,000 agreement, Pembina is providing $5,000 this year for science and inquiry-based supplies and equipment for educational programs at the Forest Preserve's visitor centers. The Foundation is matching this $5,000. Another $5,000 from Pembina will go to the bus scholarship program, which will remove barriers to outdoor field trips for students attending schools in high-poverty areas by making bus transportation to the visitor centers possible.
Pattison said the Foundation is, "honored and excited to further the Forest Preserve's land stewardship, nature education, wellness, cooperation and sustainability initiatives."