Mothers join Take It Outside Challenge on their quest to keep their sons moving and learning
5/13/2023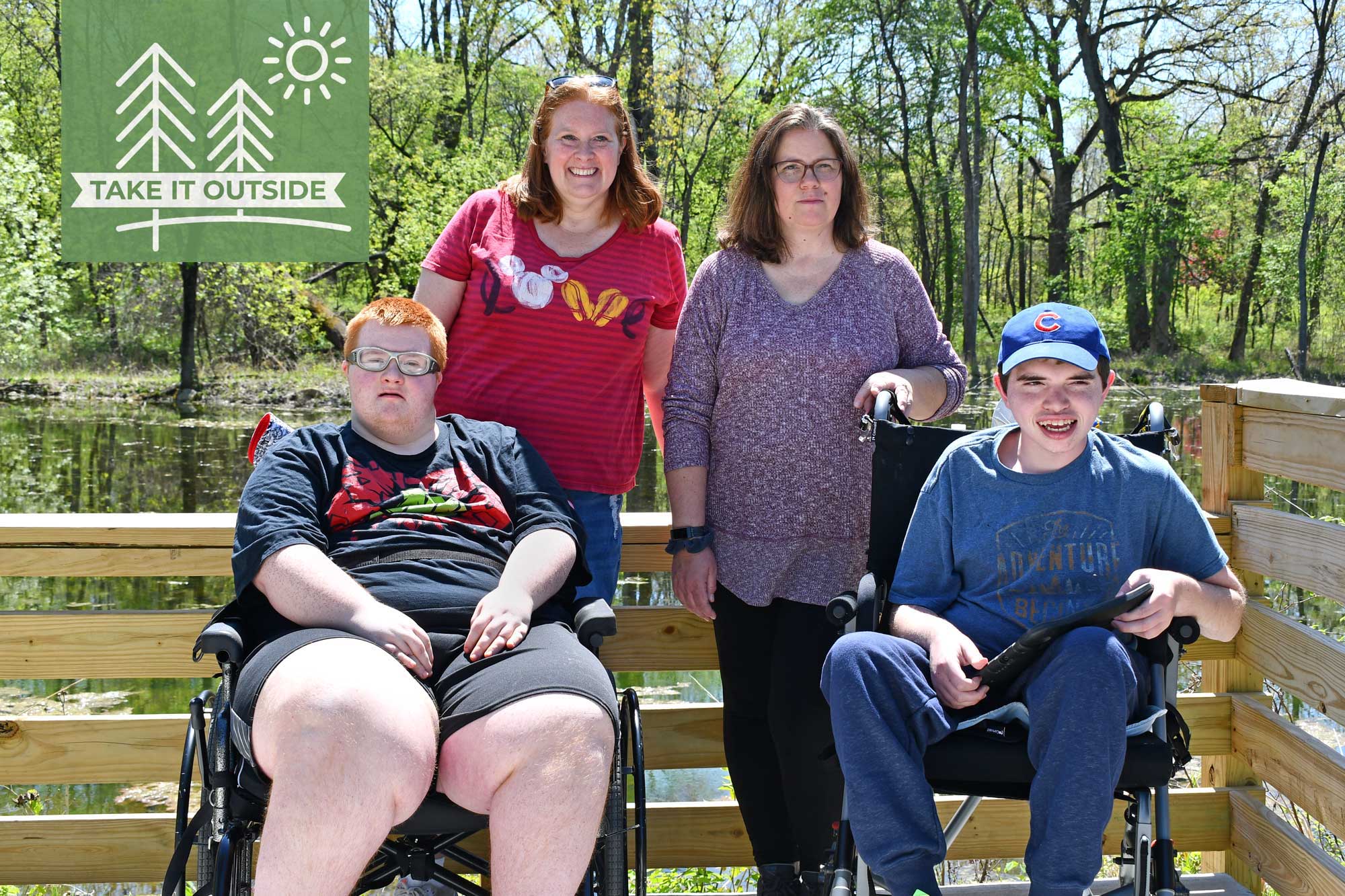 On a sunny spring day in May, two Will County moms slowly guided their sons' wheelchairs along the paved All-Persons Trail at Four Rivers Environmental Education Center in Channahon.
They traveled the short distances to each interactive station to learn about pelicans and eagles, hear a bullfrog bellow and sniff animal scents. Then they took a photo of one of the interactive signs to earn points in the Forest Preserve District's yearlong Take It Outside Challenge. The four adults are having fun completing challenge missions, but the outings have added significance for the moms whose sons both have disabilities.
Wendy English of Joliet and Kristin Zuponeck of Plainfield are determined to provide their sons, both named Cole, with activities now that they have aged out of the school system at 22, which is the age limit for school attendance in Illinois.
During an interview next to Wood Duck Pond, Wendy's voice grew emotional as she talked about the challenge excursions she has taken with Kristin in recent months.
"Kristin and I are using the challenge as an activity, so our boys don't go from a learning and social environment to nothing," Wendy said.
Earlier this year, Kristin saw a story about the Take It Outside Challenge. Instead of sitting at home, "all day and every day," Kristin said she thought the challenge would be fun and she asked Wendy to join her.
To play along, participants download the free Goosechase app on their smartphones and start completing nature-themed missions to earn points and prizes. The challenge is part of a Take It Outside Campaign launched in January that encourages people to get in touch with nature to reap the mental and physical benefits of being outdoors.
The Take It Outside Challenge has come as a welcome relief for the moms and sons since losing their school support systems. It has been a difficult and sad adjustment phase for the families, Wendy said. The Coles' specific disabilities have made it difficult for their moms to find appropriate day programs.
JOIN THE TAKE IT OUTSIDE CHALLENGE
Exploring by touch and smell
Wendy's son has Down syndrome and profound autism and the challenge has been a way to get him around more people.
"My Cole loves saying 'hi' to the people we see," Wendy said. "He is minimally verbal so occasionally he will tell people we see his name to introduce himself. We have had new people come up to us and interact with him and he has met, and loved on, a lot of dogs."
Wendy said the outings are not just recreational.
"Educationally, we have been working on saying basic words and identifying things that are associated with the challenge like fish, deer, duck, rock etc."
Being out in nature has additional benefits, she added.
"I think in general he just loves being in nature where it is peaceful and calm," Wendy said. "He is overwhelmed easily and the walks through the forest are calming. He is very sensory and has been able to explore some things by touch and smell. Some of his favorite things he was able to touch was a walnut and acorn top."
Fresh air and forest animals
Kristin's son has Angelman syndrome, a rare neurological disorder.
"He is nonverbal and has seizures daily," she said. "Cole is very social and loves to give hugs. He also loves to goof around and be silly. He loves animals, especially dogs. He can walk independently and on shorter trails he has no problems. Walking long distances is tiring for him so we bring his wheelchair for those long hikes."
She said she loves that she can discover new experiences and places with her son because of the challenge. She has added new bird species to his electronic "talker" because of the missions. And he has been getting more activity because he can walk on the shorter trails.
"The Take It Outside Challenge gives us the chance to get out of the house, get some exercise, and enjoy the fresh air and forest animals that we see," Kristin added. "I've lived in Plainfield for 25 years and did not know about a lot of the preserves right near me."
A healthy habit
And like many of the challenge participants, the two moms are enjoying the competitive nature of the missions. They spend time researching each mission and they keep an eye on the leader board to see who is at the top and where they rank.
The women said they like that the challenge is free and that they have gone from visiting preserves a few or several times a year to once or twice a week.
"I kind of feel like I've gotten into a habit now of at least wanting to take a walk out somewhere to one of the new places that we've gone," Wendy said.
Both women say they have learned a lot with the missions that ask participants to answer nature questions. And Kristin said she likes that the preserve pages on the Forest Preserve's website describe whether a trail is paved or crushed limestone and how long it is, so the women know if the site is wheelchair friendly.
Wendy and Kristin said completing missions with their Coles has not only given them a way to adapt to this new stage in their lives with their sons out of the school system, but it has also provided the conversation they crave.
"The walks we are taking give us an opportunity to chat special needs moms stuff, a chance to vent about the day-to-day challenges of raising an adult with challenges and an opportunity to talk to another adult," Wendy said. "We've shared a lot of personal stories, what it is like to parent a child with higher needs."
Funding for the Take It Outside campaign is provided by The Nature Foundation of Will County.