Meet Shirlee, our new Blanding's turtle ambassador
2/7/2019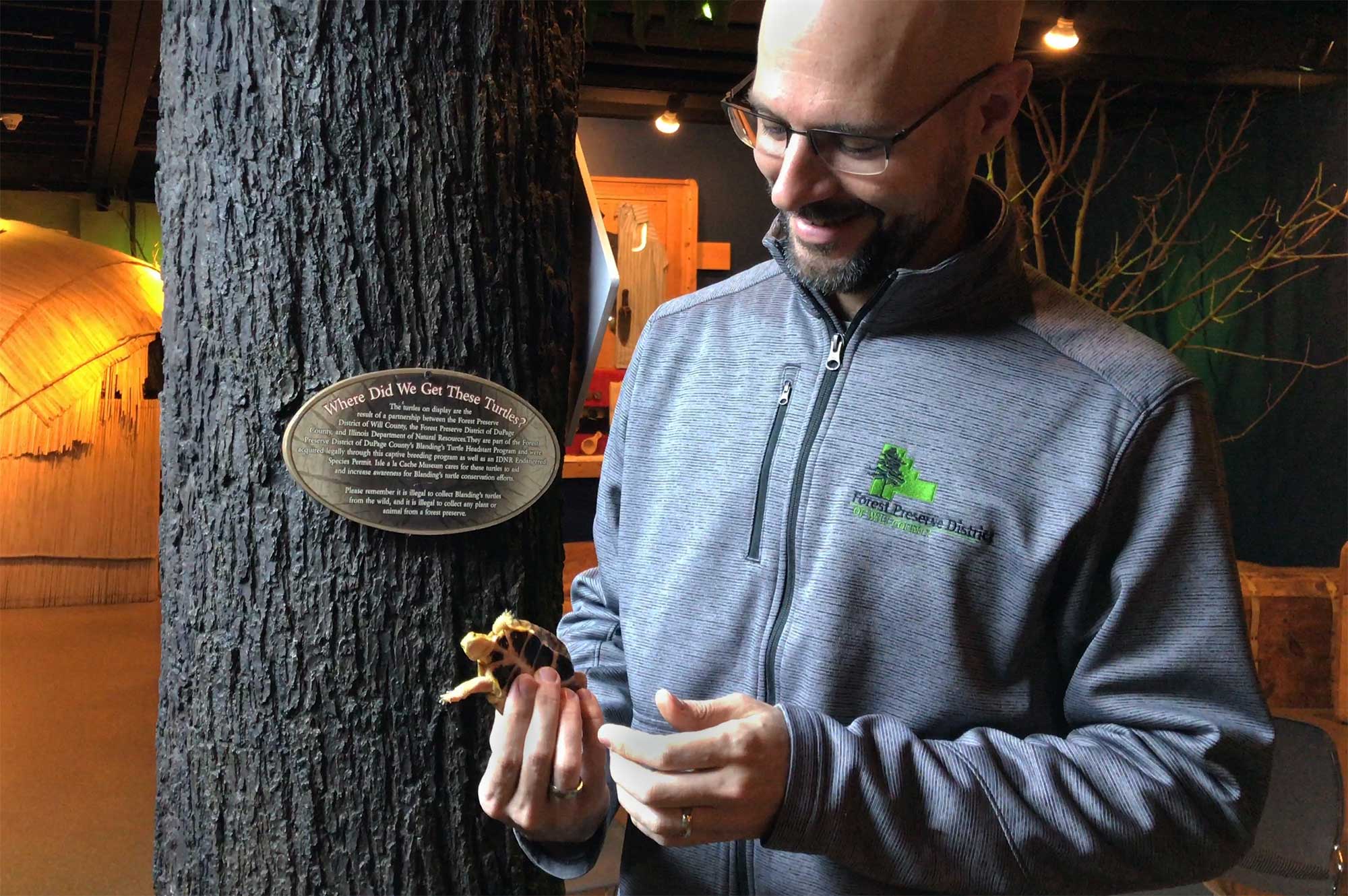 With a new addition to the Blanding's turtle exhibit at Isle a la Cache Museum in Romeoville, the current crop of ambassador turtles will be getting a little help in educating the public on the plight of this state-endangered species.
Shirlee is part of the Blanding's Turtle Recovery Program the District is participating in and that is spearheaded by the Forest Preserve District of DuPage County. On Thursday, she was delivered by FPDDC ecologist Dan Thompson.
This two-year-old turtle was reared by program participant Peggy Notebaert Nature Museum in Chicago, but Shirlee can't be released into the wild due to a genetic mutation that gives her a bright yellow color.
"They were holding onto her until she could find a new home," Thompson said.
Shirlee now joins three other Blanding's turtles on display, two of which also are ambassadors and will spend the rest of their days in captivity due to genetic mutations. The third is part of the Head Start program, where turtles are raised until they're big enough to be released.
"The reason we have a head start (turtle) in there is to show what a natural look is for a Blanding's turtle," said Chris Gutmann, a Forest Preserve facility supervisor, who is overseeing the Will County program.
Once she was placed in the tank, Shirlee didn't waste any time getting acclimated to her new home and did some exploring before retreating into some of the nooks and crannies within the 4,000-pound display tank.
Blanding's turtles in the wild are in trouble for a number of reasons, including their need for larger habitats than other turtles, along with females laying fewer eggs — and less frequently — than other turtles.
"It's a monumental undertaking to bring a species back from the brink of extinction," Thompson said. "We've been able to do so much more with partnerships, something we could not do on our own."
To date, approximately 3,000 Blanding's turtles have been released through the program.
In addition to the four turtles on display, the District is raising 40 other Blanding's that eventually will be released. DuPage County will then provide another batch of hatchlings to raise until they can be released and that cycle will keep on repeating.
With turtles on display at the museum, the hope is to further educate the public on the species and the challenges they face.
"The educational component that comes with (the recovery program), is equally important, if not more," Thompson said.
When visitors get an up-close experience with these beauties, it often provides some memorable moments.
"The ones that are here indefinitely are the ambassador turtles," Gutmann said. "Those are the ones we can take out and are not worried about imprinting. Visitors can get an up close look at them. That's a pretty powerful tool for programs, to have a live animal like that.
"They're usually pretty dazzled," Gutmann said of those who get to see the turtles in person. "Usually, it stokes that curiosity."