'Buzz' nature show tackles nature myths and critter camouflage
3/24/2023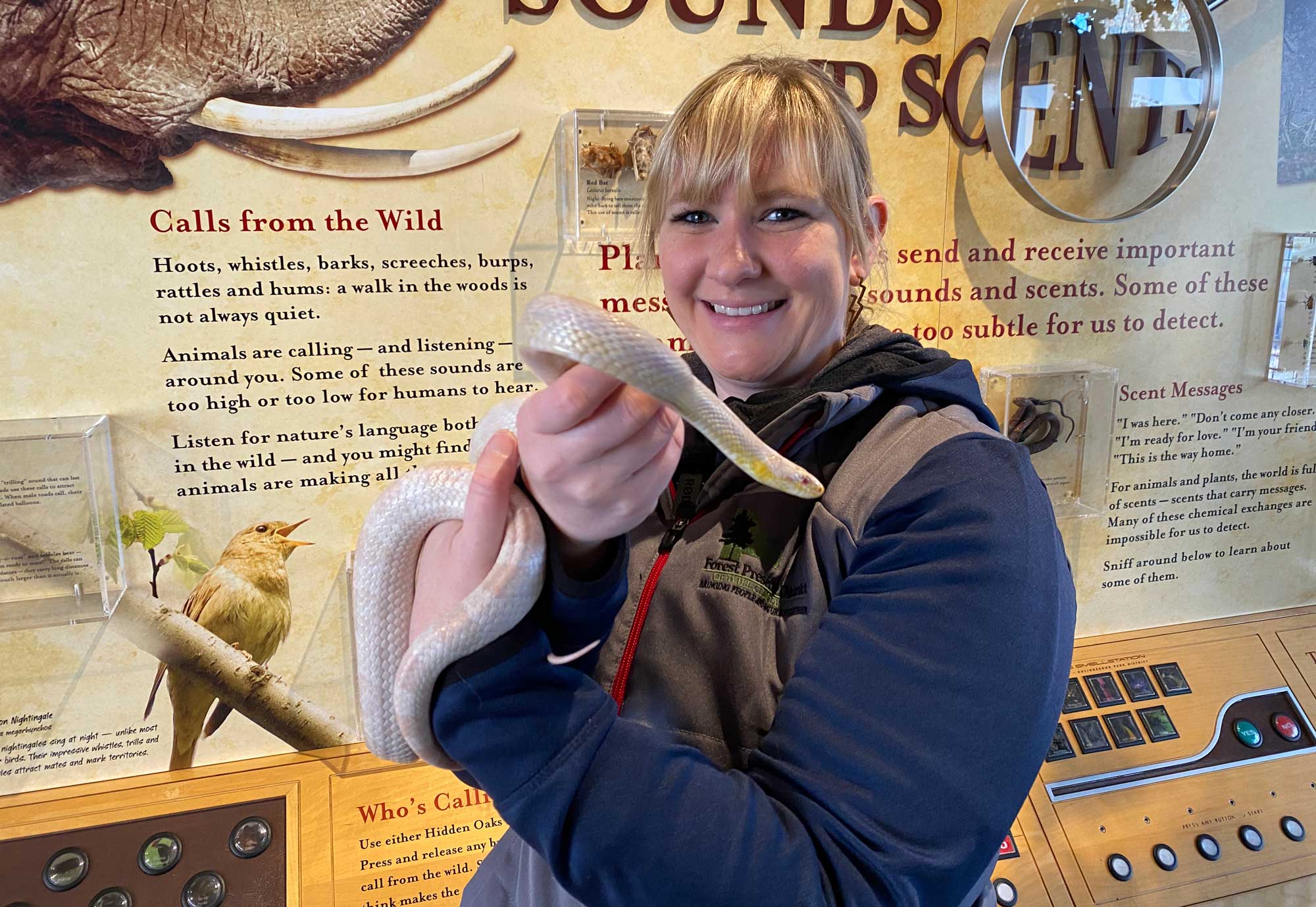 Tune in to the March episode of "The Buzz" to learn about wildlife myths and the colors of nature.
The show will debut at 8:30 p.m. Wednesday, March 29, on the Forest Preserve's Facebook and YouTube pages. The show also can be viewed at 9 p.m. Friday, March 31, and 11 a.m. Saturday, April 8, on WJYS TV, courtesy of funding from The Nature Foundation of Will County. Additionally, "The Buzz" airs on local cable stations in Joliet, Naperville, New Lenox, Romeoville and Tinley Park.
Program host Suzy Lyttle, a Forest Preserve program manager, said the first segment of the March show will deal with common nature myths.
"We have all heard toads can give you warts or the full moon brings out odd behaviors, but how much of that is really true," Lyttle asked. "This was a fun way to tackle common misinformation."
Lyttle said she has a soft spot for wildlife underdogs, including snakes, toads and spiders.
"So this was a chance to help people understand them better," she said. "A lot of these myths were probably used to keep us and the animals safe as we came across wildlife."
But there is no reason to fear these creatures, she added.
"And if you happen to touch a toad – spoiler alert – you won't get warts!"
In the show's second segment, Lyttle describes the many colors of the animal kingdom.
"We will focus on camouflage, warning colors, mimicry, and even touch on how genetics can create some interesting colors," she said. "It is really another example of how nature doesn't miss a beat. Everything has a purpose and place down to the tan feathers on a female bird. The bold stripe of a skunk is even telling you information!"
Finally, the show will focus on turkey vultures, another animal underdog.
"Learn why they circle, how they eat and a few quirks that I hope will have you fascinated by these big raptors," Lyttle said. "They do such an important job as nature's cleanup crew, so it is time we give them a little love in return!"
View all episodes: