Ready, set, go: Map out plan to rocket up Take It Outside challenge leaderboard
8/7/2023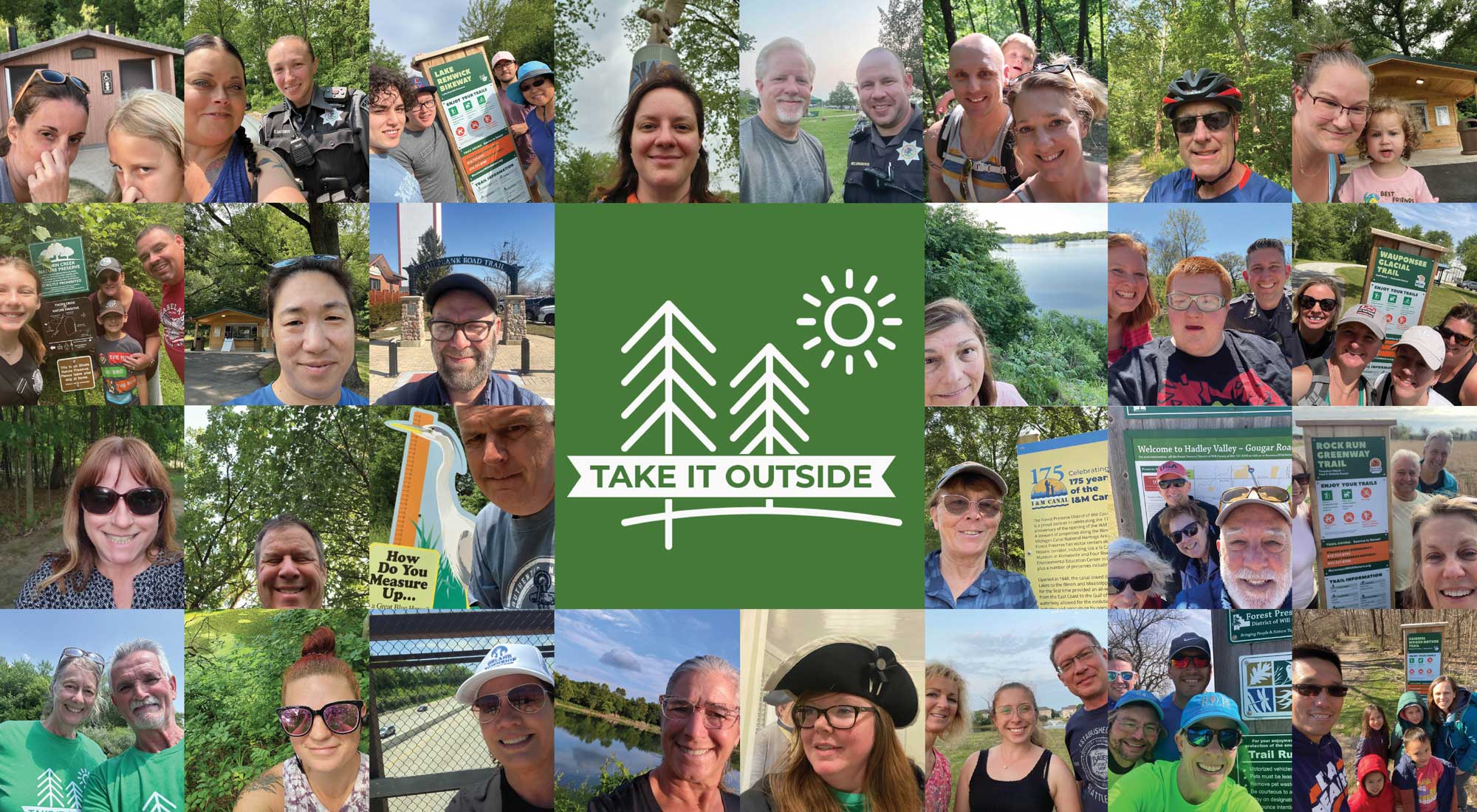 Just heard about the Take It Outside challenge and not sure how to get in the game with so many missions already released and completed? It's not too late to start, and we're happy to help you outline a plan of attack for seeing your name rise on up the leaderboard.
The challenge began back in January, and hundreds of people have been on a wild goose chase across the county since in an attempt to reach the top of the leaderboard while experiencing all the outdoors has to offer along the way. But it's not too late to get in on the action and even compete for the top prizes — MasterCard gift cards in the amount of $500 for first place, $250 for second place and $150 for third place. We're also randomly awarding prize packs each month too.
If you're itching to venture out on your own goose chase now that you're aware that there's cash on the line, make sure you know the basics first. You can get started by downloading the Goosechase app to your phone and joining the Take It Outside challenge by using the code 6DW83B or searching by name: Take It Outside Challenge. Once you're in, you'll be prompted to create a profile, and then you'll be able to see all missions released so far. The missions fall into three categories: photo challenges, GPS check-ins and trivia questions. The photo challenges and GPS check-ins are designed to get you out exploring every corner of the county. The trivia questions test your knowledge about Will County forest preserves and nature in general.
HOW TO JOIN THE TAKE IT OUTSIDE CHALLENGE
"The goal of this challenge is to help nudge people in the right direction to 'take it outside' and reap the many benefits of being in nature. We also want to raise awareness of the vast amount of Forest Preserve open space just waiting to be explored," said Chad Merda, the Forest Preserve's digital communications manager.
With that in mind, the first thing to do is pick how you want to start your Take It Outside adventure. You can rack up some points without leaving the house by answering the many trivia questions. Dozens have been released already, and at 2 points a pop, you can use them to start your climb up the leaderboard by answering questions about the natural world. You don't have to be an expert to claim your points. We include a link to related information with each question so you can do your research, plus you can answer each question as many times as it takes to get the correct answer.
If you'd rather start the challenge in the great outdoors — it is the Take It Outside challenge after all — save your trivia questions for a rainy day and start with photo challenges and GPS check-ins instead. There are hundreds to choose from, ranging in point value from 5 points to 500 points, and with a little planning and know how you'll find yourself skyrocketing up the leaderboard in no time.
Because all the GPS check-ins and many of the photo challenges require you to be at specific places or find specific things in the preserves or along trails, it's a good idea to get organized before heading out for the first time. If you want to start close to home, choose a preserve or preserves near you and knock all the location-specific missions off for those locations on one trip. Many preserves have more than one mission to complete, so make sure you get them all.
You can also make a day of it and plan a route designed to maximize your points. Say, for example, you want to spend the day poking around some of the preserves in southern Will County. Braidwood Dunes and Savanna Nature Preserve, Evans-Judge Preserve, Forked Creek Preserve and Kankakee Sands Preserve all have at least one GPS check-in (some have multiple) that can be completed on a southern swing through the county. Toss in a few photo challenges and GPS check-ins that can be completed along the Wauponsee Glacial Trail and you can make it a mighty productive day and find yourself having racked up several hundred points.
If you'd rather explore preserves in the central part of the county, look for missions at Hadley Valley, Hickory Creek Preserve, Messenger Woods Nature Preserve and Messenger Marsh. Multiple location-specific missions are pegged to each of these spots, so mapping out a day centered around them will have you catapulting up the leaderboard.
Throw in a trip to one of the Forest Preserve's visitor centers to get a bunch of points in a hurry too. Four Rivers Environmental Education Center in Channahon, Hidden Oaks Nature Center in Bolingbrook, Isle a la Cache Museum in Romeoville, Monee Reservoir in Monee Township and Plum Creek Nature Center in Crete Township near Beecher all have multiple missions that can be completed in or around the visitor centers. Tip: Make sure to check visitor center hours before heading out. Most preserves are open 8 a.m. to sunset, but visitor center hours vary from one facility to another.
Keep in mind that many of the photo challenges can be completed in several different preserves or even in your own neighborhood or backyard. For example, you can snap a puddle from recent rainfall just about anywhere, and you can take a detailed shot of tree bark, a spider web, a yellow flower and much more anywhere you stumble across one, whether it's on your patio or at a national park while you're vacationing. Dozens of these photo missions might require that you be in nature, but nowhere specific.
A few of the challenges are designed to get you out in the preserves on the search for our fun-loving mascot, Willy Woodchuck, hiding out at various places. The clues for these missions are intentionally vague, but the more missions you complete, the more likely you are to stumble upon him in his hiding spots. The payoff can be huge, too. The Where's Willy? missions released so far are worth 50, 80 and 500 points!
The Where's Willy? missions aren't the only ones that will get you guessing — and putting some serious miles on your walking shoes. Some of the missions are designed to have you on the hunt for things you can find in only one specific preserve or along one specific trail. The clues will give you a hint as to the location — or maybe not, but that's part of the fun of it.
New missions are released each week, usually about 10 a week. A batch will be released each Sunday morning, then additional missions are released throughout the rest of the week as well. The Sunday morning releases are a good way to plan what you want to accomplish for the week. Map out your plan based on the new releases and what you have left of the remaining missions to maximize your productivity. If you're just getting started, you'll likely find multiple previously released missions that you can do along with the newly released challenges.
Here's a tip before you get started: Read the mission clues carefully and thoroughly. Any submissions that do not complete the mission as stated will be deleted. There's prizes on the line here, so we need to be diligent about making sure everything is on the up and up. But don't worry; if a mission is deleted, it goes back into your remaining missions queue and you can try again.
Another insider tip: Missions are searchable. In the missions tab in the app, you can use the magnifying glass icon in the top right corner to search all remaining or completed missions. Not sure if there are missions to complete at Riverview Farmstead Preserve, for example? Search "Riverview" in the remaining missions tab to see what pops up. Can't remember what the purple coneflower mission is called? Search "purple" or "coneflower" to quickly find it.
Good luck and good hunting on your Will County goose chase!