Illinois Tollway receives 2022 Appreciation of Partners Award
2/10/2023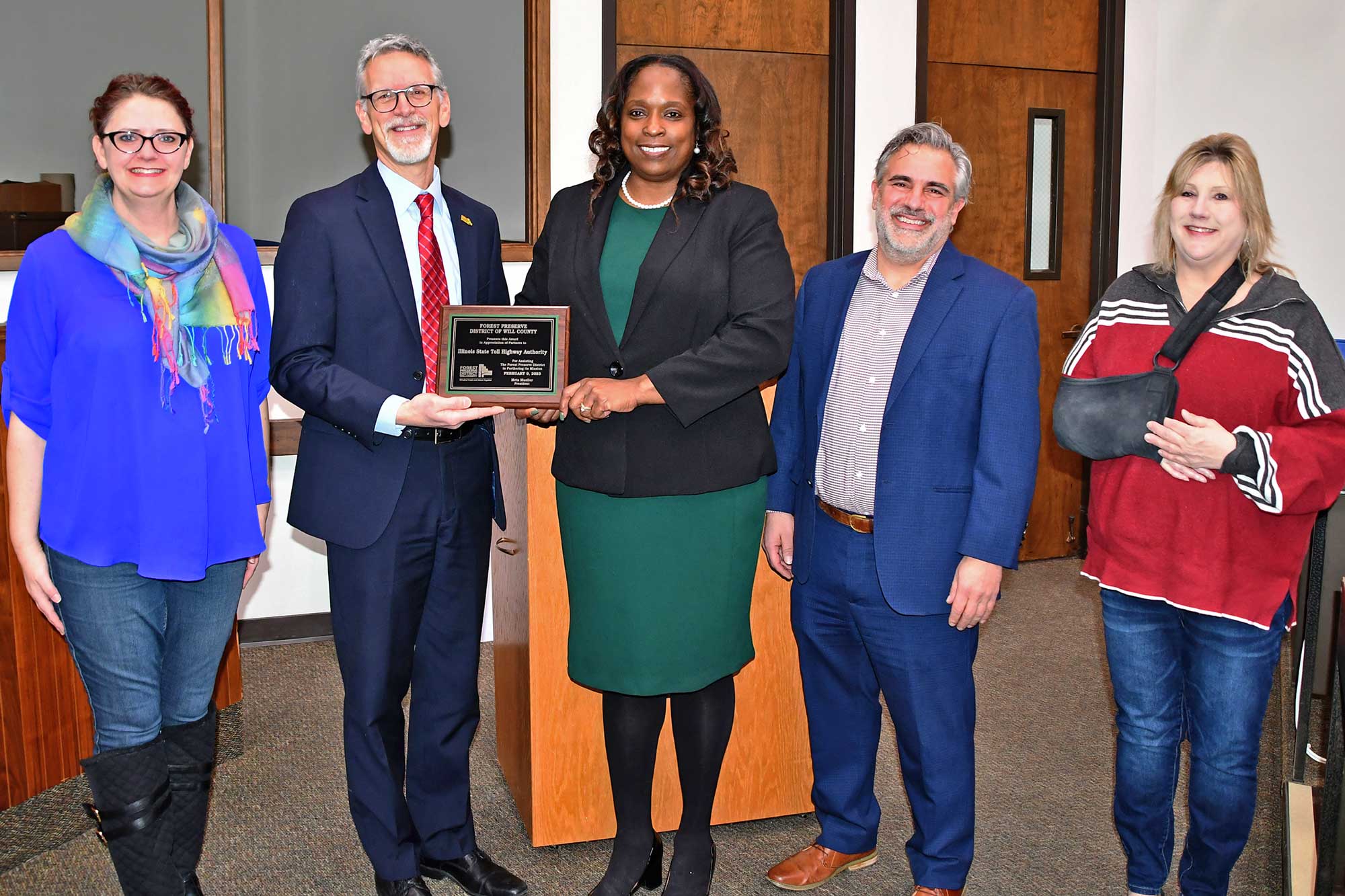 From left, Meta Mueller, Forest Preserve Board president; Ralph Schultz, Forest Preserve executive director; Cassaundra Rouse, Illinois Tollway executive director; Rocco Zucchero, Illinois Tollway chief planning officer; and Annette Parker, Forest Preserve Board vice president. (Photo by Glenn P. Knoblock)
The Illinois Tollway has received the 2022 Appreciation of Partners Award from the Forest Preserve District for assistance in helping make more than 8 miles of the Veterans Memorial Trail a reality.
The planning process for the trail dates back more than 25 years, when the Tollway included a 20-foot right-of-way for the path as plans were taking shape for a 12.5-mile extension of Interstate 355 south into Will County.
A new 3.5-mile section of the path opened in October 2022. That trail segment connects the Spring Creek Greenway Trail with a state-owned trail along 159th Street in Lockport. Another 4.7-mile section of the trail connects Centennial Trail with the Woodridge Municipal Trail.
Tollway Executive Director Cassaundra Rouse and Rocco Zucchero, the Tollway's chief planning officer, accepted the award at the Feb. 9 Forest Preserve Board of Commissioners meeting.
"We are grateful for this recognition of our partnership with the Forest Preserve District of Will County and the Veterans Memorial Trail," Rouse said. "You have done a remarkable job building a beautiful new trail that is perfect for a wide range of recreational activities, (including) biking, rollerblading, running, hiking, cross-country skiing and snowshoeing."
The dedication of a 20-foot right-of-way along I-355, also known as Veterans Memorial Highway, laid the groundwork for the path's creation, said Forest Preserve Executive Director Ralph Schultz.
"The Forest Preserve appreciates the commitment and partnership of the Illinois Tollway to the Veterans Memorial Trail and their commitment to creating connections between local communities and neighboring counties and the expansion of healthy transportation options to help reduce pollution and congestion on the roadways," Schultz said. "With continued commitment of the Illinois Tollway and local agencies, it is the Forest Preserve's hope to make the remaining phases of the Veterans Memorial Trail a reality."
Ultimately, when all of the planned trail segments are completed, Veterans Memorial Trail will stretch about 15 miles from Internationale Parkway in Woodridge south to Route 6 in New Lenox.