Houbolt Road project affects portion of Rock Run Greenway Trail
4/22/2022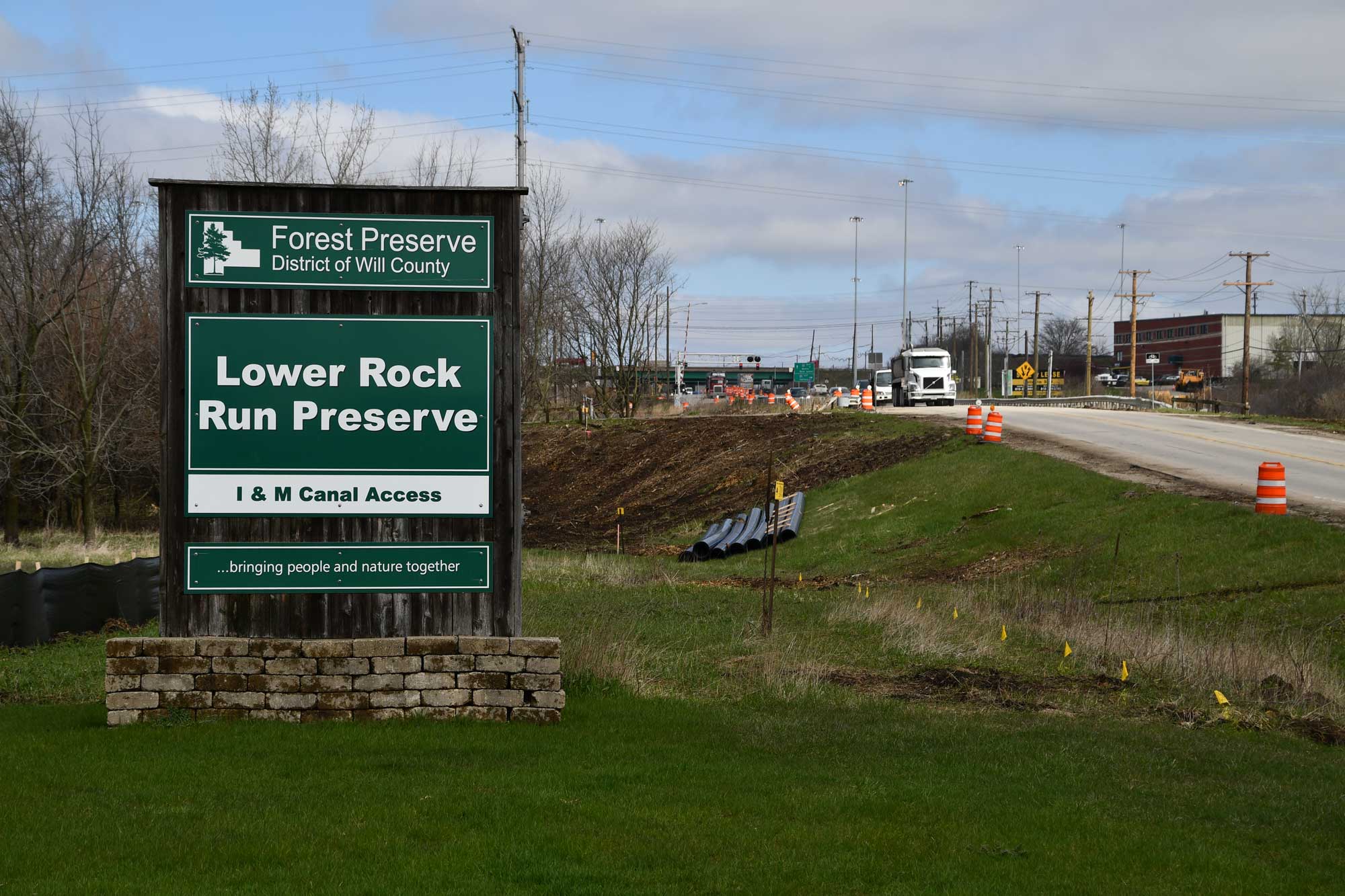 The Houbolt Road Extension Project has begun in Joliet and the work will impact the Forest Preserve District's Rock Run Greenway Trail and possibly the Lower Rock Run Preserve – I&M Canal Access in the coming days and months.
Path users are urged to use caution and take note of trail and road closure signs and other safety measures that will be put in place by contractors.
As the work proceeds, a portion of the trail located between Lower Rock Run Preserve – I&M Canal Access and Rock Creek Boulevard will be affected and closed at times. Conditions could change daily and members of the public are urged to avoid that section of trail during closures.
A 1.5-mile extension of Houbolt Road is being created that includes a 0.4-mile bridge over the Des Plaines River as well as a new diverging diamond interchange for Houbolt Road and Interstate 80. The extension will travel south from U.S. 6 to Schweitzer Road. The project is a joint venture between CenterPoint Properties and United Bridge Partners.
As part of the project, contractors will:
Build a path from just north of the Interstate 80 ramps (where the paved Rock Run Greenway Trail ends now and switches to sidewalk or road shoulder) south to the I&M Canal Trail as part of the new diverging diamond interchange.
Include a pedestrian/bicycle path on the bridge across the Des Plaines River. This will allow the Forest Preserve to extend the Rock Run Greenway Trail south and east to the Wauponsee Glacial Trail and the U.S. Forest Service's 20,283-acre Midewin National Tallgrass Prairie at some point in the future.
Intergovernmental agreement
Also as part of the project, the Forest Preserve District has an intergovernmental agreement with the City of Joliet to extend the Rock Run Greenway Trail along Houbolt/Hollywood Road while also providing the city with the floodwater and stormwater compensation area needed for water displaced by the road project.
The agreement requires the city to:
Build a 10-foot-wide, 425-foot-long trail extension from Lower Rock Run Preserve's entrance on Hollywood Road north to the state's I&M Canal trailhead.
Perform earthwork needed for a future multiuse trail on Forest Preserve property that would stretch approximately 1,000 feet from the preserve to the preserve's southern boundary.
In exchange for the trail work, the Forest Preserve will allow floodwater and stormwater generated by the road project to be released into approximately an acre of Lower Rock Run Preserve. The water compensation plan requires the city to pay for the creation of a 13-acre habitat management unit that will be maintained in perpetuity by the District.
"The water will have a place to go, but the habitat area will be designed in a natural way," said Ralph Schultz, the Forest Preserve's executive director. "And we will be able to remove invasive species, plant native species and increase the biodiversity of the preserve as a result."