Take It Outside participants share stories of getting fit, building confidence, making friends
8/22/2023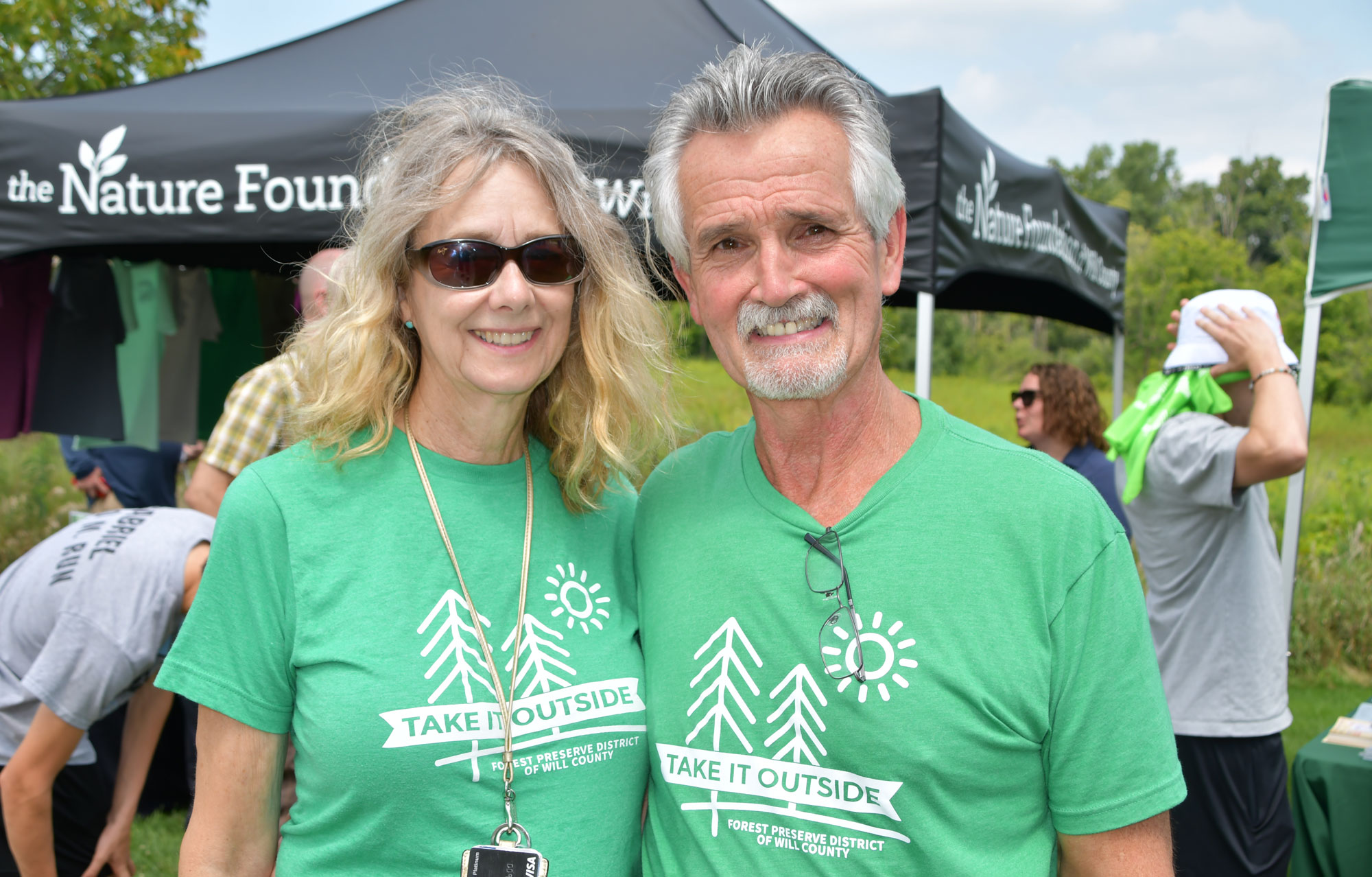 More than 100 Take It Outside challenge participants braved sizzling temperatures on Sunday to compare notes and to get to know each other a little better at a special Meet and Greet program held at Hickory Creek Preserve – LaPorte Road Access in Mokena.
As they sucked down cold beverages and munched on snacks, they shared experiences and the ways the Forest Preserve District's yearlong challenge has changed or improved their lives.
For instance, Fran Stevenson of Joliet said her doctors have been trying to get her to exercise for three to four years but she really wasn't listening to their advice.
"But now I like to exercise because these missions really motivate me," she explained.
She said her chiropractor has even noticed a difference in her movements now that she is strengthening her body by walking on uneven terrain while completing some missions.
"I've gotten to the point where I can bend over and balance better," she said. "At one point, I couldn't do that."
And even though she got lost and went off trail at Raccoon Grove Nature Preserve recently while on a mission, she said she was able to use her new challenge skills to navigate her way back to the trail.
"I've built confidence and a whole bunch of knowledge," she commented.
The Take It Outside Challenge involves completing nature-themed missions by using the free Goosechase app on a smartphone to earn points and win prizes.
Missions have included checking in at various preserves locations, taking photos of items in nature, snapping selfies with preserve landmarks and answering nature trivia questions. To date, around 1,200 people have joined the challenge and completed 75,000 missions.
JOIN THE TAKE IT OUTSIDE CHALLENGE
Including mom
Others who mingled under the welcoming shade of the Hickory Hollow shelter said they have discovered new preserves and are getting outside and moving more than they would have without the challenge.
Connie Borkowski of Lockport takes her mom, Eleanor Litto, 99, out for challenges on occasion.
"I've taken her to Turtle Lake in Plainfield, and we completed three challenges that day," Borkowski said. "And we went to Isle a la Cache and she did some of the activities there. She's even gotten in a couple of pictures with me. I like to get her outside and this is a great way to do it. It's something fun to do and we have a destination."
New friends
Nick Scholtes of Shorewood said he's made new friends by participating in the challenge.
"The social aspect of it is as much fun as the rest of it," he said.
Scholtes said he and his wife, Stacey, have enjoyed bumping into the same people all year while out on missions. And they've bonded with one couple in particular and now consider them friends as well as competitors.
"We met them when we were both going (to take a photo) for the same exact sign at the same time," he said. And after a day of completing missions, "We go out to dinner with them now."
Joanne Nott of Plainfield said she also likes the social aspect of the challenge.
"One day on the I&M (Canal Trail) a whole group of us bumped into each other and stood there for an hour talking," she said. "It's been a great experience, and I've had a great time."
'The best thing'
Finally, Mike Slowik of Bolingbrook, who completed the Forest Preserve District's spring 95-mile hiking challenge in only 20 days in 2022, said the 2023 Take It Outside Challenge is an amazing program.
"We've found forest preserves that we never knew and many of us grew up in Will County, it's crazy," he said. "This has been by far the best thing the District has done. Absolutely. No question about it."
Random prize winners are drawn each month, and the top point-earners will win $500, $250 or $100 Visa gift cards for first, second or third place, respectively, after the challenge ends on Dec. 31.
Funding for this challenge, which is part of a Take It Outside campaign designed to get people outdoors, is provided by The Nature Foundation of Will County.