Get outside this winter to stay mentally and physically fit
11/18/2022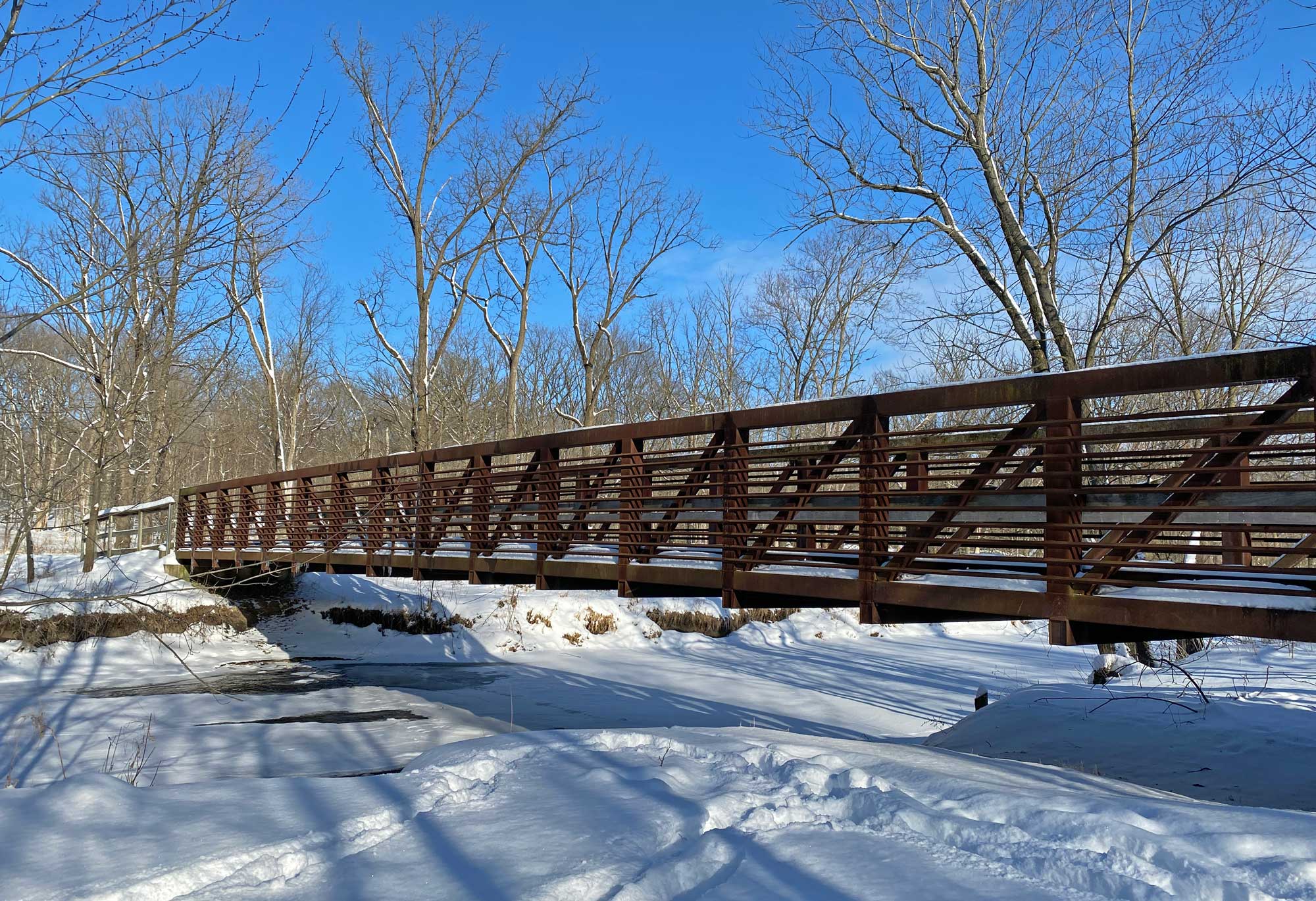 We've already had a taste of snow, and with more to come, it's time to gear up for some winter recreation.
Staying active in winter can help you keep fit year-round, and it can lift your mood and ward off seasonal blues. It's also a great way to bond with your family.
The Forest Preserve District offers many ways to enjoy frosty weather, including sledding, snowshoeing, winter hiking and a variety of outdoor programs. All you have to do is bundle up and get busy.
The District's winter recreation hub is located at Plum Creek Nature Center in Crete Township. Starting Dec. 1 (weather permitting) you can rent a tube at the nature center or bring your own tube or plastic sled to glide down the site's popular 40-foot-high sledding hill. Tube rentals cost $2 per day.
If you're looking for something a little slower paced, the nature center also rents snowshoes to visitors who want to explore snow-covered trails. Snowshoe rentals cost $5 per day for adults; children 12 and younger are free.
Ice skating is allowed on a pond near the nature center. Ice thickness is checked daily during the winter, and the ponds are cleared of debris if the ice is sufficiently thick for skating.
Call the nature center at 708-946-2216 for condition updates.
After experiencing the wonders of winter, visitors can step inside the nature center to warm up by the fireplace, sip some hot chocolate and watch the birds at the feeders. They can also view the resident reptiles, examine a beehive and explore many other interesting exhibits.
Forked Creek Preserve – Butcher Lane Access in Wilmington features a natural hill ideal for sledding in the winter. The area is not supervised nor monitored for snow conditions, and visitors must bring their own sledding equipment to this site.
Cross-country skiing and snowshoeing also are allowed on many Forest Preserve District trails, which are not plowed during winter for this very reason. To view a list of trails as well as the rules and guidelines, visit the Cross-Country Skiing and Snowshoeing pages.
Or if the temperatures are chilly, but the paths are clear, hiking is always a good way to stay fit year-round.
In addition to winter recreation, the Forest Preserve also hosts many winter-themed programs. Check out the Event Calendar to find outdoor hikes, campfires and more.
Also, look for pop-up programs that will be offered when conditions are right at the Forest Preserve's newest nature center, Hidden Oaks in Bolingbrook. Staff at that site plan to offer guided snowshoe hikes and winter exploration hikes when there is enough snow to make it a go.