Injured geese tangled in fishing line rescued at Whalon Lake
7/26/2022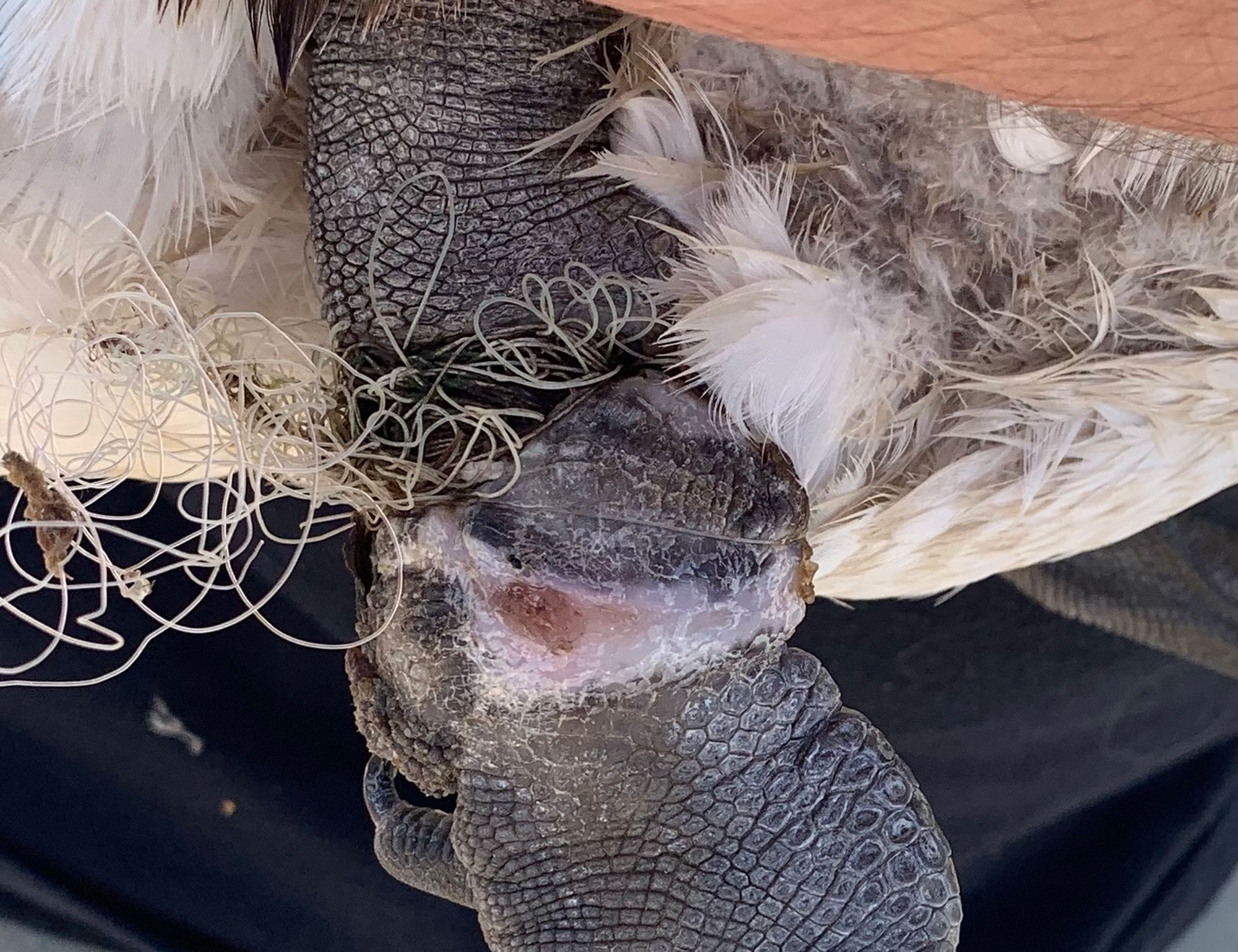 Two injured Canada geese that had fishing line wrapped around their legs were rescued at Whalon Lake in Naperville by volunteers from Chicago Bird Collision Monitors.
When the birds were found, the line was deeply embedded in their legs and could not be removed due to fear that the birds would be in pain. Instead, the rescuers transported the geese to the Willowbrook Wildlife Center in Glen Ellyn for treatment.
The incident illustrates why it is imperative that anglers properly dispose of their fishing line. The line should be cut into pieces less than 6 inches long. The pieces, along with any hooks and tackle, should be placed in the receptacles provided by the Forest Preserve at its fishing lakes or in another covered trash container.
Bird rescue
One of the injured birds had been spotted by preserve patron and nature lover Rob Lewis of Woodridge who said he saw the bird limping and was concerned that the goose was suffering and needed help.
Chicago Bird Collision Monitors was alerted, and Amy and Jerry Tavolino of Wheaton came to the lake Tuesday, July 26, to try to find the bird. They saw it hopping around and apart from the rest of the geese, which is often the case, Amy said.
"When they don't feel good, they're not with the group," she said.
After rescuing the first goose, the Tavolinos noticed another goose by the water's edge holding its foot in the air. That bird also was rescued and both geese were transported to Willowbrook Wildlife Center.
The fishing line was so deeply wound around the geese's legs that Amy said she couldn't cut it loose because it might have been too painful for the birds. At Willowbrook, the birds will get pain killers before the line is removed, she explained.
"Both of them, their legs looked pretty bad," she said. "But I'm hoping there isn't too much damage."
Later in the day Tuesday, Willowbrook staff said the birds were in the rehabilitation unit and being treated for emaciation and wounds/trauma to their legs. One goose has bumblefoot, which is a bacterial infection caused by an injury to the foot.
Call 773-988-1867
According to Chicago Bird Collision Monitors website: "Thousands of birds are injured or killed each year as the result of becoming tangled in a variety of man-made materials. If birds become entangled they are essentially trapped and cannot free themselves without assistance. They are prevented from flying, walking, feeding and avoiding predators. Prolonged entanglement can cause permanent physical damage to skin, feathers, muscles, nerves or bones."
Amy said she and her husband have rescued around 300 geese in the past few years and they specialize in goose rescues. She urges everyone to call the rescue group if they see an injured bird.
"We rely on people, even if they're fishing or going for a walk, to call. Some people think (the geese) can't be helped, but they often can."
To reach Chicago Bird Collision Monitors, call 773-988-1867 (do not text or email). The Chicago-based agency, which was founded in 2003 to rescue birds that collided with downtown buildings, is staffed with volunteers.
And while there are those people who might think of Canada geese as nuisance creatures, Amy said they are fascinating birds.
"They are so bonded with their families," she said.
The geese mate for life and mourn the loss of a spouse, and Amy said she once saw a goose trying to remove landscaping fabric from its sibling's mouth.
"They care so much about each other, but a lot of people don't notice it."
Fishing line can kill
Unfortunately, this is not the first time wildlife has been injured or killed by fishing line in the preserves.