Frankfort snapping turtle crushed by vehicle; motorists urged to slow down
5/19/2023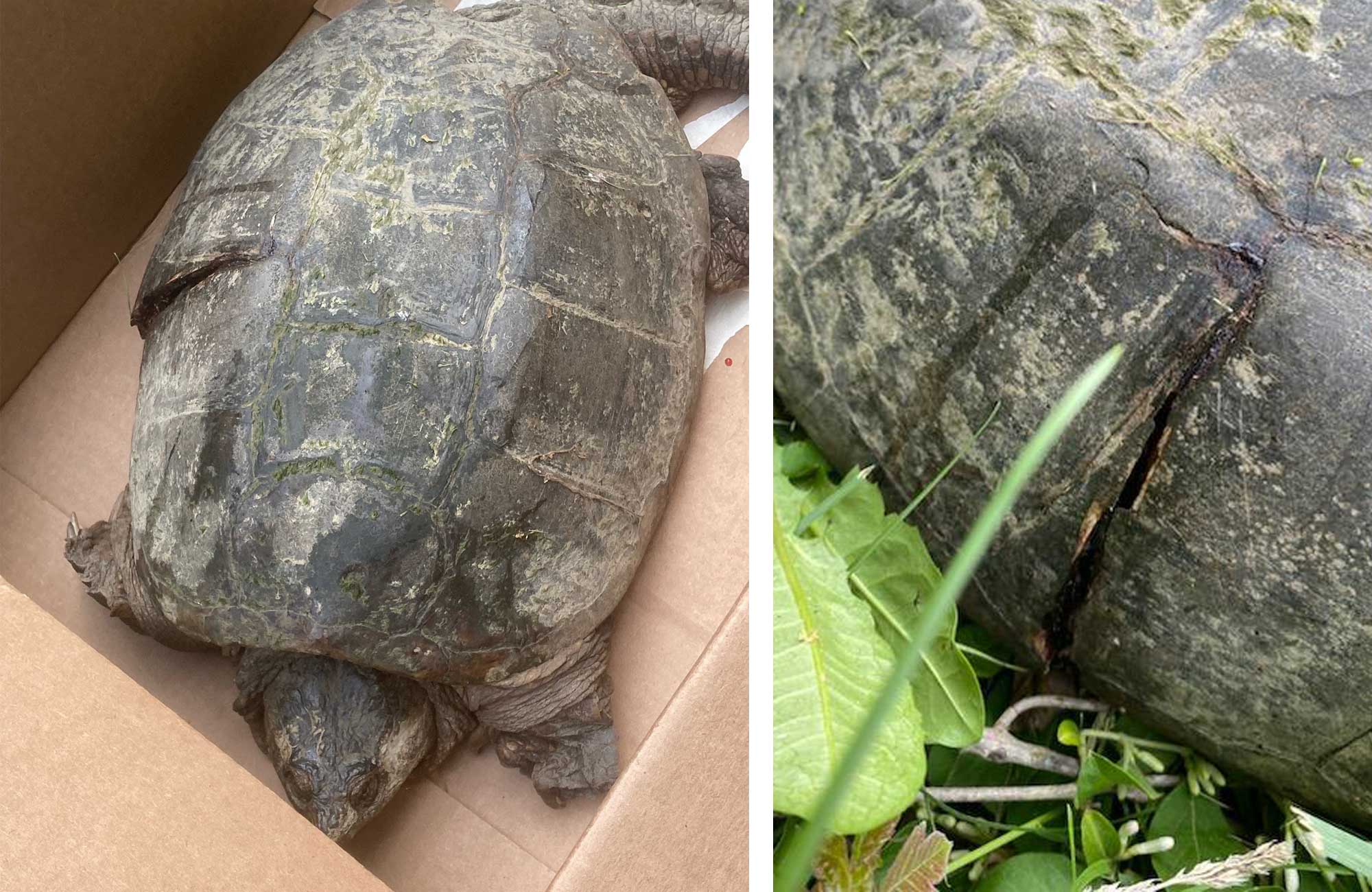 STORY UPDATE: The Forest Preserve District was notified around 10:40 a.m. Saturday, May 20, that the snapping turtle died overnight because he was "beyond dried out." This story was written on Friday, May 19, when the turtle was still receiving care.
A snapping turtle run over by a vehicle and left for dead near a Frankfort subdivision was given a second chance at life.
The Frankfort turtle was attempting to cross Pfeiffer Street south of Laraway Road when it was struck and its shell was crushed. Residents of the nearby Stone Creek neighborhood thought the turtle was dead.
Vehicle-turtle collisions are an all-too-common occurrence, especially during the spring and early summer nesting season. That's why motorists are being encouraged to slow down and watch for turtles in areas where there are ponds and creeks and where turtles might be crossing the roads looking for food, mates or places to lay eggs.
But this particular snapping turtle received a second chance when Stone Creek resident Jennifer Santangelo realized the turtle had moved from its original resting spot and was still alive.
"I noticed that he had moved a few feet, so I got out of my car to check on him," she wrote in an email. "When I touched him, he snapped at me, which I considered a good sign!"
Santangelo called the Forest Preserve District of Will County for help and arrangements were made for her and her husband, Sean, to drive the turtle to St. Charles-based Kane Area Rehabilitation and Education for Wildlife Group, known as KARE. Santangelo said it took four adults to get the turtle into a box for transport.
"He was feisty," she said.
KARE staff kept the facility open late to hydrate the turtle and treat it with antibiotics. The turtle was scheduled to receive veterinary care on Friday, May 19.
Slow down and watch for turtles
Photos taken by Santangelo show deep cracks in the turtle's shell. She said the driver who struck him should have been more careful.
"He's a big snapper – and would have been spotted by any undistracted driver," she said. "And he was in the middle of the street when he was run over, so it should have been very easy to avoid him. I was devastated to see our Stone Creek turtle hurt and left to die, and my neighbors expressed the same sentiments."
Snapping turtles can live in any permanent body of water, according to the Illinois Department of Natural Resources.
"Although aquatic, this species is often encountered on land as it migrates from one body of water to another," the IDNR website states. " …The mating season lasts from April through November, although most mating occurs in late spring. The female digs a nest in soil in mid-May or early June and deposits 20 to 40 eggs."
Female turtles are often struck by vehicles while searching for nesting sites to lay their eggs.
"While an extra-large snapping turtle dubbed 'Chonkosauras' became an internet sensation after it was videotaped lounging in the Chicago River, many more turtles are struggling in their terrain and trying to navigate busy streets at this time of year," said Cindy Cain, the Forest Preserve District's public information officer. "That is why we are publicizing the case of the Frankfort turtle and asking everyone to slow down and pay attention to the roads and watch for wildlife."
Neighborhood mascot
Santangelo said the injured snapping turtle has lived in the neighborhood for several years.
"We have multiple ponds in our neighborhood, and that snapping turtle is seen frequently and is somewhat of a neighborhood mascot," she said. "I think we've all helped him to get safely across streets over the years. … We love him."
Santangelo offered to pay for the turtle's medical treatment at KARE. She said she and her husband want to do what they can to help. Organizations such as KARE, the Forest Preserve District and strangers who assist animals "make this a better place to live," she added.
"We want to do everything we can to support this community: our land, our resources, and the animals and people who reside here."