Foundation makes largest donation to date for Forest Preserve projects, programs 
2/14/2023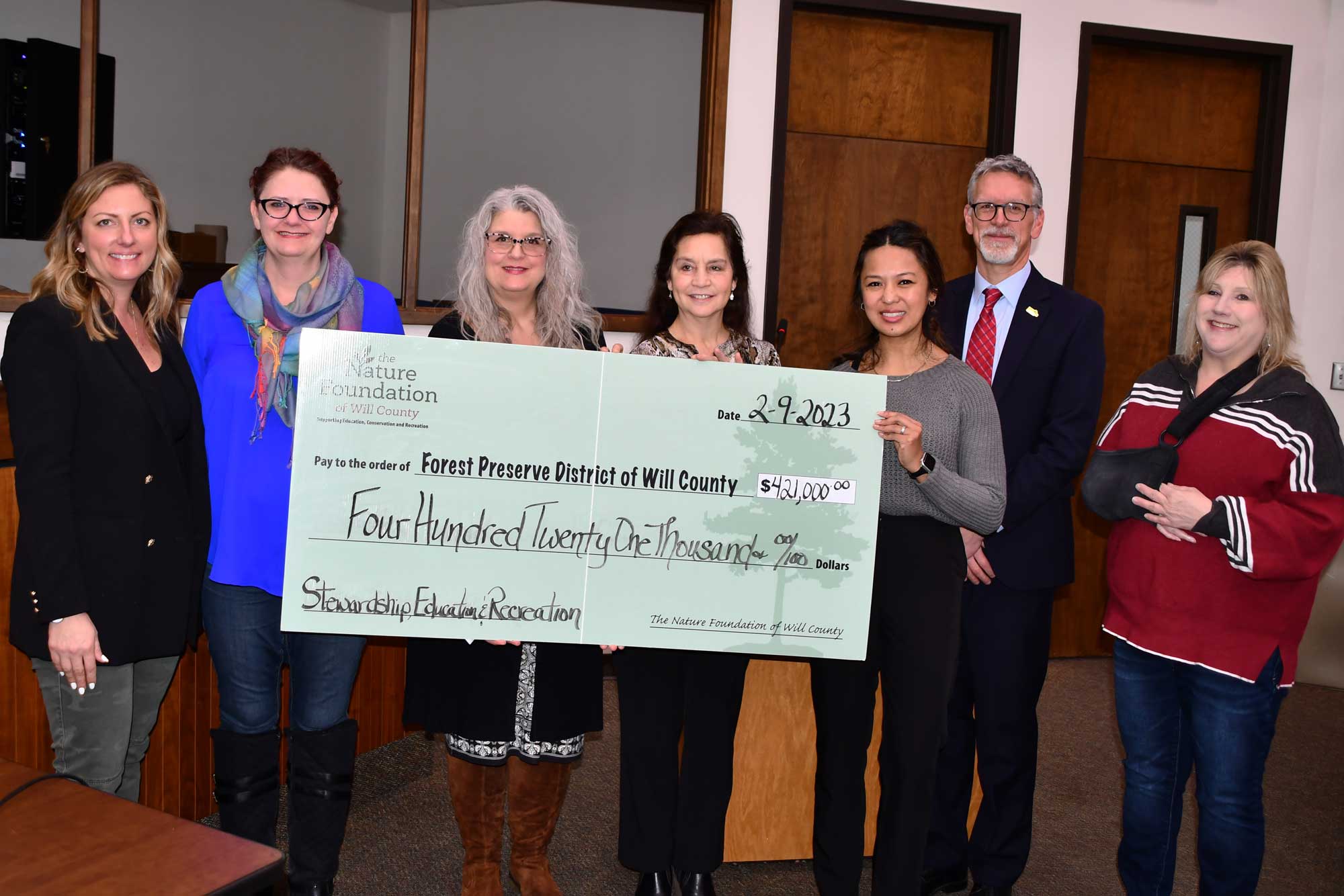 Pictured from left to right are: Foundation Chairperson Ragan Pattison, Forest Preserve Board President Meta Mueller, Foundation Executive Director Cynthia Harn, Foundation Directors and Forest Preserve Commissioners Julie Berkowicz and Elnalyn Costa, Forest Preserve Executive Director Ralph Schultz and Forest Preserve Board Vice President Annette Parker. (Photo by Glenn P. Knoblock)
The Nature Foundation of Will County presented its largest donation to date to the Forest Preserve District during the Feb. 9 meeting of the Forest Preserve Board of Commissioners.
The check totaled $421,000 and the money will be used for a wide variety of Forest Preserve projects and programs in 2023.
Foundation Chairperson Ragan Pattison said the donation would not be possible without the support of the Foundation's stakeholders.
"I'd like to take a moment to thank our growing community of donors and native plant sale supporters for their incredible generosity and for their continued support of these initiatives," she said.
The biggest portion of the donation, $375,000, came from the Dollinger family. The donation, and a second installment of an equal amount that will come later in the year, will be used for improvements at Lake Chaminwood Preserve near Channahon.
The Foundation's native plant sales in 2022 raised $45,500. Another $57,000 raised during the Foundation's year-end campaign came from both individual and corporate donors.
The corporate donors and their projects are: Enbridge Alliance, birding events at Four Rivers Environmental Education Center in Channahon; Pembina, Forest Invaders School Program and natural area restoration work at Four Rivers; and the Vulcan Materials Company Foundation, five wayfinding signs at Whalon Lake preserve in Naperville.
Additional Foundation funding will be used for: "The Buzz" nature show, Willy's Wilderness website, a new costume for Willy the Forest Preserve mascot, the Take It Outside Campaign, and the "Journey Stories" exhibition at Isle a la Cache Museum through April 30.
Additional donation dollars will be used for four health and wellness events: The Will County Triple Crown Hiking Challenge, Woods Walk, the Harvest Hustle Virtual 5K and a Pumpkin Fun Run. The Foundation also will continue to support the Forest Preserve's volunteer stewards as well as youth engagement opportunities.
Created in 2010, The Nature Foundation of Will County's Board began meeting in 2014. The Foundation is a 501(c)(3) charitable organization dedicated to supporting the Forest Preserve District's education, recreation and conservation programs.