End of Watch: Forest Preserve mourns beloved K-9 Jullo
8/22/2022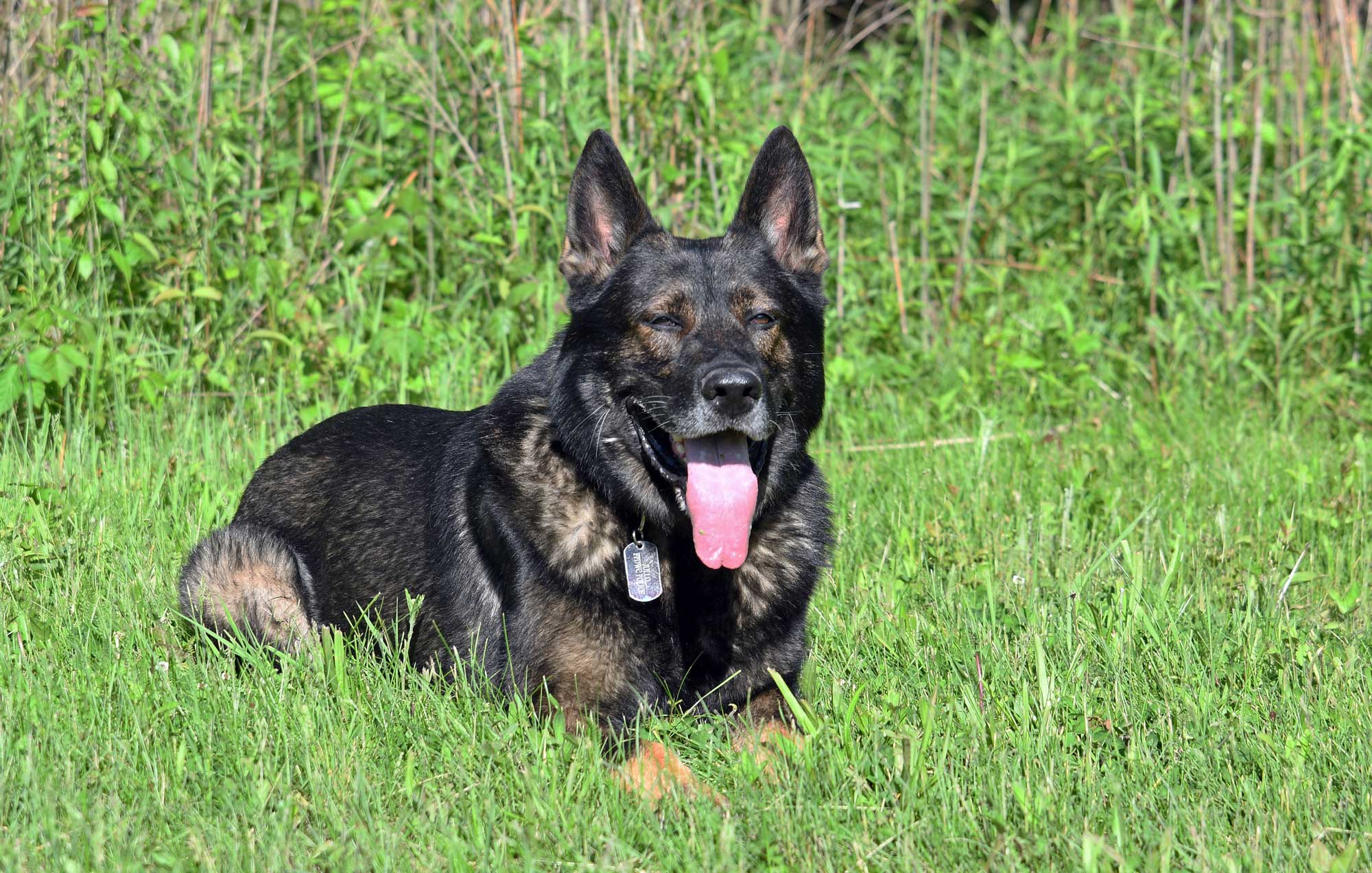 The Forest Preserve Police Department said a final farewell to former police dog, Jullo, a German shepherd that served the District with distinction for eight years before retiring in 2020.
An End of Watch ceremony was held for the 10-year-old German shepherd on Saturday, Aug. 20.
"Jullo was surrounded by family, friends and neighbors," said Tracy Chapman, the Forest Preserve's deputy director and public service administrator.
After retiring due to severe arthritis, Jullo lived with his handler, former Forest Preserve Police Sgt. Dean Klier, who now works for Plainfield police.
"We all huddled in the garage as the rain came on and off," Chapman said of the ceremony. "The residential street was lined with squad cars with their lights on. There were about 16 officers there, and 10 other K-9s."
In his final hours of life, Jullo found two hidden items as he was trained to do.
"Dean and other handlers verbally praised Jullo as he got his last reward," Chapman said. "Dean, his two daughters and his wife, Lauren, were visibly upset as Dean carried Jullo into the awaiting veterinary ambulance. His wife and daughters joined him in the back of the ambulance. The officers and their K-9s waited silently in two lines in the steady rain, as Jullo was put to rest."
Though Jullo retired in 2020, he was still a part of the Forest Preserve family and will be dearly missed, said Forest Preserve Deputy Chief David Barrios Jr.
"I still have his K-9 trading card in my office and could remember the numerous times when Jullo tried to eat my lunch while he was at the station," Barrios added. "He was a great dog when at work and especially at home with Dean and his family. He put a lot of smiles on people's faces when out in the public and touched many hearts. This is a great loss and Jullo will be truly missed."
During his time on the police force, Jullo served as an ambassador, sniffed out a burglar and starred in educational videos.
In addition to helping catch a burglar in Beecher, Jullo assisted several neighboring police departments looking for illegal drugs. He tracked a bank forgery suspect in Mokena, and he assisted in numerous drug arrests. Jullo also appeared, along with Klier, in a "Don't Be A Jerk" series video designed to get dog owners to the follow the rules while using Will County forest preserves.
SUBSCRIBE TO OUR YOUTUBE CHANNEL
Jullo was a great ambassador for the department as he attended Forest Preserve District events and community gatherings as a representative of the Forest Preserve, Chapman said.
Jullo replaced the Forest Preserve's first K-9, Rosie Redtracker, who was a bloodhound.
"Jullo was a wonderful K-9 employee, as was Rosie," said Chapman, who was the District's first K-9 police officer and Rosie's handler. "They really knew how to fall in line and take the lead."