Forest Preserve enters the geocaching game with five hidden treasures
7/7/2022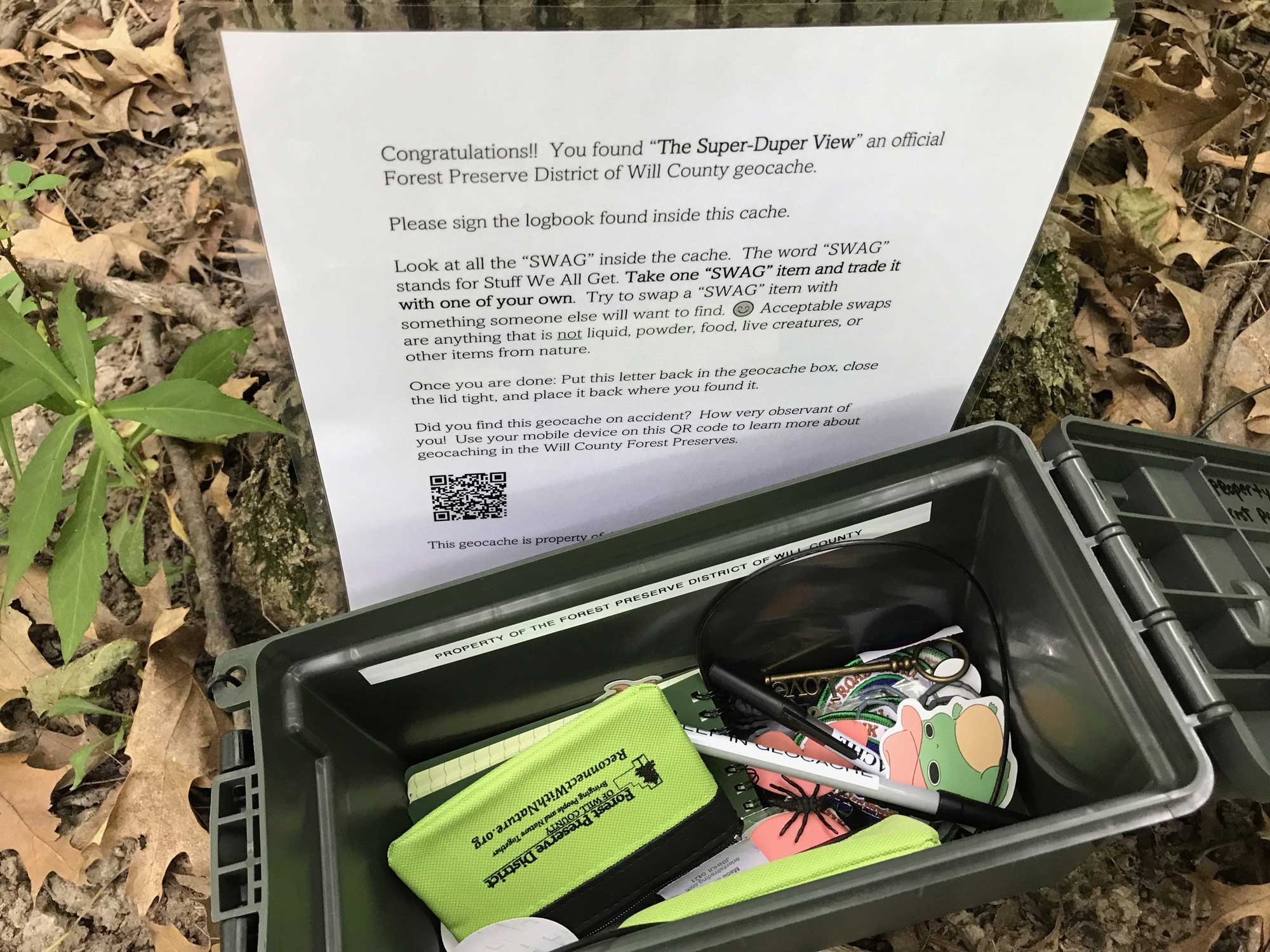 The Forest Preserve District has five treasures waiting for discovery in its preserves as part of a new geocaching recreational offering that kicked off July 1.
The geocaches, which each have catchy, clue-filled names, have been placed less than one-quarter mile off trails in the brush at these locations:
Rock Run Fun at Rock Run Preserve – Black Road Access
Super Duper View at Hammel Woods – Crumby Recreation Area
Hickory Hideaway at Hickory Creek Preserve – LaPorte Road Access
Fork-sythe at Forked Creek Preserve – Forsythe Woods
Doggie Dog World at Messenger Marsh preserve
Geocaching has been allowed at select preserve locations in the past by outside groups and individuals who first obtained permits.
"But this is the first time the Forest Preserve is sponsoring its own caches for the public on a regular basis," said Jen Guest, the Forest Preserve's recreation coordinator.
To take part in this activity, visit www.geocaching.com to download an app to your smartphone that will help you find the District-sponsored geocaches as well as those placed by others.
"The app will give you clues and guide you using the GPS in the app to within a small radius of the geocache location," Guest explained. "Then it's your job to look close to find the caches."
Geocaching is a popular activity, and the Forest Preserve District wants to provide another fun reason to visit the preserves.
"Our geocaches are great for beginners who are just starting this sport," Guest said. "Especially for people who are looking to enjoy the outdoors in a fun and interactive way."
Once you find a geocache, check out the SWAG inside. SWAG stands for "stuff we all get," Guest explained.
"You can also sign the logbook and track all your found caches in the geocaching app. It's a good idea to bring something to trade with the SWAG inside. You take something and leave something behind for someone else to find. Our caches are pre-stocked with fun items to trade."
Depending on the popularity of the program, Guest said the District might add more caches in the future or change the locations.
Forest Preserve staff will maintain the District's geocaches. If the caches need attention or you have questions about the program, email permit[email protected] for more assistance.