Fishing line recycling program protects wildlife from injuries and death
3/21/2023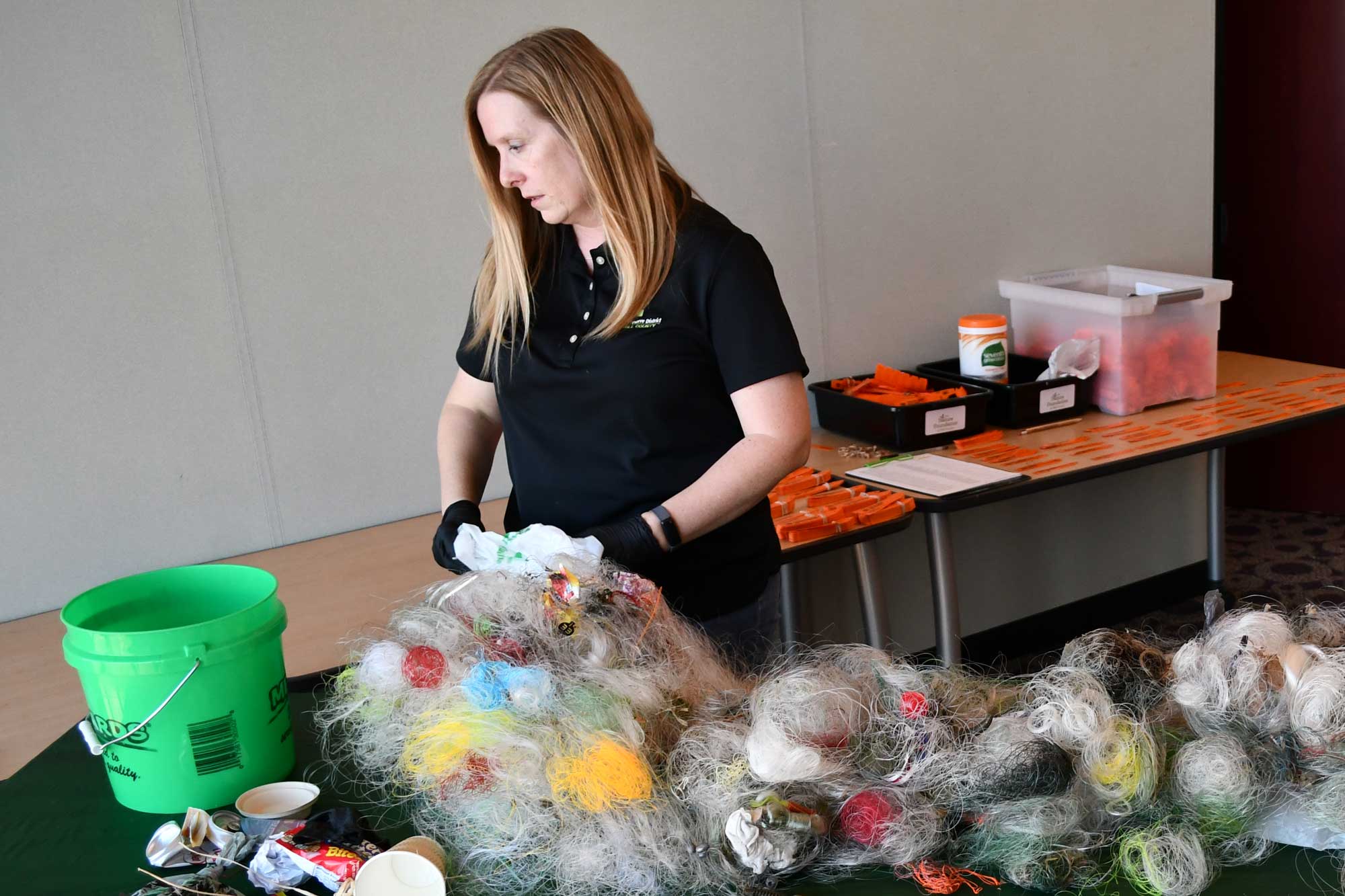 Jen Guest recently picked through a tangled mass of fishing line stretched out before her on a table searching for items that didn't belong.
She carefully removed hooks, fishing lures, broken bobbers, litter, leaves and twigs from the pile of monofilament so it could be sent off for recycling.
The fishing line was collected in 2022 from around 25 monofilament recycling tubes installed at Forest Preserve fishing locations. The tubes are part of a monofilament recycling program that is designed to get anglers to recycle fishing line rather than leave it in the water, along the shoreline or hanging from trees where it can harm and kill wildlife.
"We encourage people to recycle their fishing line," said Guest, the Forest Preserve's recreation coordinator. "If they get a snag or get their line cut, instead of leaving it out where animals can get entangled in it, we want them to put the line in the recycling containers."
Devastating effects
Fishing line segments carelessly left behind or tossed away can result in devastating effects on wildlife by ensnaring their feet, wings, necks or bodies and causing injuries or death when they struggle to be free. The Forest Preserve has documented many examples of creatures that have suffered because of monofilament that was left behind in the environment.
A pelican had to be euthanized after being tangled in fishing line at McKinley Woods, a dead egret was found hanging from a tree at Lake Renwick and a great blue heron died at Rock Run Rookery after being ensnared in fishing line in a tree. Two emaciated Canada geese had to be rescued and required treatment for leg and foot injuries as well as infections after they were found with fishing line wrapped around their legs at Whalon Lake. A robin suffocated to death after being caught up in fishing line and helplessly hung from a tree at Isle a la Cache preserve.
That's why anglers are being encouraged to place their fishing line in the monofilament containers where it can't harm wildlife.
Throughout the year, volunteers empty the containers monthly and turn the collected line in to the closest Forest Preserve visitor centers. In mid-March, Guest collected all the bags from 2022 and sorted through the mass of line, weeding out unrecycleable items, so it could be shipped to the Spirit Lake, Iowa-based Berkley Conservation Institute.
"They're going to melt it down into pellets and they will recycle the pellets into something new," she explained. "The fishing line gets a second life. And by recycling it and keeping it out of our waterways and trees, it helps protect our animals."
Berkley makes tackle boxes, fishing line spools, fish habitats and toys out of the pellets. The institute has recycled more than 9 million miles of fishing line since 1990.
The Forest Preserve's monofilament recycling program began several years ago, and new tubes have been added each year. Many of the tubes were made by Eagle Scouts.
Braided fishing line or line with metal in it cannot be recycled, but Guest said anglers are still welcome to drop those items into the monofilament recycling tubes so the materials can be disposed of properly.
"We'll be able to pick through it and dispose of it in a closed container so that animals won't be harmed by it," she said.
Cut or recycle your line
Guest encourages all anglers to cut discarded fishing line into small segments of 6 to 12 inches and dispose of them in monofilament recycling containers or covered trash containers to protect wildlife. (Monofilament cannot be recycled through curbside recycling.)
For those who plan to use the Forest Preserve's monofilament recycling containers, Guest has another request: please use the tubes only for fishing line (and hooks and lures if they can't be separated).
"If you put bottles, chewed gum, candy wrappers or dog poop bags in the monofilament recycling tube, it's not beneficial to the program because volunteers still have to pick those items out and dispose of it and that's really disgusting," she said. "And if you put anything in there that smells or has food, sometimes animals will try to get into the containers and that could be harmful to them, too."