For father-and-son duo, Woods Walk is an opportunity for bonding time
11/14/2022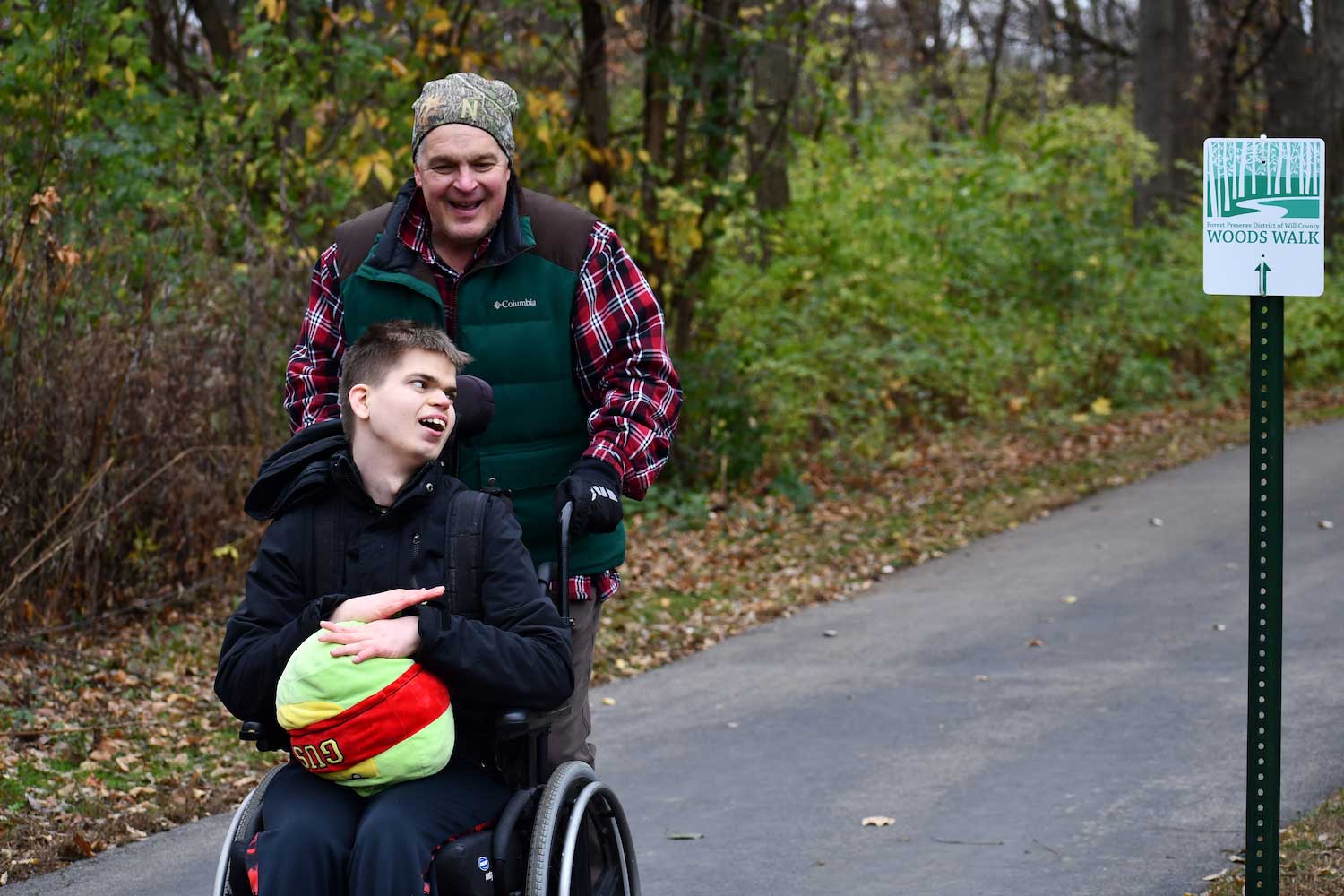 For Mike Volkmer and his son Jared, Woods Walk has become a way for the two to spend time together in nature but also to visit places they otherwise never would have.
Volkmer found out about Woods Walk a few years ago in the Forest Preserve District's weekly newsletter and decided it would be a good thing to do with Jared.
"I thought it would be something Jared and I could do to get us out of the house," Mike said. "We both enjoy the time outside, and unfortunately we seem to spend a lot of time inside. It was a reason to get out, and we've gone places we would have never even considered going."
Usually it's just Mike and Jared who do the hikes together as a chance for some father-son bonding time, but occasionally Mike's wife will tag along with the duo when her schedule permits. They try to get started early on in the program, doing one hike a week as their schedule allows until they finish their seven hikes.
"We like to do the long ones, and we move," said Mike, an engineer. "We go about 3 1/2 or 4 miles an hour."
Jared, 25, has physical and intellectual disabilities and is nonverbal. He walks with the assistance of a walker and also uses a wheelchair. The father-son duo did some of their early Woods Walks hikes with Jared starting with his walker and transitioning to his wheelchair, but these days they mostly stick to the wheelchair.
Many of the Woods Walk trails are limestone or paved, making them easy to manage with the wheelchair, but the Volkmers don't let the natural surface trails deter them, although they can be a little more difficult to maneuver. That was the case this year at Messenger Woods Nature Preserve, but it was easier to manage because Mike's wife had decided to tag along for that trip.
This is the third year the two have completed Woods Walk, and because of it they've been to places all across Will County. In fact, some of the preserves more far flung from their Plainfield home have become Woods Walk favorites, including Kankakee Sands Preserve in Custer Township and Goodenow Grove Nature Preserve in Crete Township. In fact, their favorite hike in their three years of completing Woods Walk is Goodenow Grove Nature Preserve. Mike said it's a place they never would have thought to visit because of how far it is from their home.
He said he enjoys the hikes because each is different. The varied types of habitat keep it interesting, even if some of the trails at times seem like wood-less walks, Mike joked.
"If you're there at the right time, they're very colorful," Mike said of the preserves, adding that even the less wooded preserves, like Prairie Bluff Preserve in Crest Hill, can be beautiful in fall. "In the summer, trees are trees. In the fall, when the leaves start to turn, it's all timing. If you get there when the leaves are the right color, it can be really cool."
Such was the case this year when they visited Hammel Woods. "It was gorgeous," Mike said. "A sunny day with light coming through, the yellow and the orange leaves. It was really cool. We just happened to hit that little window."
Jared likes to be outside, and he likes to visit new places, so Woods Walk is a natural choice for the two. Plus he's a people person, Mike said, so the trails he enjoys most are the ones that are busy with people and wildlife to look at. This year, Mike said most of the hikes they did were on busy trails, thanks to the good weather we experienced in early fall.
Sometimes, their Woods Walk trips inspire future adventures, but by bike. Mike enjoys biking and rides regularly near his home. He has a trailer he can use to bring Jared on these rides, and sometimes they enjoy their Woods Walk hikes so much that they make plans to visit again with the bike in the spring.
Mike said Hammel Woods is a favorite preserve of theirs because it's close to home and someplace they have been visiting for many years. It was included in Woods Walk this year, but they usually visit the preserve a few times a year otherwise as well.
Jared is the youngest of the Volkmers' four children, and they made it a point to spend time outside with their kids from the time they were young. Oftentimes it was just taking family walks on paths and trails near their Plainfield home, but when that felt repetitive an adventure to Hammel Woods would often be in order, Mike said.
"When the kids were all home, we came here quite a bit because it was a good place to take a walk," Mike said of Hammel Woods.
Mike and Jared started their annual Woods Walk adventures the year before COVID, but Mike said he came to value the preserves and time spent outside much more during the pandemic. "We started it before (COVID), but certainly in 2020 any reason to not be inside, we took it," he said.
The bonding time and being able to share their adventures are the big draws for the Volkmers, said Mike, adding that he takes photos of their weekly adventures to share with his other children. But the commemorative medallion Woods Walk participants receive for completing seven of the 10 hikes each year is a nice bonus too, because it's a reminder of their experiences.
"It's amazing how little motivation it takes to get you to do it," he joked.