Enthusiastic, encouraging, efficient: Kim Shehorn named Volunteer of the Year
4/18/2023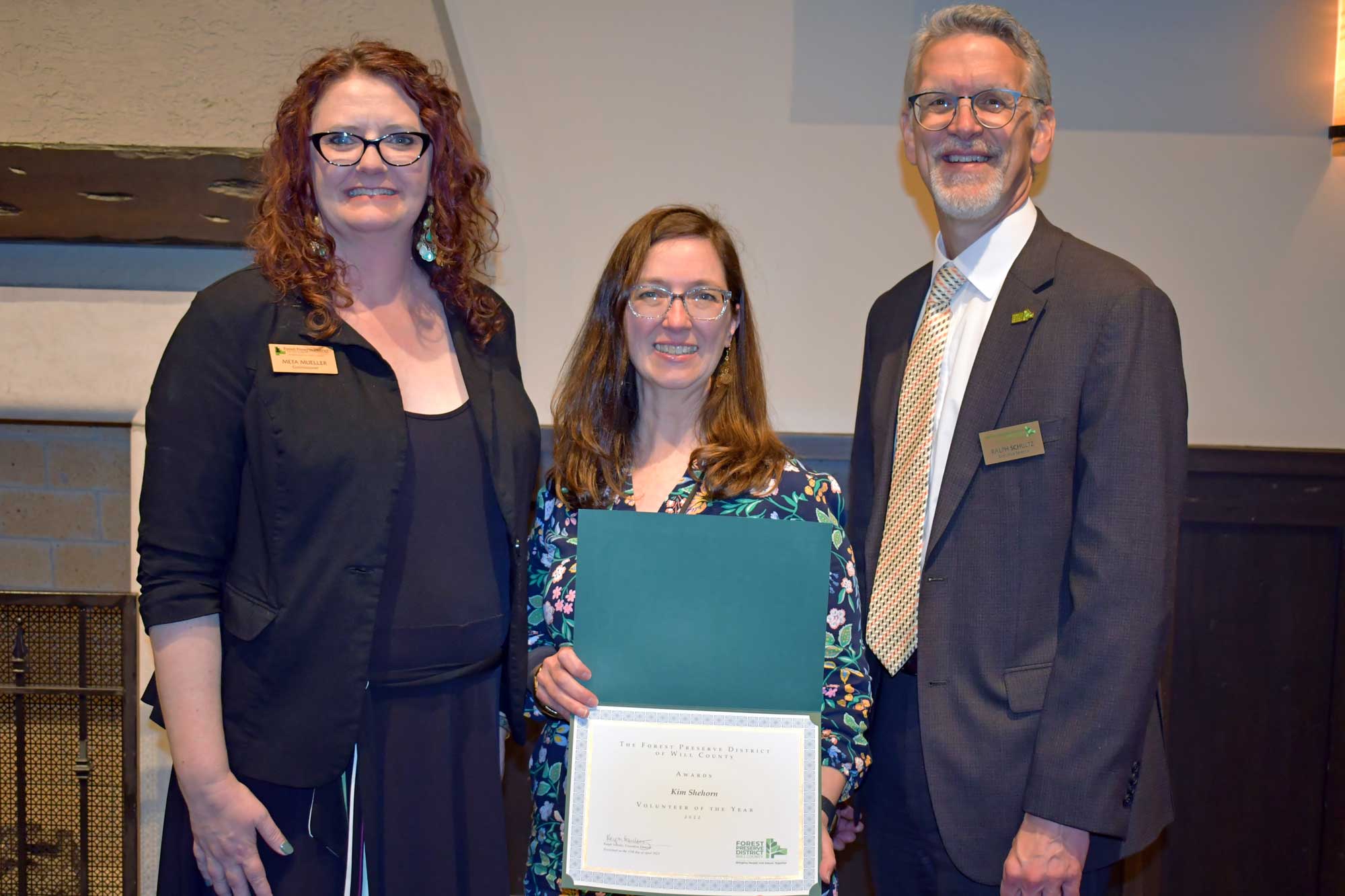 Kim Shehorn of Frankfort has been named the Volunteer of the Year for her many contributions to the Forest Preserve District in 2022.
The award was presented during the Forest Preserve District's annual volunteer banquet on April 12 at Mistwood Golf Club in Romeoville.
The banquet celebrated 39 years of the District's formal volunteer program and the many volunteers who surpassed their assignments in 2022.
"The District could not continue to work towards its mission without volunteers," said Emily Kenny, the Forest Preserve's volunteer supervisor. "Their smiles, kindness and positivity are contagious. And it is evident that they enjoy spending time with the Forest Preserve."
Forest Preserve Board President Meta Mueller thanked the volunteers for contributing almost 12,000 hours of their time and talent in 2022, which equates to more than $350,000 in value.
"Tonight's banquet and recognition event is a small token of appreciation for the love, passion, dedication and selflessness that you've shown us over the past year," Mueller said.
Volunteer of the Year
Ralph Schultz, the Forest Preserve's executive director, presented the top award of the night to Shehorn.
"She not only has helped with public programs but also volunteers with the conservation department," Schultz said. "One day, she volunteered for an evening of owl hikes after a Habitat Management morning. To top it off, the high was 16 degrees with crazy tundra winds, but she still showed up with a smile on her face, ready to do whatever needed to be done."
Shehorn is capable, efficient and friendly, he added.
"Not only does she have great enthusiasm and engagement, she is also an encourager," Schultz said. "She attends programs as a participant and is genuinely excited to be there. Best of all, she is such a dependable volunteer. Staff and participants are in good hands when she is there."
Shehorn said she was honored to be named Volunteer of the Year.
"It's an awesome feeling being recognized for doing something that you love," she said in an email.
After leaving a museum education job, she took a position in "corporate America," so Shehorn said volunteering for the Forest Preserve is her way of regaining a "sense of community" and also it is an extension of her hobbies of gardening and hiking.
"But what I found, and what has kept me very involved with the (Forest Preserve), is just an amazing group of people who make you want to be even more involved," she said. " ... Some of my closest friends are people that I've met volunteering in the preserves – they've changed my life for the better."
Shehorn added that she has learned so much from the veteran volunteers who have more than 30 years experience.
"I want to be able to make a difference as well to continue their work," she added. "Maybe by interacting with me at a program, I can inspire a family to become more physically active or maybe I can help a child to discover their love of nature and they, too, can make a difference."
Additional 2022 awards
Additional volunteer awards for 2022 included:
Outstanding Group: IKEA Joliet received this award for adopting a section of the Wauponsee Glacial Trail between Interstate 80 and the Forest Preserve's Sugar Creek Administration Center. This group of volunteers is keeping the paved section of WGT clean for everyone to enjoy. Caring for People and Planet is one of their core values and they are happy that they can embrace this value and give back with the adopt-a-preserve assignment.
Outstanding Family: Mother and daughter, Danielle Wright-Hantak and Bailey Hantak of Bolingbrook care for the animals at Hidden Oaks Nature Center, which includes applying medicine and weighing the animals. They are not afraid to ask questions and are so efficient at their assignment they often have extra time to work on other projects. Multiple times they have helped prep crafts and activities, too.
Outstanding Youth: Donna Davlantis of Cedar Lake, Ind., won the award for taking care of animals at Plum Creek Nature Center. She started volunteering at Plum Creek at age 14, and twice a month she comes from Indiana to help care for the animals at the nature center even though she has reptiles of her own at home. She is interested in wildlife biology and would like to assist in wildlife monitoring with the District, too.
Outstanding Senior: Bill Kibler of Joliet was named the outstanding senior for being a "go-to person" for bike riding and kayaking program assistance. He is always cheerful, encouraging and helpful. And volunteering for many years with the District has allowed him to share his vast knowledge with others.
Rookie of the Year: John Fuqua of Plainfield was named Rookie of the Year for taking on special projects and pursuing certifications and additional training. Fellow volunteers say he is a joy to be around and to work with. He is on the path to becoming a preserve steward and has increased the productivity of workdays.
Each winner received a gift certificate. And the Volunteer of the Year receives a plaque that will be presented at a future Forest Preserve Board of Commissioners meeting.
To learn more about joining the Forest Preserve's Prairie People Volunteers, please visit the Volunteer Page.