Tiptoe into fall with the Woods Walk hiking challenge
8/19/2022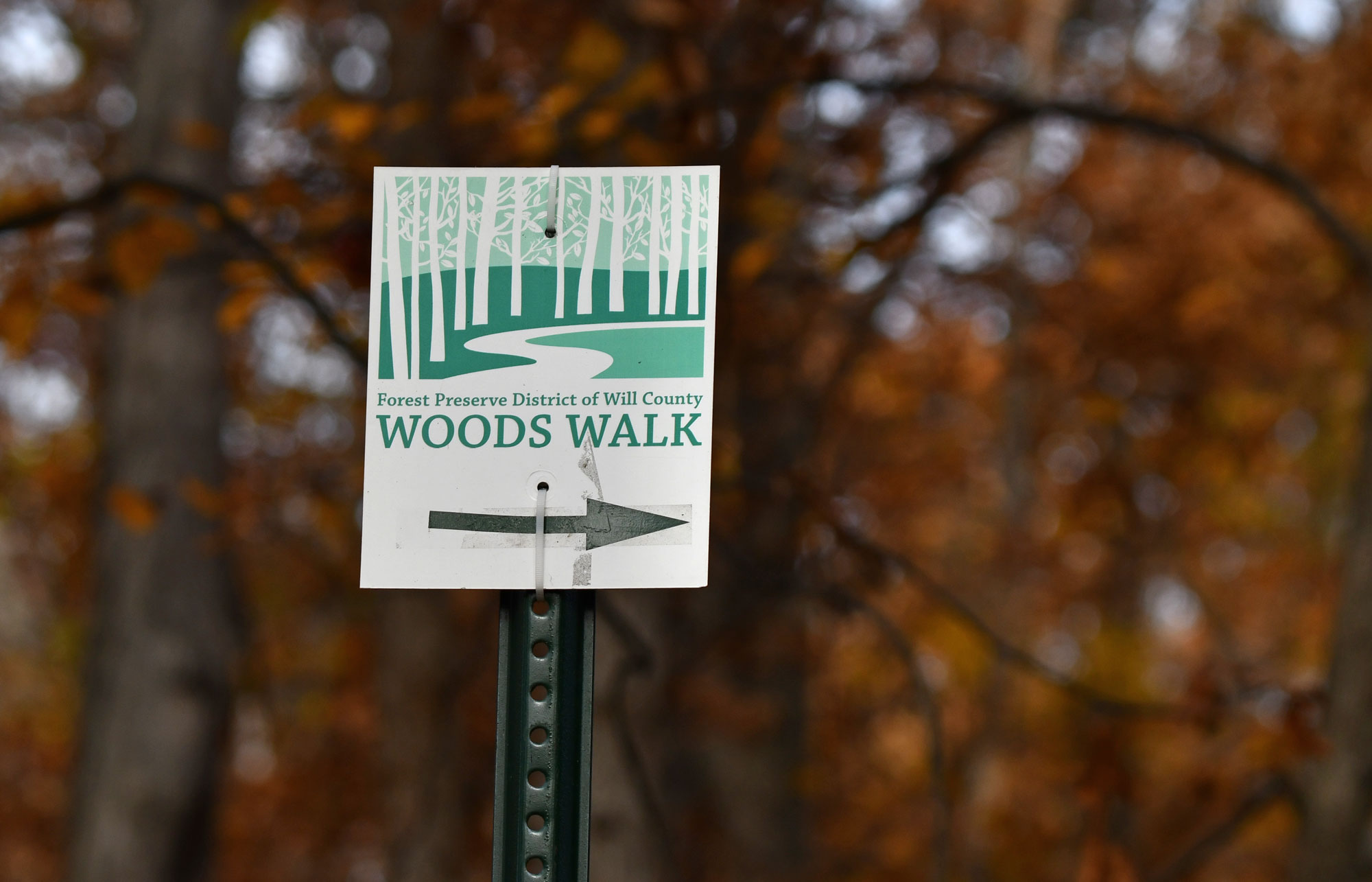 Celebrate the 20th anniversary of Woods Walk by trekking on trails throughout Will County.
The popular, self-paced hiking program kicks runs through Nov. 30. Hike seven of 10 designated trails to earn a commemorative medallion.
"It has been a beloved program since its inception," said Jen Guest, the Forest Preserve's recreation coordinator. "In those 20 years, the Forest Preserve has grown both in acres of land and miles of trails so there are more paths to choose from."
To mark the anniversary of Woods Walk, an 11th bonus trail that was included in the first Woods Walk program has been added to this year's list.
"Be sure to check out this bonus trail at Raccoon Grove Nature Preserve in Monee Township for a short hike within a beautiful preserve that's worth exploring," Guest said.
Here are the other 2022 trails:
• Four Rivers Trail at McKinley Woods – Kerry Sheridan Grove: 1.99 miles
• Hammel Woods Nature Trail at Hammel Woods – Route 59 Access: 2.86 miles
• Hickory Creek Bikeway at Hickory Creek Preserve – LaPorte Road Access: 3.47 miles
• Kankakee Sands Trail at Kankakee Sands Preserve – Route 113 Access: 2.53 miles
• North and South Loop trails at Messenger Woods Nature Preserve: 1.87 miles
• Plum Creek Greenway Trail at Goodenow Grove Nature Preserve: 2.92 miles
• Prairie Bluff Trail at Prairie Bluff Preserve: 2.62 miles
• Rock Run Greenway Trail at Theodore Marsh: 2.93 miles
• Spring Creek Greenway Trail at Hadley Valley: 3.41 miles
• Wauponsee Glacial Trail at Sugar Creek Preserve: 1.5 miles
SUBSCRIBE TO OUR YOUTUBE CHANNEL
One of the best aspects of this program is the fact that people can take their time and hike the trails at their leisure, Guest said.
"Take in the fall scenery as you explore the preserves," she added. "With the 11 trails offered, I hope program participants hike beloved trails again or explore some new ones."
And Guest reminded hikers to make sure they walk on at least seven of the trails to earn the commemorative medallion to display on a walking stick, hat or backpack.
"A new design is created every year," she said. "Whether this is your 20th medal or the start of your collection, you are on the right track to exploring the outdoors."
For those dog lovers who plan on tackling this challenge, only the trails in Goodenow Grove, Messenger Woods and Raccoon Grove do not allow canine companions because they are state-designated nature preserves which protect higher quality natural areas. The remaining eight trails are all dog friendly, but dogs must be leashed and owners must clean up after their dogs.
To get started, pick up your Woods Walk hiking guide at one of five visitor centers: Four Rivers Environmental Education Center in Channahon, Hidden Oaks Nature Center in Bolingbrook, Isle a la Cache Museum in Romeoville, Plum Creek Nature Center in Crete Township and Sugar Creek Administration Center in Joliet. The guide is also available online.
The deadline to turn in a completed hiking guide submission form – found in the back of the guide or online – to receive a medallion is Saturday, Dec. 31. Medallions will be available beginning Sept. 30.
SUBMIT YOUR COMPLETED TRAVEL LOG
The Woods Walk challenge is supported by funding from The Nature Foundation of Will County.
For those who enjoy taking photos, the Woods Walk program is also the perfect opportunity to take some shots to submit to the Forest Preserve's Preserve the Moment photo contest. Winners are chosen monthly and each receives a $75 MasterCard gift card. At the end of the contest, overall first, second and third place winners receive $500, $250 and $150 MasterCard gift cards respectively. And maybe best of all, everyone receives a gift for just participating. Read all contest rules and photo upload instructions before entering the contest.