DuPage River Trail paves the way for bicycle commuter
8/13/2021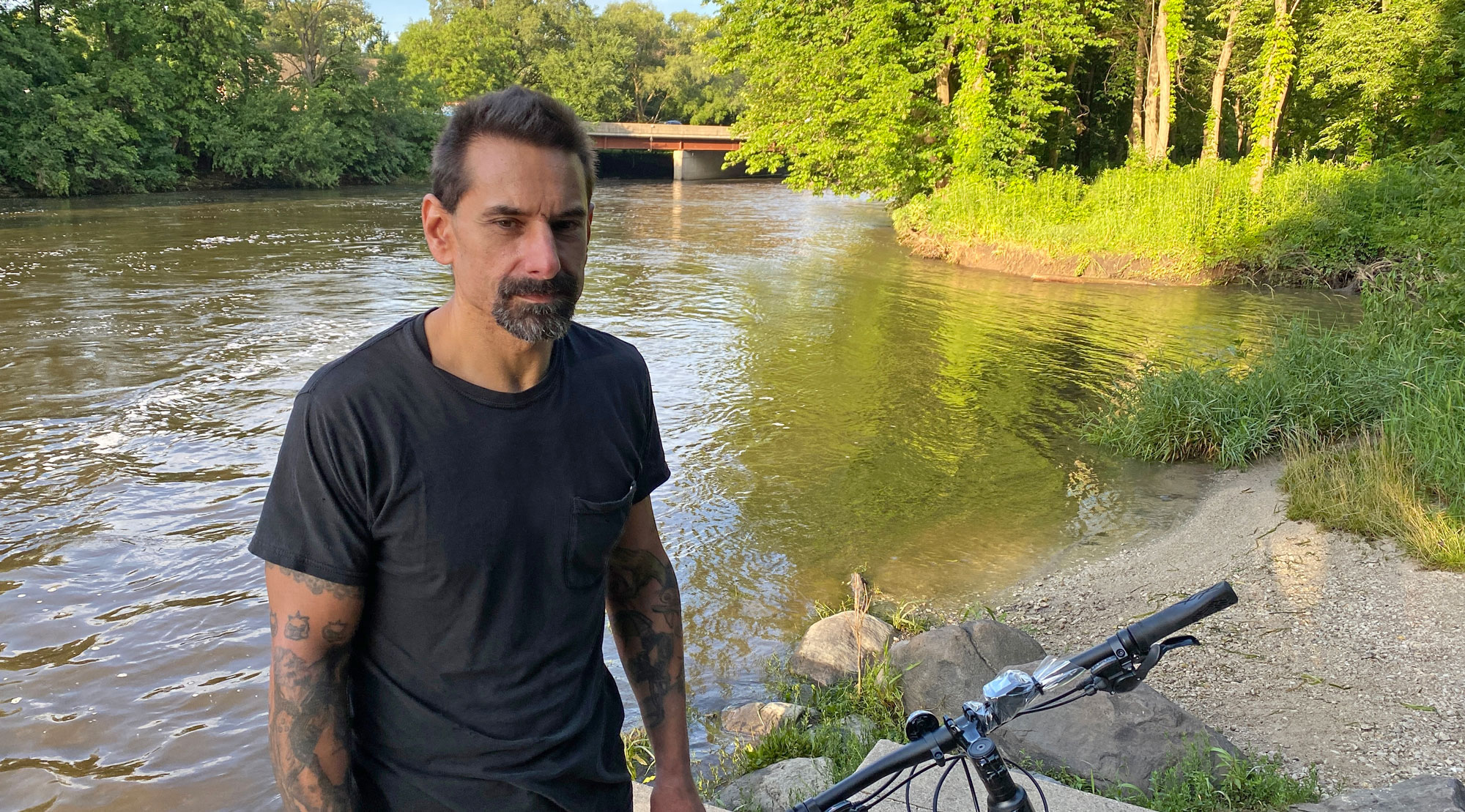 While some people packed on the pounds during the 2020 pandemic, Rob Simpson of Joliet found a way to get in better shape.
In December 2020 the auto mechanic decided to start riding his bike to work in Shorewood.
"I got tired of it taking me 20 to 25 minutes to go 5 miles to and from work," he said. "I like biking because it gives me a change of scenery. (It's) something different every day. And I have the freedom to go where cars can't. I can go at my own pace and not worry about holding anyone up."
The route Simpson takes is 8 miles. He travels on Theodore Street to Bronk Road to the Forest Preserve's DuPage River Trail to Jefferson Street. About half of his ride to and from work is through Hammel Woods preserve.
"I enjoy riding very much," he said. "I think I may ride till the first frost or snowstorm or maybe into November/early December."
There are a lot of benefits to hopping on a bike instead of driving a car to work, he said.
"I save a lot of money on gas," he explained in an email interview in late July. "I haven't filled my car up with gas in 2½ months. I can be on my feet for 8 hours without any pain and do my job comfortably. It's a great cardio workout, which has led to better endurance when biking. I encourage others to try it because it's very relaxing, there is awesome scenery, and it provides a great workout at your own pace."
RELATED: THE BEST PLACES TO BIKE IN WILL COUNTY
While biking the trail, Simpson said he has had some interesting experiences.
"The past couple of days have been so humid, I've encountered patches of fog when I hit the trails," he said. "When I go through them, I can feel the cold air, then I feel the hot air, then back to cool air, then hot air. It's pretty wild at 6 a.m."
On another ride he encountered deer and was able to shoot video of them.
"A week ago, I came across a heron and was able to get video of it catching a fish," he recalled. "About three weeks ago, on my way home through the trails, I got stuck in a rainstorm, got soaked. Yes, it's always an interesting experience when biking to work or biking just for fun."
According to a 2019 report by the Rails-to-Trails Conservancy, multiuse trails and other elements of a safe active transportation network (such as crossing lights and bike lanes) provide benefits that:
Enable more users to connect to their destinations by walking or biking.
Improve people's health and reduce the cost of health care.
Reduce greenhouse gases and oil dependence.
Encourage economic investment in our communities.
So, if you are inspired by Simpson and want to try to trek to work on a bicycle, here are some tips from active.com to get you started.
The group recommends you begin with an achievable distance. If your commute is longer than a few miles, consider riding into work with a coworker and then biking home. Also, it's best to start only a few days a week and then build up to more regular commuting.
If you don't have a shower at work where you can clean up, you can use a towel to dry off or bring a washcloth and soap for a "spit bath" in the restroom.
Here are more tips from active.com:
Wear a helmet.
Wear clothing that can easily be seen by motorists.
Do a dry run on the weekend.
Find routes with minimal traffic.
Learn how to change a flat.
Carry a cell phone and call for help if you have significant mechanical trouble.
Take your clothes to work the day before you commute.
Strategize your clean up time before work.
Watch for parked car doors swinging open.
For more tips, visit active.com's "13 Tips for Your First Bike Commute."
To find a trail near you, visit the Forest Preserve's trails page.