Diving into her work: aquarium technician keeps Four Rivers' tank in tiptop shape
4/25/2023
Anyone who owns a fish tank knows that a big part of keeping the fish alive involves cleaning the tank and keeping the water chemistry in balance.
Imagine that you have a 2,000-gallon tank stocked with 45 river fish, which is exactly what the Forest Preserve District installed in 2022 at Four Rivers Environmental Education Center in Channahon.
To keep the tank in tiptop shape, the District has help from Sommer Brosio, an aquarium technician from Aquamoon, a national animal care services company.
Once a month, she braids her hair, dons a wetsuit and gingerly lowers herself into the 2,000-gallon fish tank where she vacuums and scrubs until the aquarium is squeaky clean. She has to wear a weighted belt to stay "negatively buoyant" so she can get down to the bottom of the tank.
She removes uneaten food and fish waste that could cause toxic levels of ammonia for the fish. And she rubs manuka honey, which has been shown to promote healing, on their wounds.
Fish personalities
Brosio said she loves being immersed in the water because it's peaceful and she enjoys being close to the fish.
"You start to realize they have their own personalities," she said. "Some won't dare to come near me, while others won't leave me alone and want tons of affection and attention."
Her job with Aquamoon is one more step to realizing her childhood dream of becoming a marine biologist. Brosio said her mom is originally from Florida and she took her family on vacations to her home state at least two to three times a year. That is when Brosio said she started snorkeling, falling in love with the ocean and dreaming of a career in the water.
"I was probably about eight years old when I realized that's what I wanted to do one day," she added. "As I've gotten older, that curiosity about the oceans and the creatures that inhabit them has only continued to grow. It's fascinating to me that we know less about our oceans than we do outer space. I think for me, a lot of the draw to it is the mystery and just the raw beauty."
Overall, Brosio said she takes pride in knowing the people who visit Four Rivers will have a better experience when the aquarium looks clean and well taken care of.
"They can just focus on admiring and learning about the animals that are reflected in their local waterways," she said.
Exhibit centerpiece
The aquarium – which features black crappie, bluegill, channel catfish, redspotted sunfish, smallmouth bass and walleye – has become the centerpiece to the site's exhibit space, said Jerome Gabriel, the facility supervisor for Four Rivers.
"Often children can be found with their faces pressed to the glass, trying to get a close up view of the walleye as it swims by," he said. "The fish tank is such a desirable part of our offerings, and keeping the animals healthy and the environment clean is a huge priority for us."
The fish tank interprets the river environment that surrounds the visitor center, which is located near where the DuPage, Des Plaines and Kankakee rivers merge to form the Illinois River.
"The fish tank brings some of the life from under our rivers into view," said Jess McQuown, a Forest Preserve program manager at Four Rivers. "We can always tell who likes to fish because they can rattle off the names of the fish right away. Other visitors use our guide and try to identify each of the different species in the tank."
Feeding time has become part of the visitor center's programming.
"Everybody loves to watch the hungry fish race to the food," McQuown said. "We've been working hard to make sure each fish eats and that is done by target-feeding, which is when we put the feeder fish on the end of a pole."
The fish that are in the tank are some of the primary sport fish that can be found in area rivers.
"It's neat for visitors to see them close up without having to fish for them," McQuown said. "You can watch their different behaviors and see how they naturally interact with each other. We are lucky to have the red-spotted sunfish, which is a threatened species. It allows us to talk about some of the threats all fish face, while highlighting all the ways we can help restore their habitat and make sure fish are healthy in our waterways."
(Photo by Glenn P. Knoblock)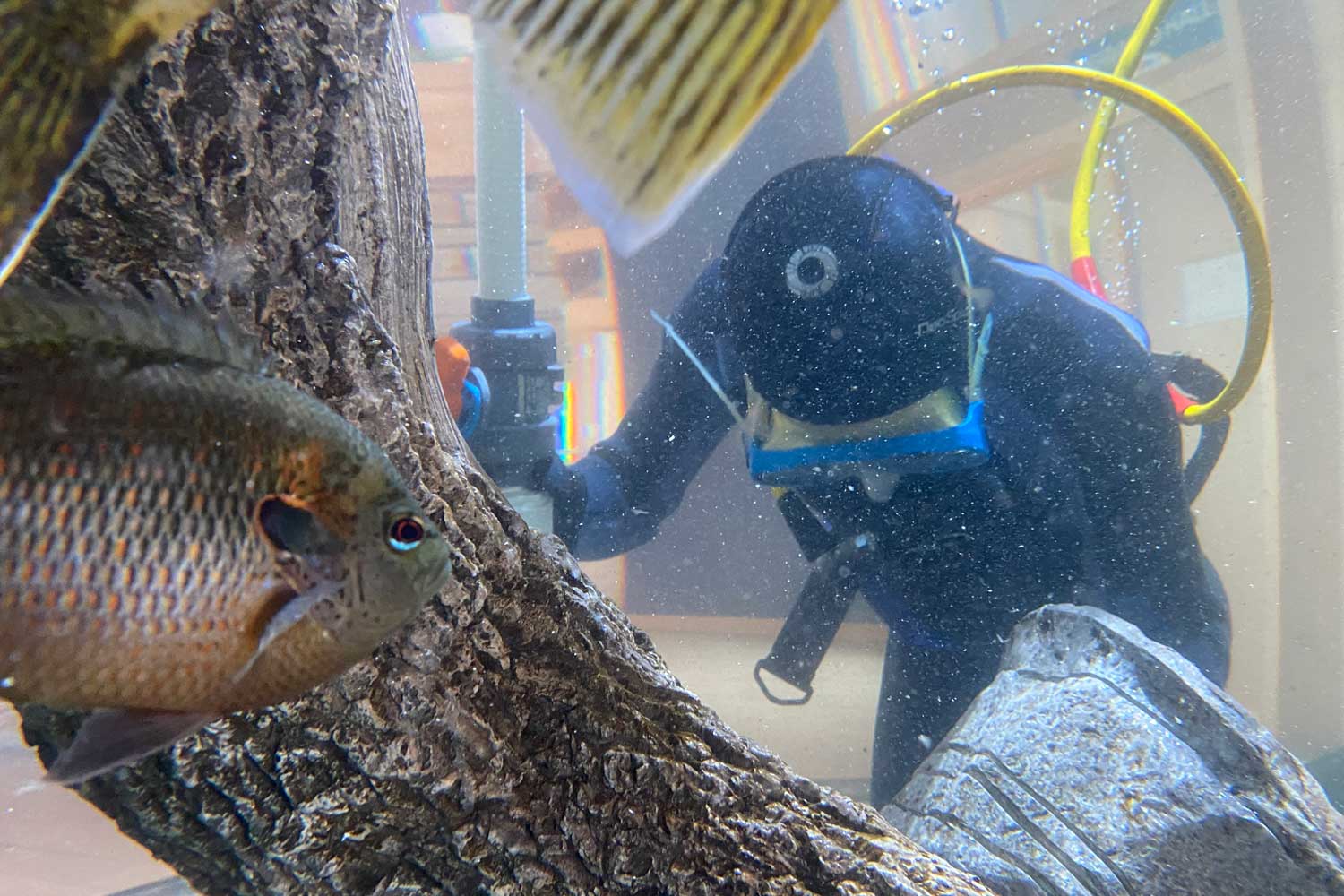 (Photo by Chad Merda)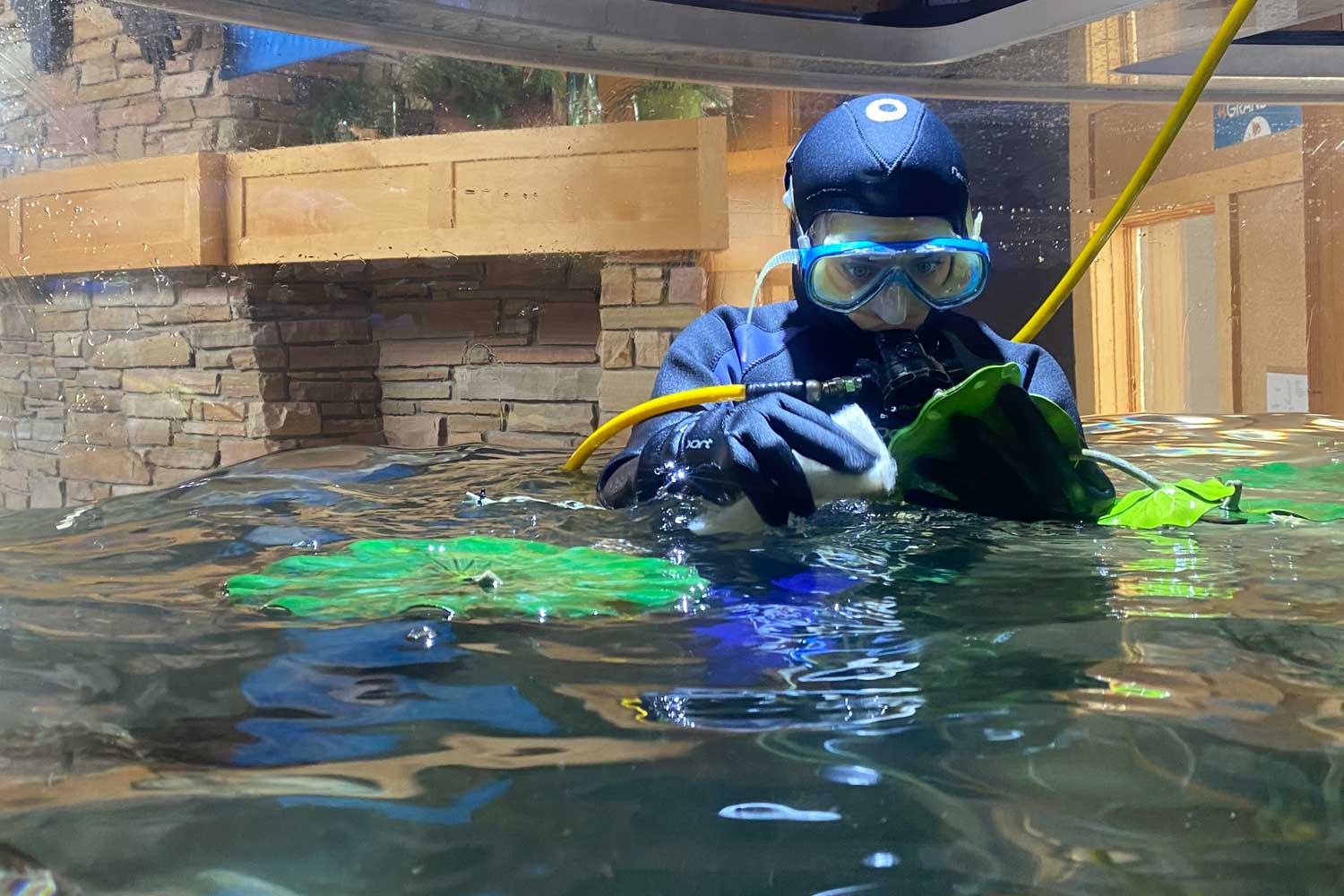 (Photo by Chad Merda)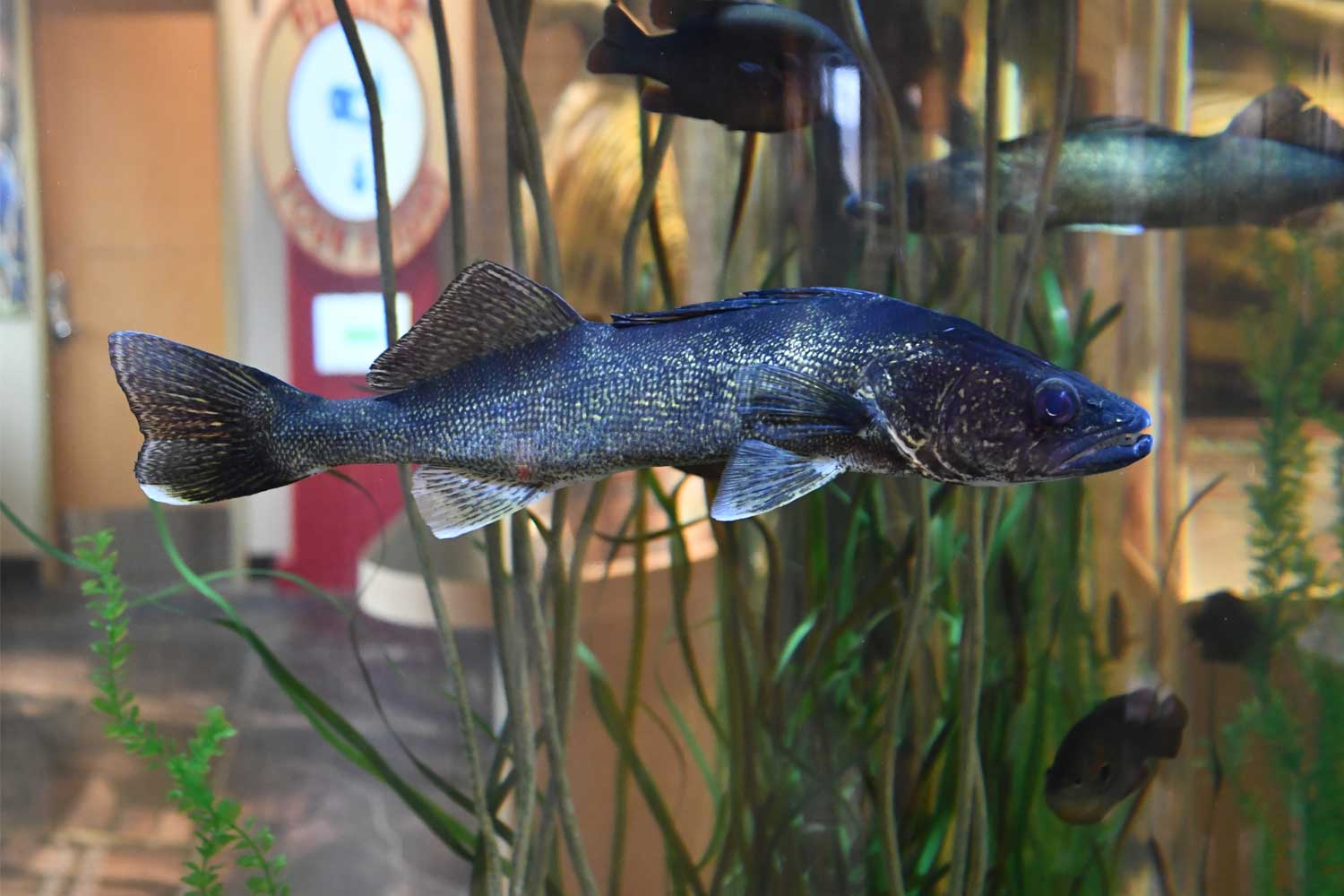 (Photo by Glenn P. Knoblock)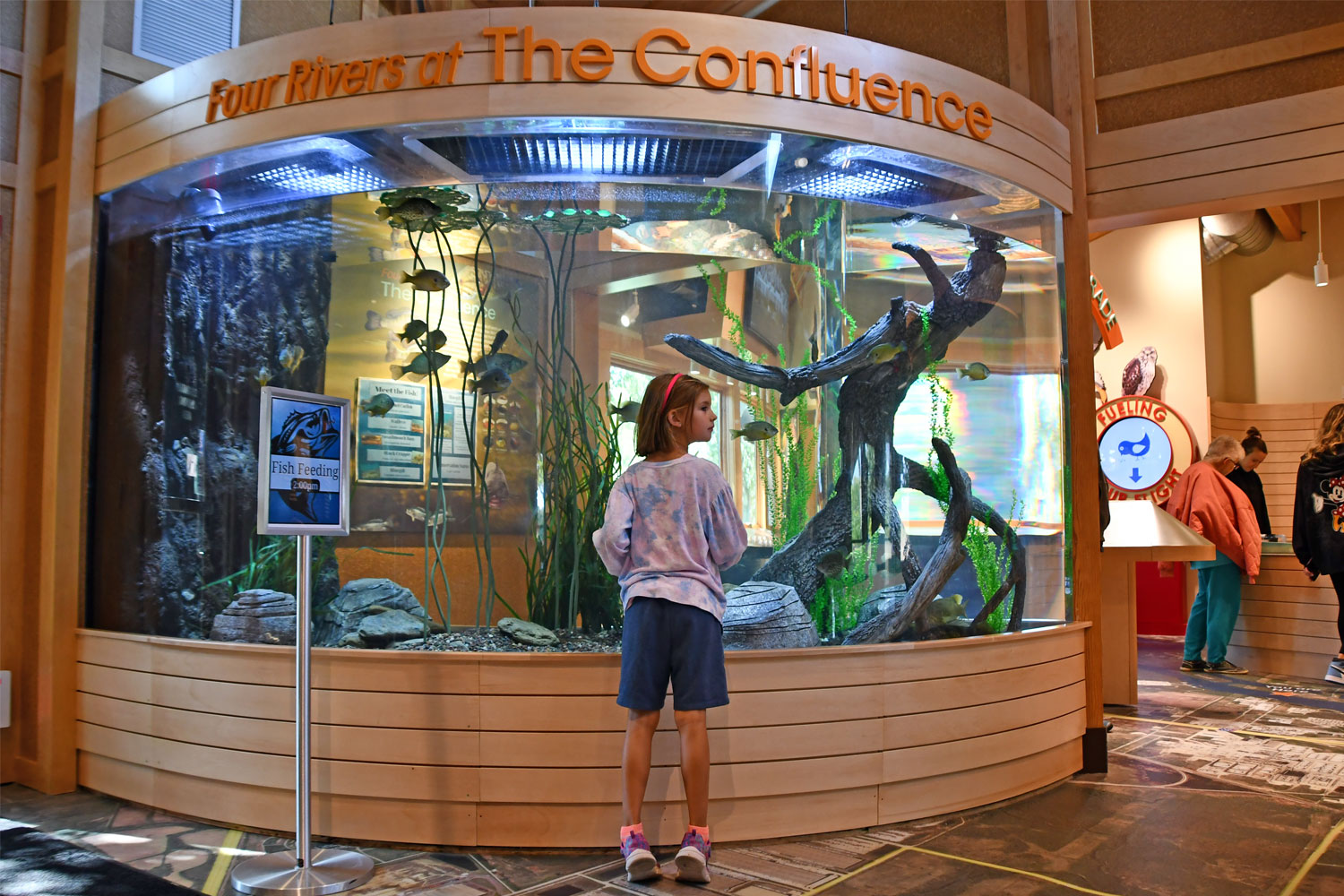 (Photo by Glenn P. Knoblock)