Chicago Wilderness tour highlights Will County's innovative agricultural practices
7/5/2022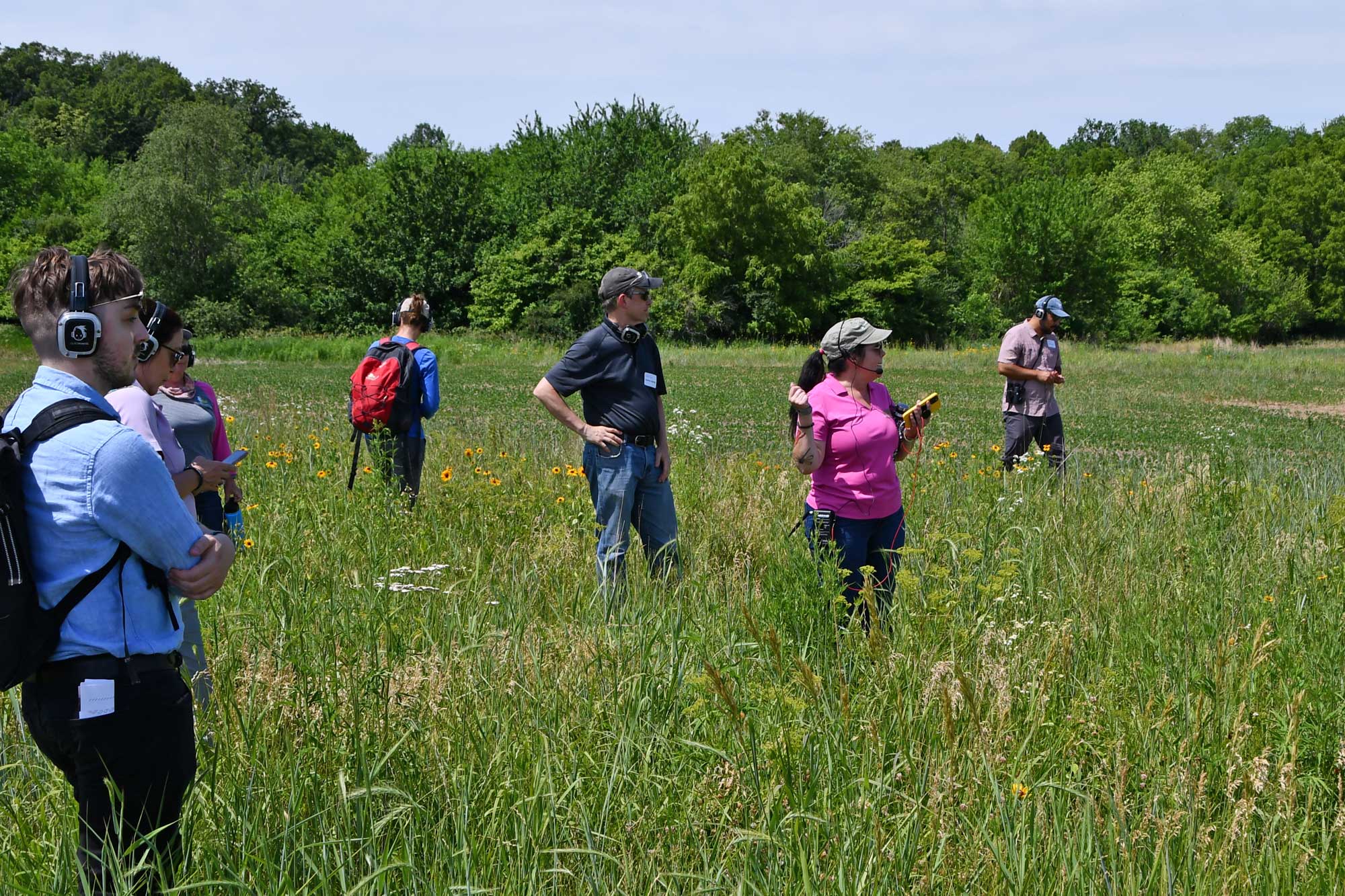 Will County's innovative agricultural practices, including those occurring on Forest Preserve District land, took center stage recently during a Chicago Wilderness Field Day tour.
A group of around 50 people began the tour at the Forest Preserve's Monee Reservoir and traveled around the county learning about regenerative and sustainable conservation practices being employed here that will protect the land for decades to come.
The Chicago Wilderness Agricultural Committee hosted the event to demonstrate innovative farm practices that have been implemented on public and private land to reduce soil loss, benefit water quality, increase soil health, and provide habitat for wildlife.
The group stopped at:
Iroquois Valley Farmland REIT (Peotone): An agroforestry farm with conservation practices.
Laughton Preserve: Conventional row crop farming incorporating practices such as no-till, contour farming, prairie strips, and reduced pesticide use.
Yunker Organic Farm and the Wildflower Farm (Monee): An organic farm with conservation practices; In 2021, the Yunkers were awarded the Forest Preserve's first organic farm lease for land at Jackson Creek Preserve in Green Garden Township.
Sugar Creek Administration Center: Rainfall simulator demonstration showing how cover crops help prevent soil erosion.
Gorman Farm Fresh Produce (Monee): Gorman Farm offers a variety of sustainably grown, fresh, local produce from its 11-acre farm, incorporating innovative farming practices and the principles of good agricultural practices (GAP). They were awarded the "2022 Conservation Farm Family of the Year."
Michelle Blackburn, the Forest Preserve District's agricultural specialist, helped plan the June 24 event in her role as a member of the new Chicago Wilderness Agricultural Committee.
"The tour provided detailed information about innovative agricultural practices in Will County and how much work goes into these farms," Blackburn said. "Bringing all this information to people will lead to more support for these practices in the future. It was a very successful event."
The stop at the Forest Preserve's Laughton Preserve in Wilton Township highlighted the site's 50-foot contour prairie strips that are incorporated into the farm fields. This technique is just one example of the Forest Preserve's shift in recent years from conventional agricultural methods to regenerative practices throughout the District.
"The prairie strips are supporting pollinators, wildlife and insects," she said. "And the strips attract birds and insects that will eat problem pests that could affect the corn and soybeans. And because Laughton is on a slope, the prairie grass will hold the soil together, which will help prevent erosion."
One of the goals of Chicago Wilderness is to expand agricultural conservation efforts in the agency's four-state region of Illinois, Indiana, Michigan and Wisconsin, said Chicago Wilderness Agricultural Committee member Timothy Brennan, who is The Farm Foundation's vice president for external relations.
"Our first-ever field day in Will County was an effort to bring farmers, conservationists and curious local residents directly onto area farms to see first hand the opportunities, challenges and outcomes of a wide range of conservation agriculture practices," Brennan said.
Some of the organizations represented on the tour were: Will-South Cook Soil and Water Conservation District, The Wetlands Initiative, The Conservation Foundation, Field Museum, Openlands, Will County Farm Bureau, Soil and Water Conservation Society and Will County Land Use.