'Buzz' nature show visits little-known preserves, teaches you how to bird by ear
5/25/2023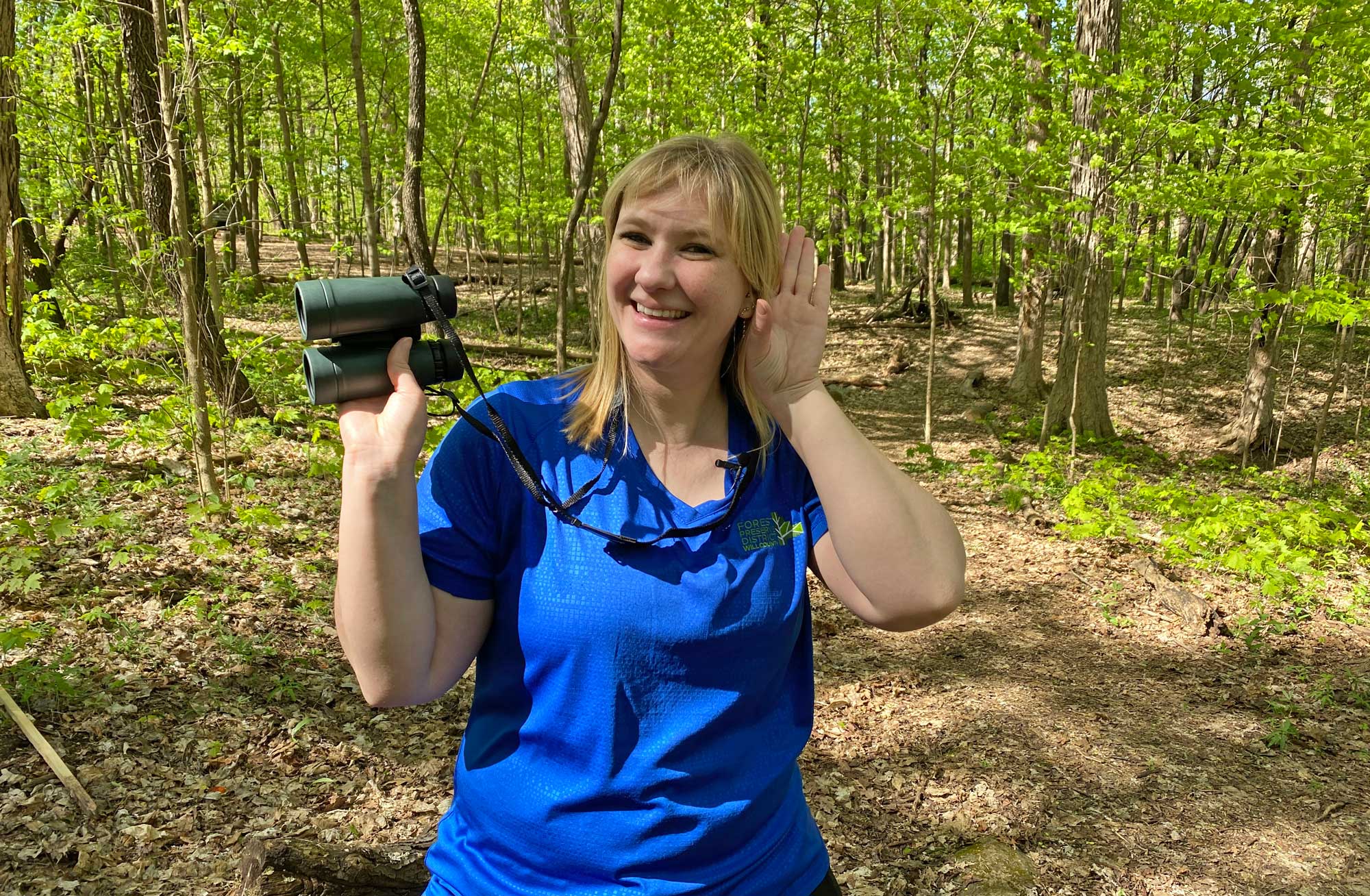 Tag along with the crew of "The Buzz," the Forest Preserve District's monthly nature show, to visit little-known preserves and to learn five birdsongs during May's episode, which debuts on Wednesday, May 31.
The show will air at 8:30 p.m. on the Forest Preserve's Facebook and YouTube pages. The May episode also will air on WJYS TV at 9 p.m. Friday, June 2, and at 11 a.m. Saturday, June 10, courtesy of funding from The Nature Foundation of Will County. Local cable stations also carry the show in Joliet, Naperville, New Lenox, Romeoville and Tinley Park.
Since its inception in July 2020, "The Buzz" has visited many of the District's larger preserves such as Hickory Creek Preserve and McKinley Woods.
"But this time we wanted to show you ones that you may not have heard of before," said "Buzz" host Suzy Lyttle, a Forest Preserve program coordinator. "We picked preserves in all areas of the county: Keepataw and O'Hara Woods in the north, Evans-Judge in the south, and Raccoon Grove Nature Preserve in the east."
Two of the preserves – Keepataw and Evans-Judge – were new to Lyttle as well.
"I have always heard good things about those preserves, and I was not disappointed because each preserve was so different and had something to offer," she said. "Right now is the perfect time to explore because the birds are just going nuts singing in the canopies, the flowers are still blooming on the forest floor, and the views feature new green leaves that make me feel refreshed knowing we are heading into warmer summer months."
In the second segment of the show, viewers will learn five birdsongs that can be heard in the preserves at this time of year.
"With our summer residents returning to nest, there are new tunes playing outside," Lyttle said. "Birding by ear can seem daunting at first because there is so much to learn and sort out. But by learning the catchy word phrases that go with the songs, it helps to pick out the notes among the chorus. We will learn the songs of the Eastern towhee, Eastern phoebe, Eastern wood-pewee, indigo bunting, and the gray catbird."
View all past episodes: