Slip into spring with seeds and more from visitor center gift shops
3/13/2023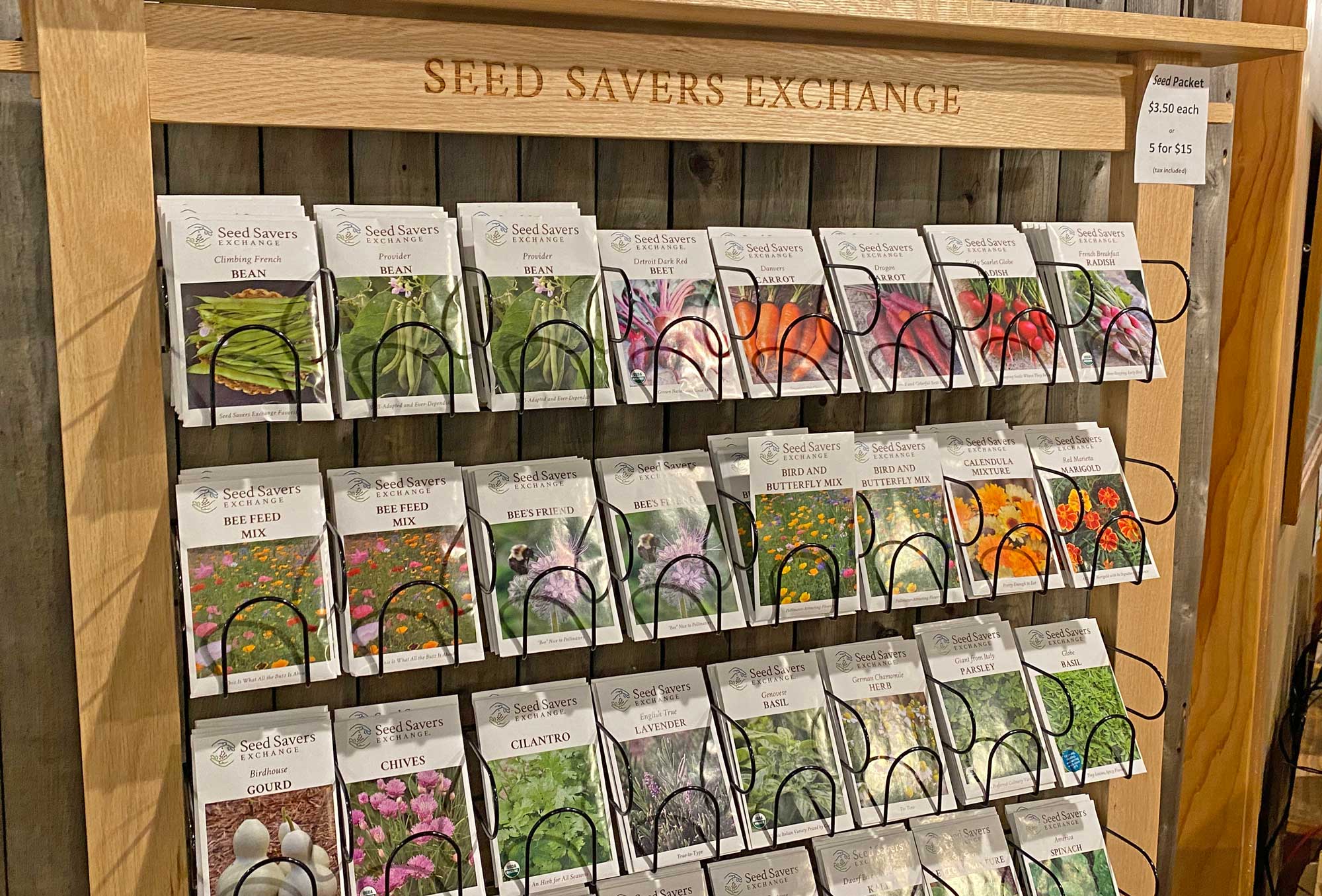 With spring right around the corner and planting season just weeks away, it's time to stock up on seeds and supplies as you prepare for warmer temperatures.
Isle a la Cache Museum in Romeoville is selling gardening supplies and seed packets from Seed Savers Exchange, a nonprofit dedicated to the preservation of heirloom seeds. And the Forest Preserve's other visitor centers have stocked up on green items to help make your season eco-friendly.
The seeds at Isle a la Cache cost $3.50 per packet or five packets for $15.
Seeds for sale include popular vegetables and herbs and a big selection of flowers. The native flower seeds are in keeping with the museum's emphasis on native plants and pollinators.
The museum began selling seeds again last year after a hiatus due to the COVID-19 pandemic. The demand after the pandemic was even greater than before, said Tina Riley, facility supervisor at Isle a la Cache Museum.
"I think the seeds are popular due to the pandemic generating so many new and renewed home gardeners," she said. "Plus, I think there is a general 'back to basics' trend going on."
In addition to the seeds, the museum also is selling garden-related items at the gift shop, including handmade metal garden stakes, wooden garden stakes with "punny" sayings, and gardener's hand scrub, soap and bug repellent made with essential oils.
Three additional Forest Preserve visitor center gift shops also are stocked with spring items including:
Four Rivers Environmental Education Center in Channahon has outdoor bird-related items to put you in the mood for the Migration Celebration scheduled for Saturday, May 13, at the visitor center. Items include hummingbird swings, metal bird decorations, nature postcards and Dean's Beans bird-friendly coffee.
Hidden Oaks Nature Center in Bolingbrook has eco-friendly dryer balls and locally produced honey – just in time for the Earth Day Festival planned for the site on Saturday, April 22.
Plum Creek Nature Center in Crete Township has fair-trade, stainless steel snack containers and reusable zip-close bags for sale in the gift shop.
And if you're looking for additional ways to be green this spring, check out Monee Reservoir's Upcycled Crafts: T-shirt Tricks program on Saturday, April 15, to transform discarded cotton T-shirts into a variety of fun new items.