Purchase bird-friendly coffee at Four Rivers Environmental Education Center
12/8/2021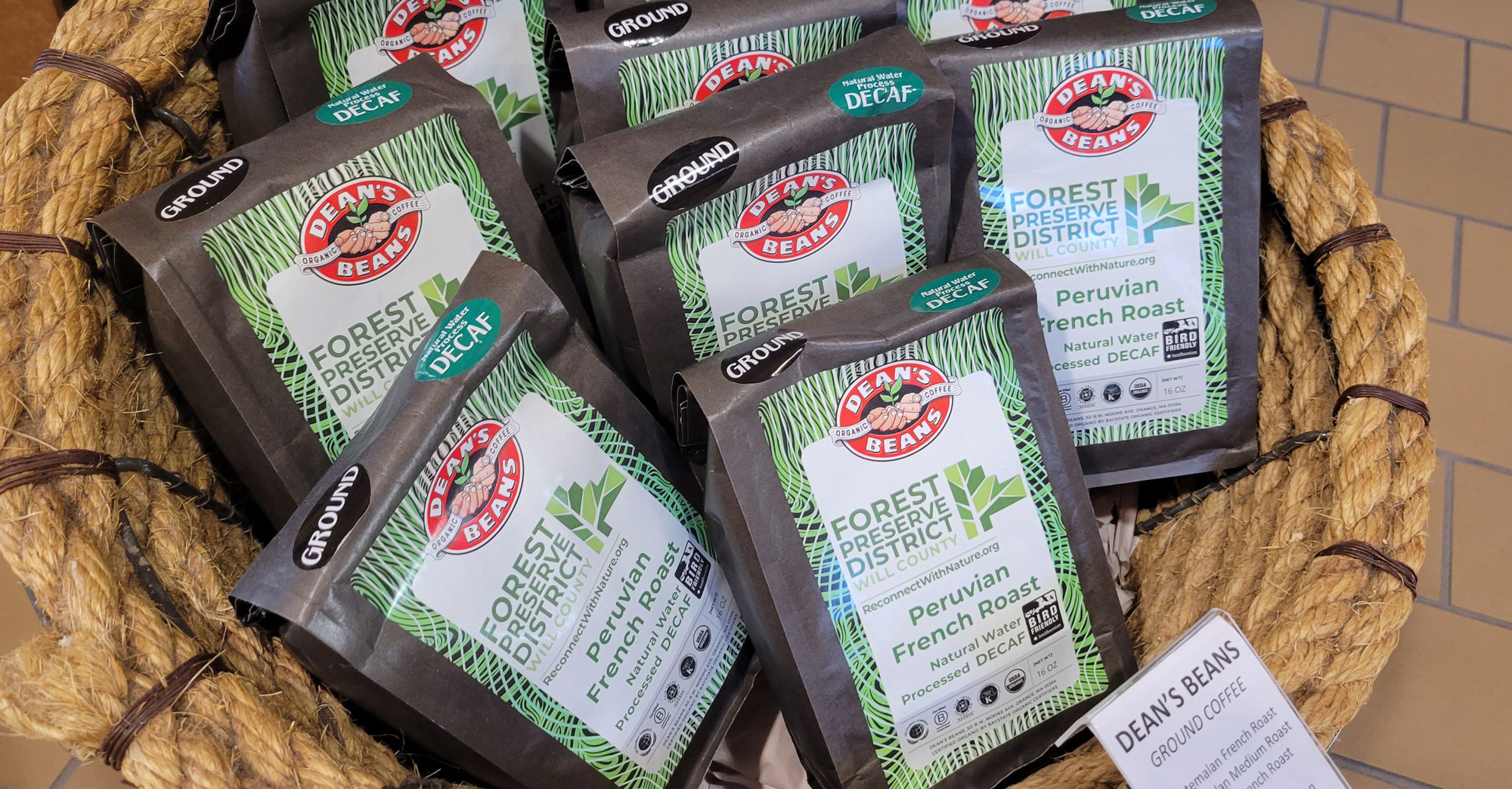 Four Rivers Environmental Education Center in Channahon is selling a brand of coffee that's for the birds.
Four Rivers has partnered with Dean's Beans® out of Massachusetts to offer three blends of bird-friendly certified coffee: Peruvian French Roast, Guatemalan Medium Roast and Peruvian Decaffeinated. Each pound of coffee costs $10.
"It's another way people can contribute to conservation," said Chris Gutmann, facility supervisor at Four Rivers. "And it's easy if you are a coffee drinker."
Coffee, which is grown in more than 70 countries, is the second biggest global export in the world behind oil. Americans drink more than 600 million cups of coffee a day, according to the National Coffee Association. If more people switched to bird-friendly coffee, it could have a major impact on helping bird species survive, experts say.
According to the Cornell University Chronicle, bird-friendly coffee is grown in shade and harvested under the canopy of mature trees, which is how it was historically grown.
"But with most farms converting to full-sun operations, crucial habitats for migrating and resident bird species are being lost," the Chronicle stated. "Loss of habitat is a key factor in the overall decline of many bird species."
Switching to a bird-friendly brand of bean helps birds and the farmers who maintain shaded growing conditions, according to the Chicago Audubon Society.
"Buying shade grown coffee means you are financially rewarding the farmers who have chosen to preserve forests and bird habitats by growing their coffee under the tree canopy, rather than clearcutting vegetation to grow coffee in full sun. Many of our migrants winter on coffee plantations."
That's why Four Rivers is selling coffee that will educate people about the plight of birds and the link to the coffee-growing industry, Gutmann said.
"Growing coffee in shade allows the coffee cherries to ripen more slowly," he said. "It makes for better tasting coffee and it promotes bird diversity by giving them a critical winter habitat."
Saving songbirds
There are three categories of "green" coffee: fair trade coffee benefits farmers, organic means no pesticides were used to grow the beans and bird friendly means the coffee was shade grown, which benefits birds. Typically, bird-friendly coffee also is fair trade and organic, Gutmann said.
The trees on bird-friendly coffee farms provide critical winter habitat for migratory songbirds that can be seen in our neighborhoods during warmer months.
"On some coffee farms, half of the neotropical migrants documented are the popular wood warblers that local birders love so much," Gutmann said. "Baltimore orioles, ruby-throated hummingbirds, and scarlet tanagers can also be found on bird-friendly certified coffee farms."
Studies show most coffee is grown in the sun with fertilizers and pesticides and, as a result, "It's incredibly unsustainable," Gutmann added. "Very few birds live on those farms."
In contrast, the bird-friendly coffee farms support more than 150 species of birds and 100 species of plants and sometimes more, he said.
Migration can be perilous, so anything that helps birds survive their treks will lessen the environmental stress on these species, Gutmann explained.
"Finding high quality habitat is really important," he added. "The birds don't really bother the coffee plants. They're more interested in the tree canopy providing shade. That's where they're finding food."