After first nesting attempt fails, bald eagle pair succeeds with two eaglets
5/31/2022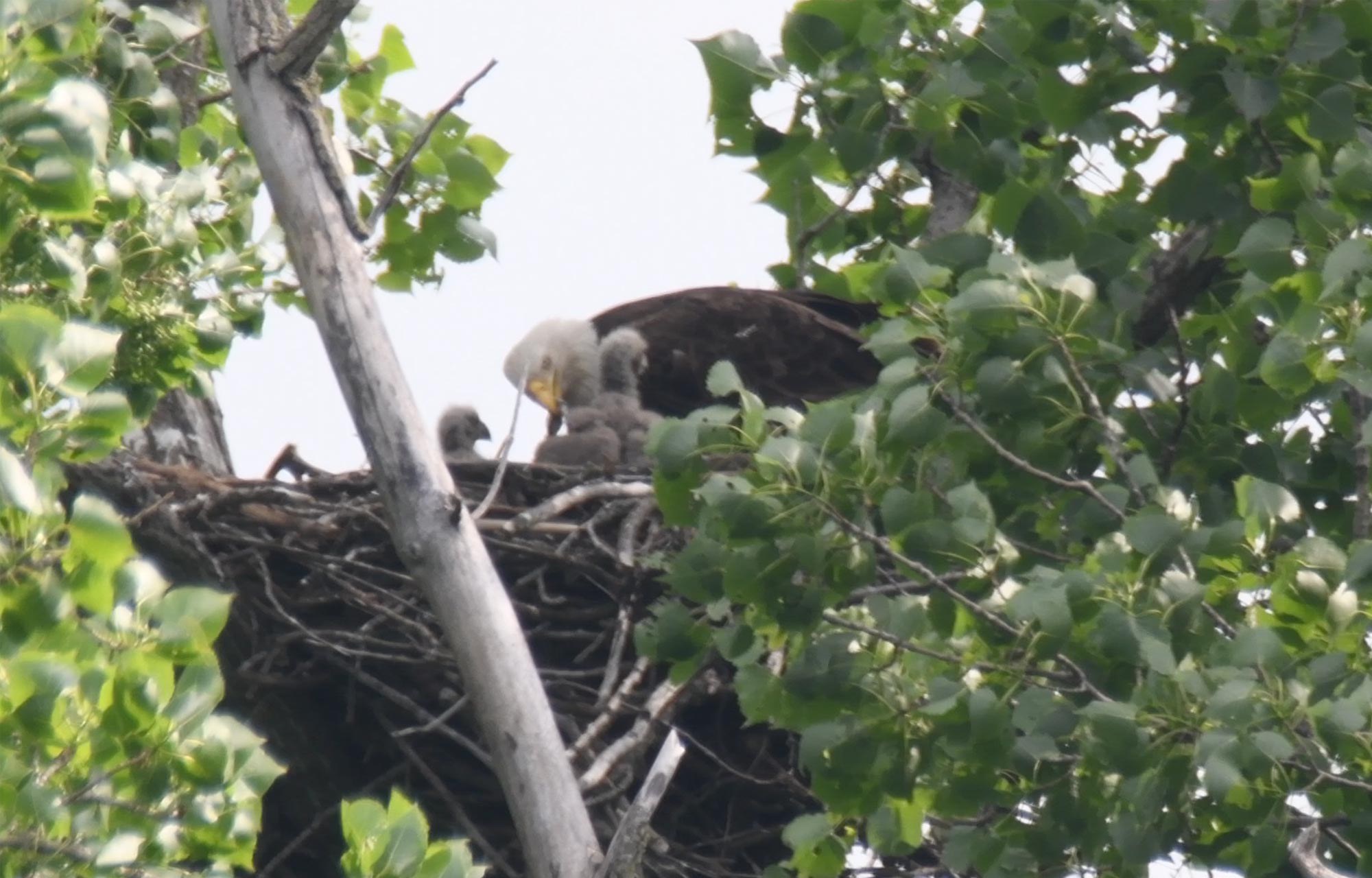 For the past few years, some eagle nests in the preserves have been producing offspring like clockwork, but this time around it took a little extra effort from this mated pair in a Will County forest preserve.
After a long wait — and a failed attempt earlier this year — the pair laid a second clutch of eggs and they now are raising two eaglets.
The confirmation was made Saturday by longtime volunteer Joel Craig.
"I got there at about 6:30 in the morning and hung out for about a half hour," Craig said. "(When I arrived) I knew they had hatched because the female was just perched on the edge of the nest. So I thought, whatever is in there has hatched because she's not incubating in there now."
He said within five minutes one of the eaglets stuck its head out of nest and he saw the second eaglet about 10 minutes later.
District staff was able to get eyes on the eaglets on Tuesday morning, even being lucky enough to be around for feeding time.
Craig said these eaglets are about two weeks old and that estimate is based on how the events have unfolded at this nest the past few months.
On April 2, there was one eaglet spotted, but no eaglets were spotted on subsequent checks. While we don't know exactly what happened, in the days after the sighting, Craig has a theory.
"A week later, we had snow and ice pellets and then just a few days after that we had some really severe thunderstorms, heavy rain, 60 mph winds, and that was followed immediately by snow and ice pellets again," he said. "I'm thinking one of those two storms is when we lost however many chicks were in there."
He says the timing of events in the first week of April lines up with what we're seeing now.
"That would have given them a week to a week and a half to mate again and lay eggs again," he said.
When the first clutch of eggs don't hatch or the eaglets perish, it's not terribly uncommon for a mated pair to try again. The success rate of the second attempt is about the same as the first, Craig said.
While eaglets hatching later in the season poses challenges to us while monitoring the nest due to the trees now having leafed out, it doesn't have any impact on the eaglets chances of making it.
"As far as it being this late in the season, they'll still have plenty of time to learn to fly well and for mom and dad to teach them how to hunt," Craig said. "Especially with our falls getting later and later, that's a good three months of time. I think they'll be fine."
District staff will continue monitoring this nest — from a safe distance as we always do — and see how the eaglets progress in the coming weeks.
They should should start branching — exploring outside the nest — about 10 weeks after hatching. At around 12 weeks, they'll start testing their wings. They'll remain in the area with their parents' supervision for the rest of the summer and into the fall.
This is the second nest in the preserves that has successfully produced offspring. Another nest produced two offspring in April.
SUBSCRIBE TO OUR YOUTUBE CHANNEL
It's important to note that eagles and their nests are federally protected and human interference could cause them to abandon the nest and their eggs. The National Audubon Society recommends being at least 330 feet away from a nest. In order to protect these birds, we never publicly disclose nesting locations.
If you should come across a nest, please be sure to keep your distance.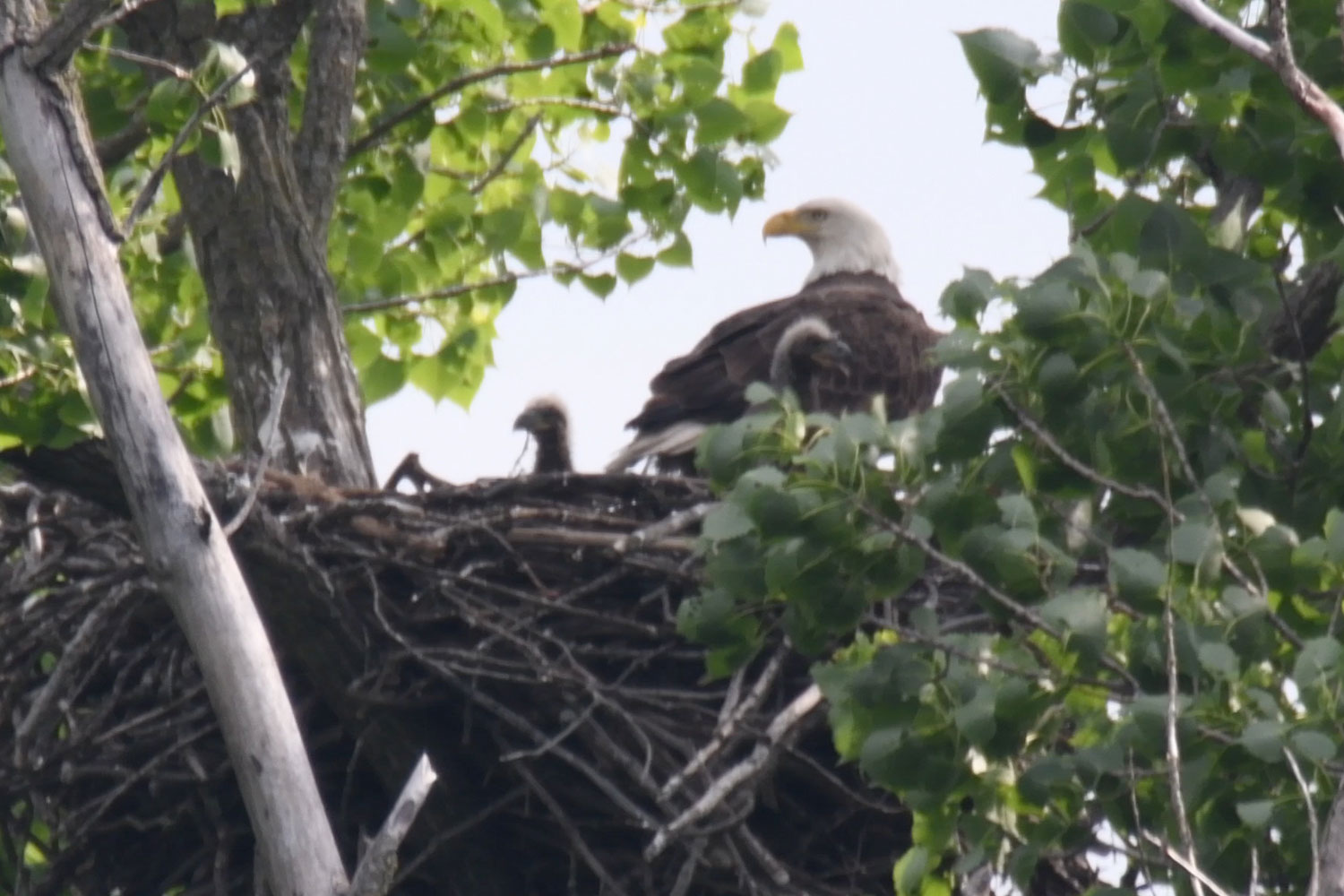 (Photo by Chad Merda)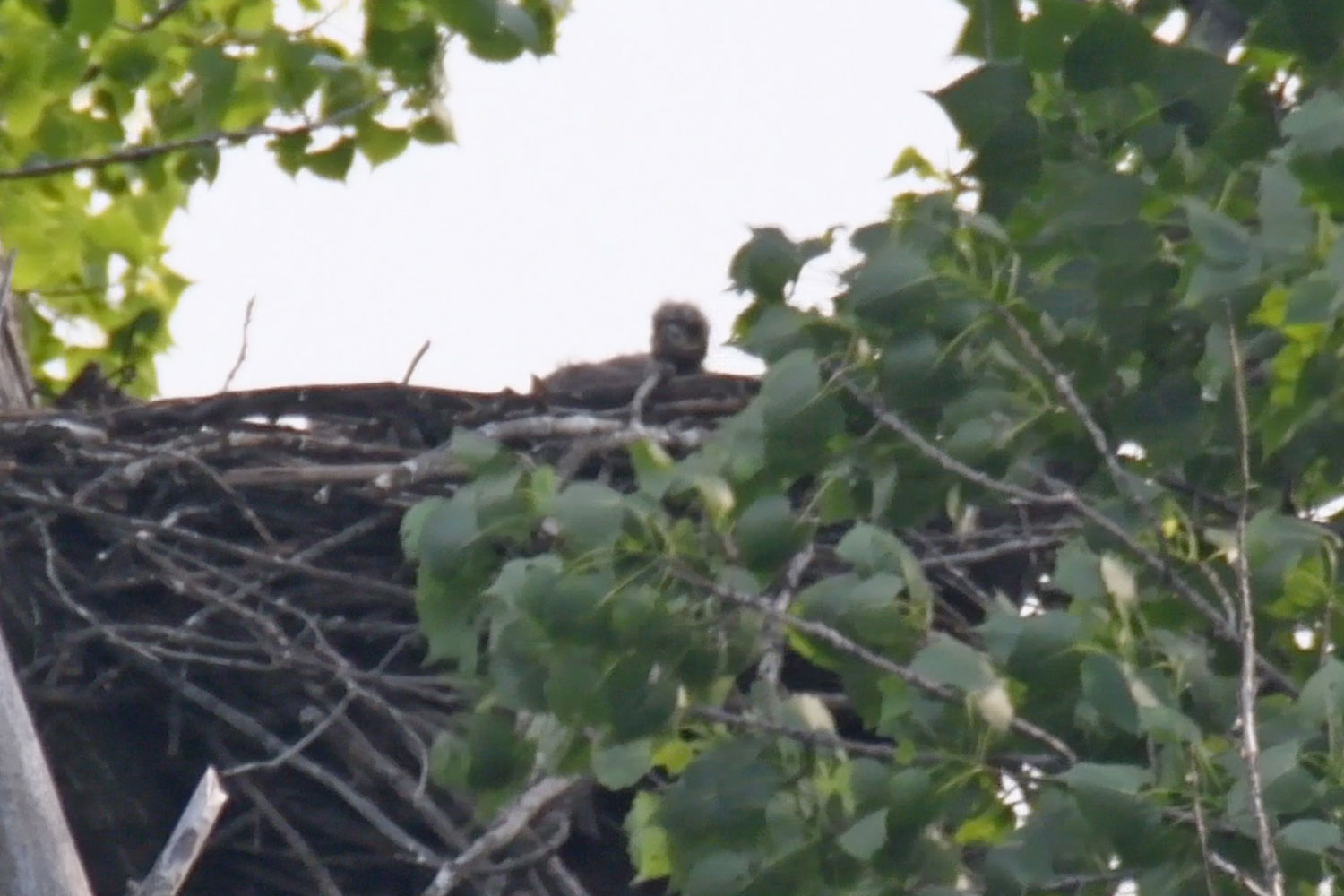 (Photo by Chad Merda)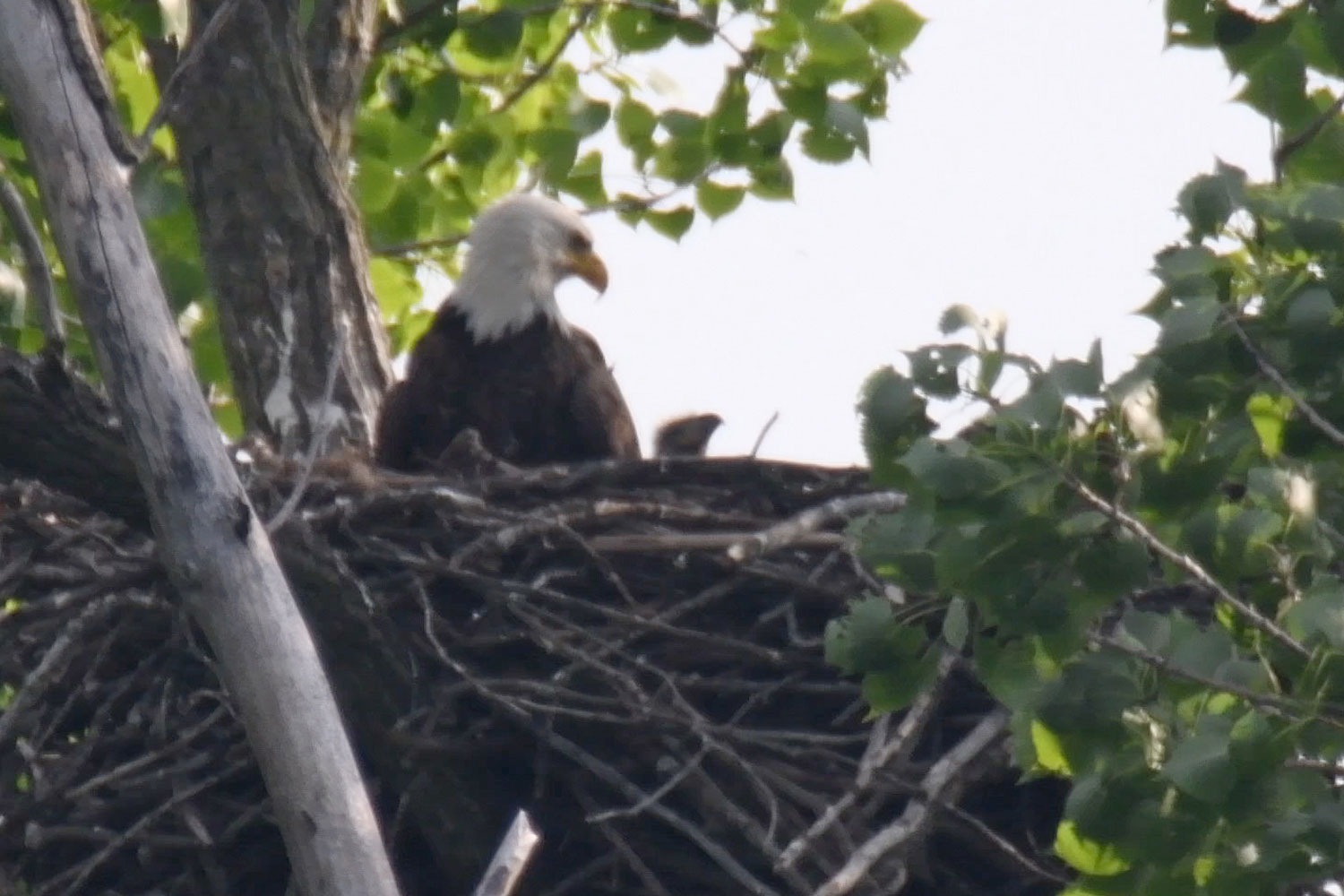 (Photo by Chad Merda)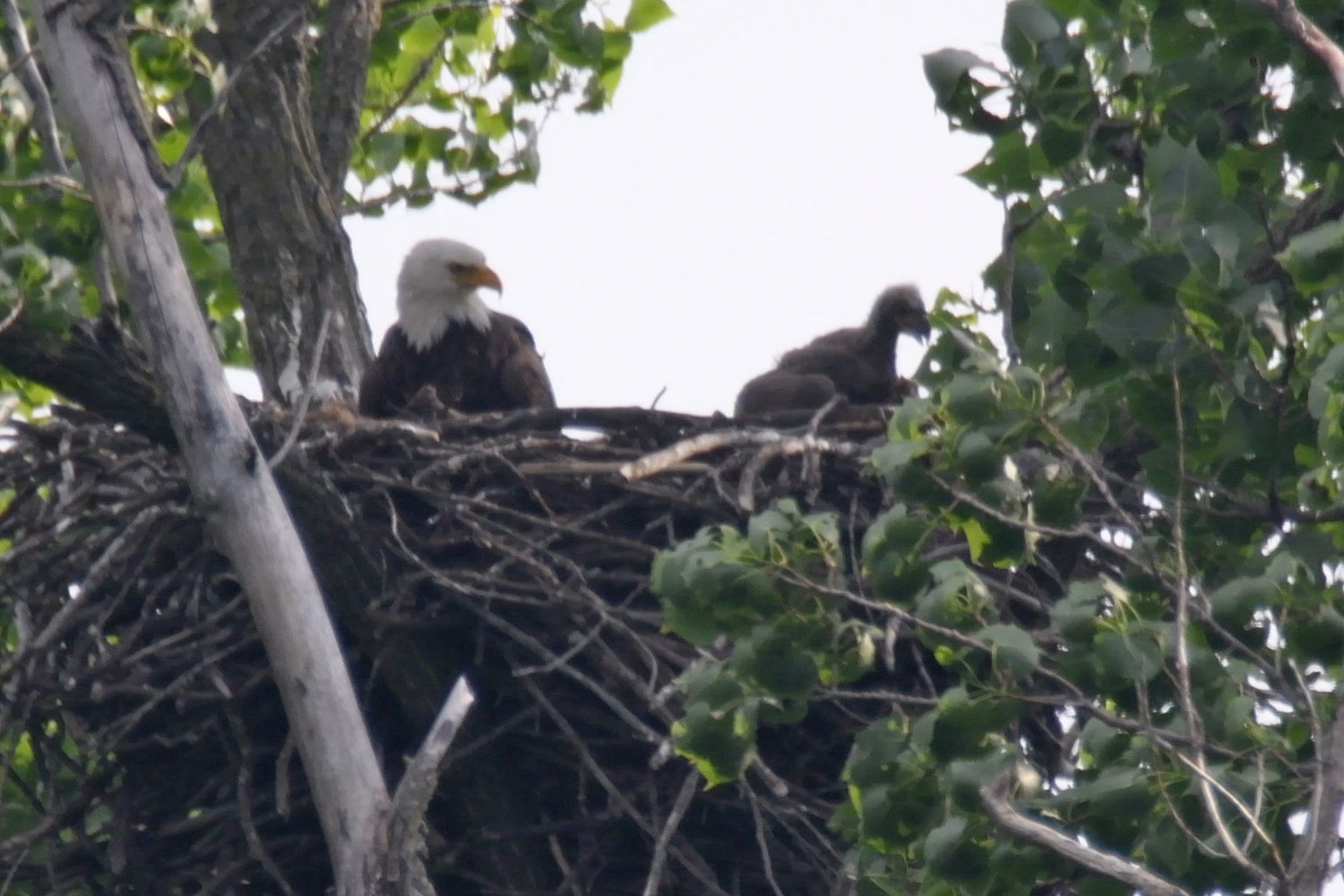 (Photo by Chad Merda)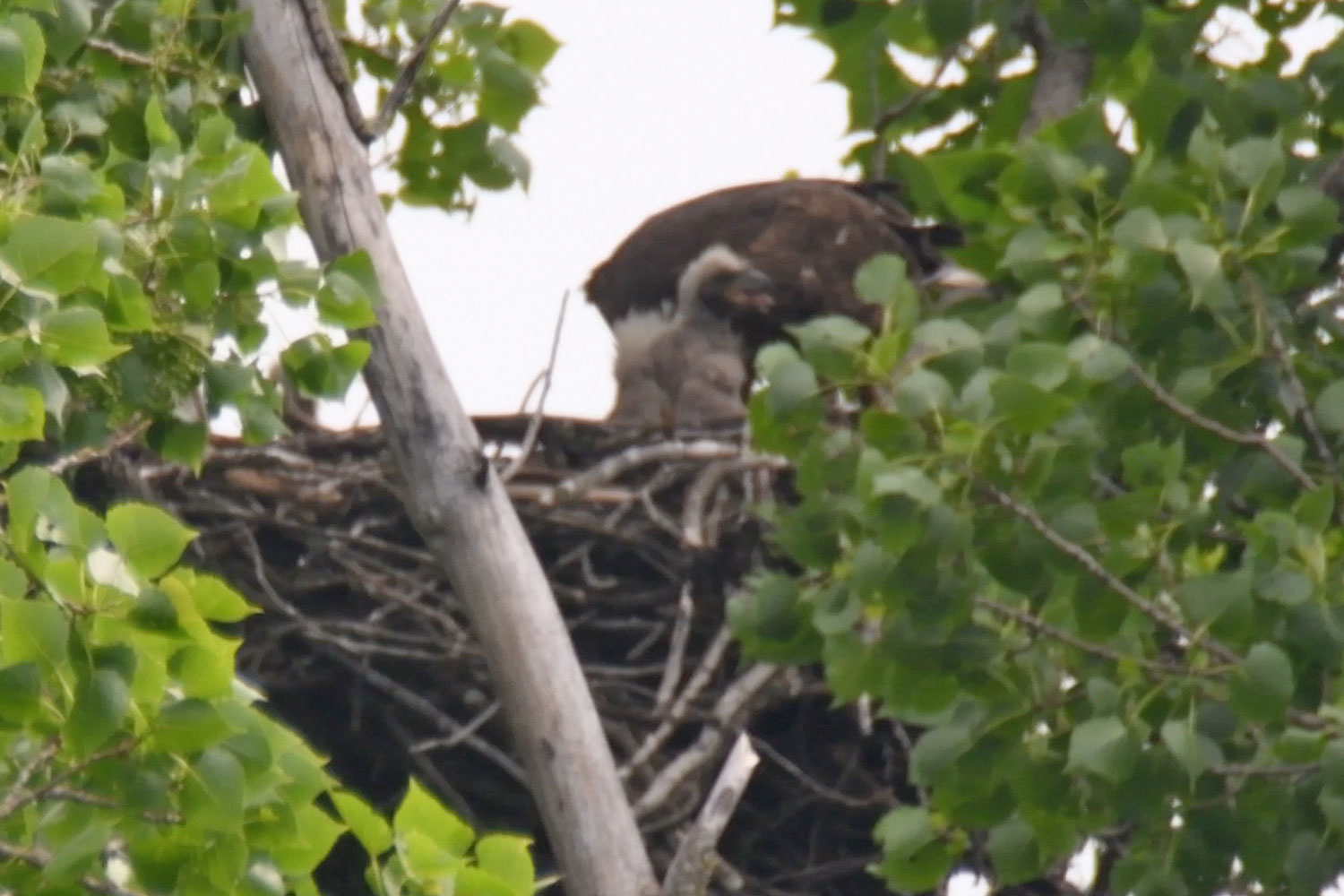 (Photo by Chad Merda)