Bald eagle nesting watch: First attempt fails, but this mated pair gives it another shot
5/9/2022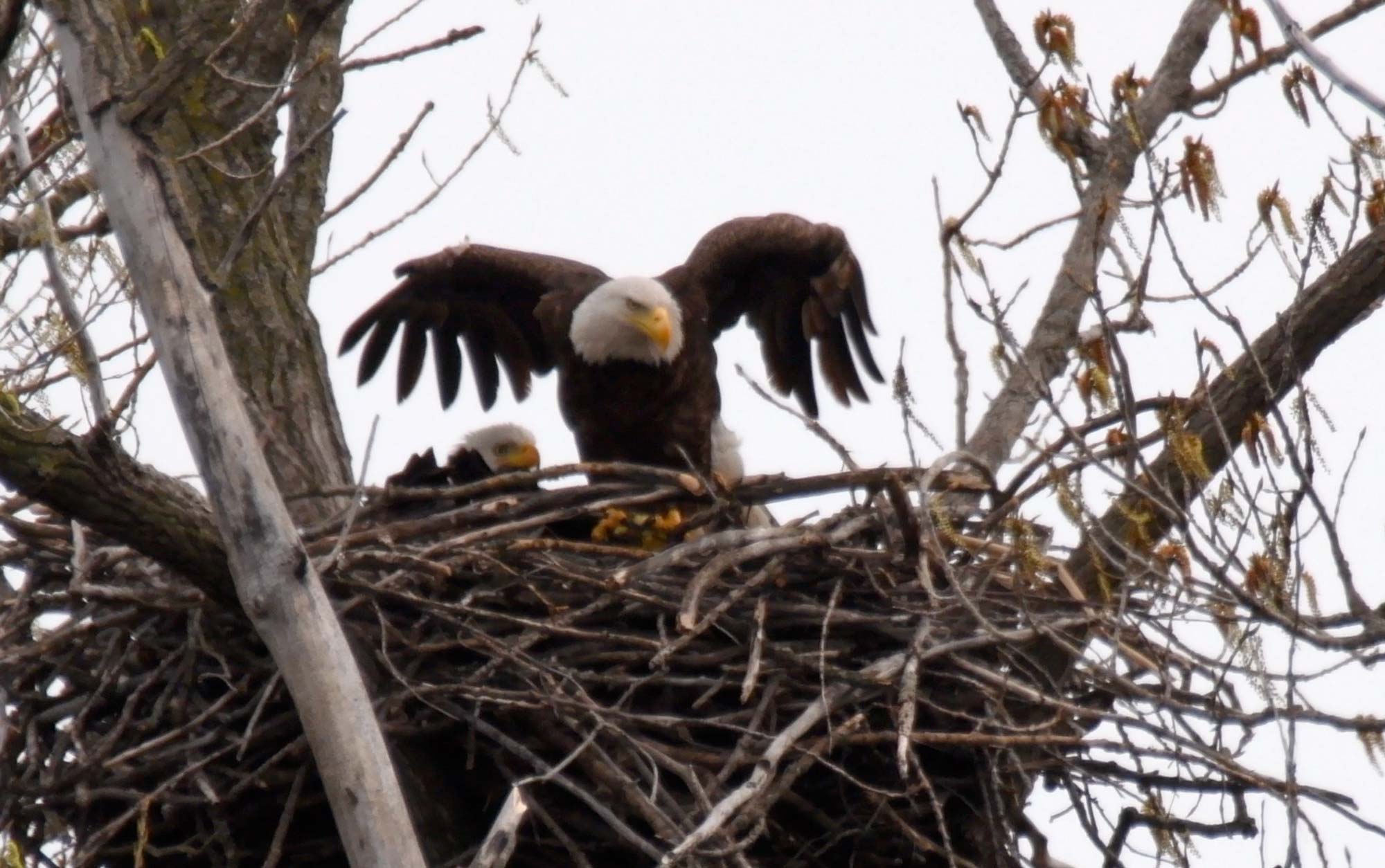 For the past few years, some eagle nests in the preserves have been producing offspring like clockwork but this time around it appears we'll have to wait a little longer to hopefully see eaglets popping out of one of those nests.
While one nest produced offspring about a month ago, things didn't go exactly as planned at the other one.
District staff and longtime volunteer Joel Craig have been checking in on the nest for weeks, trying to get confirmation that eaglets have hatched and striking out every time. For the past three years, this nest has produced a total of six offspring, so not seeing any hatchlings is unusual.
"We've had concerns about the lack of any visible offpsring," Craig said. "We didn't know if we just had impeccably bad timing or if the nest actually failed."
The female in this nest had been sitting on eggs in late February, so by now we definitely should have been seeing eaglets. By piecing together some recent observations, we have a pretty good idea of what's really going on.
The activity in and around the nest signals that the female has laid a second clutch of eggs, which only happens after the loss of all eggs in the first clutch.
Not only has she been consistently sitting in the nest as eagles do when incubating eggs, but we've also witnessed another key part of the process, when the eggs get rolled. The rolling of the eggs helps maintain a consistent temperature and also prevents the embryo from sticking to the egg shell.
While we don't know for sure why the first clutch of eggs failed, Craig suspects a stretch of bad storms in April played a part. Because the failure happened early enough in the nesting season, the pair was able to take another crack at it.
"We saw this exact same thing happen a few years ago down by Starved Rock when a late February tornado went through Ottawa and destroyed the nesting tree," Craig said. "Within about two weeks, the pair had built a new nest and laid another clutch of eggs, resulting in a successful nesting season."
District staff will continue monitoring this nest — from a safe distance as we always do — and hopefully we'll be seeing eaglets popping out of the nest in the next few weeks.
Looking ahead, any new eaglets should start branching — when they start exploring outside of the nest — about 10 weeks after hatching. At around 12 weeks, they'll start testing their wings. They'll remain in the area with their parents' supervision for the rest of the summer and into the fall.
It's important to note that eagles and their nests are federally protected and human interference could cause them to abandon the nest and their eggs. The National Audubon Society recommends being at least 330 feet away from a nest. In order to protect these birds, we never publicly disclose nesting locations.
If you should come across a nest, please be sure to keep your distance.