Bald eagle update: Our second mated pair is incubating eggs
2/27/2023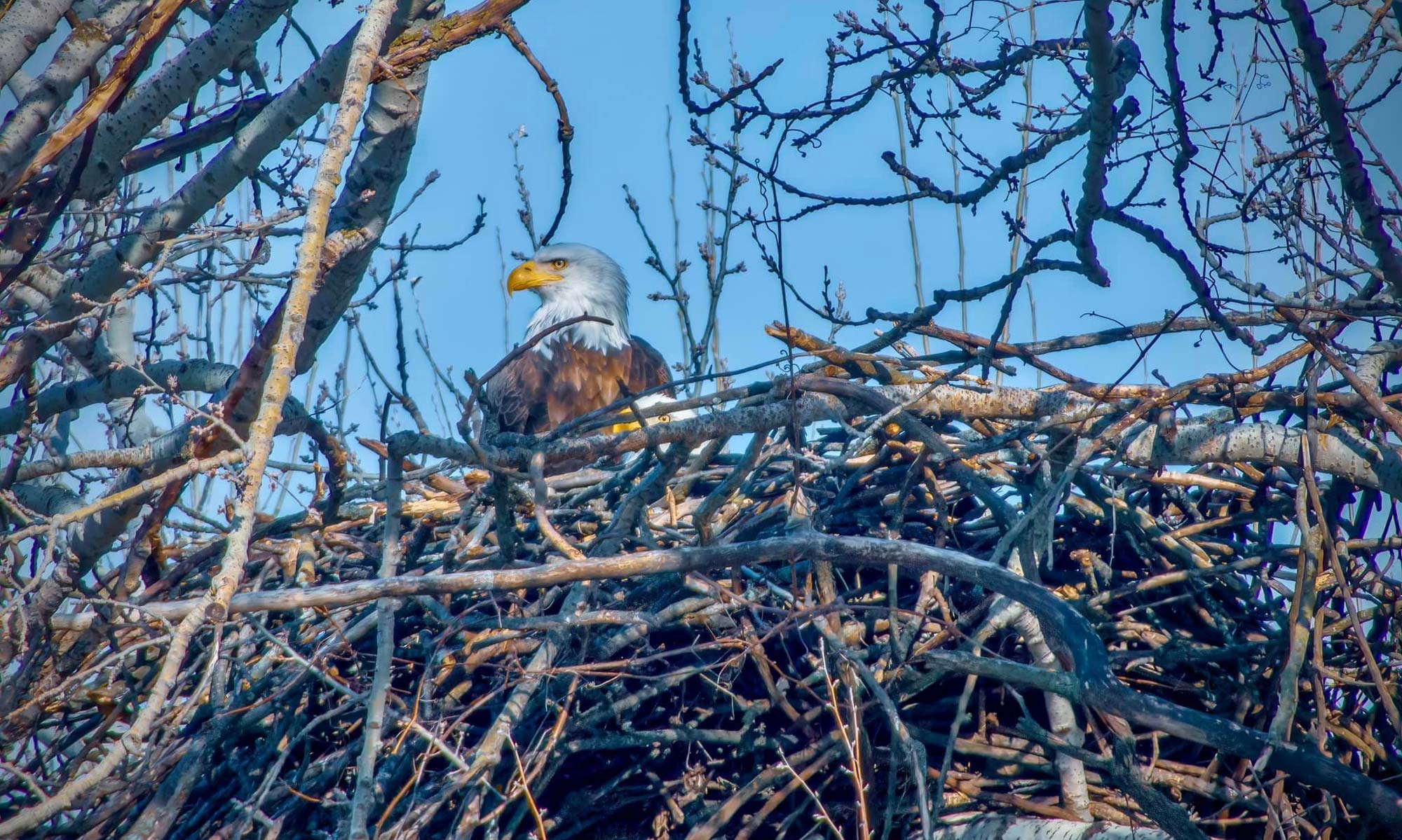 The bald eagle population has been booming in Will County in recent years, and, if things go as planned, we'll have some new arrivals coming in March.
Just like in past years, Forest Preserve District staff and volunteers are monitoring two active nests, and over the weekend, we had visual confirmation that the second mated pair is now incubating eggs. This came about a week after eagles in another nest we're monitoring laid eggs and began incubating. We don't know how many eggs, but eagles lay one to three eggs and generally average two. Last year, both nests successfully produced two offspring.
We are able to determine egg incubation has began by keeping an eye on activity in and around the nest. If the eagle is hunkered down low, there's a purpose, and that purpose is to incubate eggs. In the nest pictured above, the female is low and barely visible while the male is keeping a watchful eye higher in the nest.
Another telltale sign that the eagles are incubating eggs is if they are observed bringing in grass and other materials to help insulate the eggs.
For the nest where we are certain they are sitting on eggs, the countdown can begin. Eggs will hatch after about 35 days, and then about two weeks after hatching, we should see some fuzzy little eaglet heads popping up out of the nest.
In addition to sitting low, the eggs also have to be rolled every few hours. This ensures the lighter yolk doesn't rise to the top of the egg surface, which prevents the delicate blood vessels in the yolk from sticking to the shell and killing the developing eaglet.
RELATED: WATCH 'THE BUZZ' TO LEARN ABOUT BALD EAGLE NEST MONITORING
Bald eagle nests are huge, generally measuring 4 feet to 5 feet wide and 2 feet to 4 feet deep. They are used year after year and require some maintenance prior to each nesting season. Eagles will usually keep building on the nest until it gets too big and it collapses or the weight of it breaks the tree. Then they'll find a new location and build another one.
Longtime District volunteer Joel Craig has been monitoring one nest since it was first built late in 2018 and has noticed how it's changed over time.
"It gets taller each year, and that is just because they are constantly covering what's there and building on top of it," he said. "Whether it's feces, animal remains or other material, it's not like they clean the nest out. They just cover it up and add on to it."
Looking ahead, this year's new arrivals will further increase the local eagle population because they won't stray too far from home. Craig said that an increasing number of immature bald eagles in the winter indicates the ones we're seeing now are residents and not migrants. It's also evidence that we have good, clean water and a healthy fish population to support them year-round.
"To see eagles rebound like they have in this area in the past 10 years has been pretty exciting," Craig said. "To be threatened and endangered when I was a kid to what we're seeing now, it's really a population explosion in our area over the past few years.
"They're just such majestic birds, it's hard not to be in awe of them," he said. "To continue to watch the nests over the years has been fascinating."
It's important to note that eagles and their nests are federally protected and human interference could cause them to abandon the nest and their eggs. The National Audubon Society recommends being at least 330 feet away from a nest. That's about the length of a football field. In order to protect these birds, we never publicly disclose nesting locations. If you should come across a nest, be sure to keep your distance.