Bald eagle nesting update: The kids are growing up fast
5/23/2023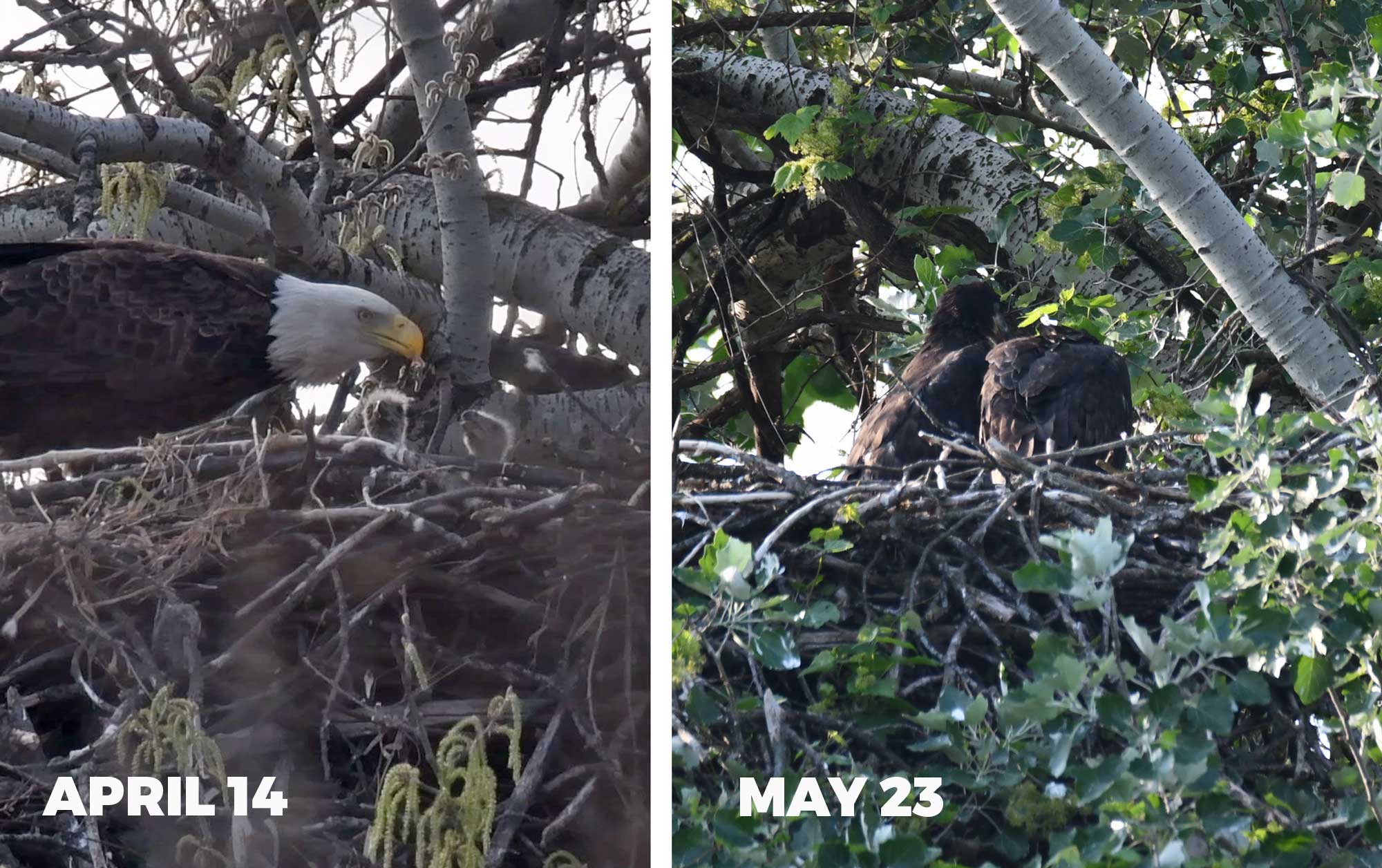 When it comes to bald eaglets in their nest, what a difference five weeks makes.
Around the middle of April, we had to look really closely and get lucky in order to spot the fuzzy little eaglets in each of the two active nests, but that's definitely not the case now. On Tuesday morning, we stopped by the nest with two eaglets to check on the activity — at a very safe distance — and spotted both eaglets moving around while one of the parents perched on a branch above.
After about 30 minutes, the other adult eagle dropped in for a visit.
While observing the eaglets – which are estimated to now be about 8 weeks old – we saw them exercising their wings, which is a vital activity to get them ready to begin flying. In the coming weeks, they'll start branching, which means they'll venture out on nearby branches with very short flights to build up strength in their wings and legs. They'll do this for about 10 days, then at about 10 to 12 weeks of age, they're ready to fly. Most eaglets will fledge when they're about 12 weeks, but will remain in the immediate area under their parents' supervision well into the fall.
RELATED: WATCH 'THE BUZZ' TO LEARN ABOUT BALD EAGLE NEST MONITORING
Looking ahead, this year's new arrivals will further increase the local eagle population because they won't stray too far from home. Longtime District volunteer Joel Craig said that an increasing number of immature bald eagles in the winter indicates the ones we're seeing now are residents and not migrants. It's also evidence that we have good, clean water and a healthy fish population to support them year-round.
"To see eagles rebound like they have in this area in the past 10 years has been pretty exciting," Craig said. "To be threatened and endangered when I was a kid to what we're seeing now, it's really a population explosion in our area over the past few years.
"They're just such majestic birds, it's hard not to be in awe of them," he said. "To continue to watch the nests over the years has been fascinating."
It's important to note that eagles and their nests are federally protected, and human interference could cause the birds to abandon the nest and their eggs. The National Audubon Society recommends being at least 330 feet away from a nest. That's about the length of a football field. In order to protect these birds, we never publicly disclose nesting locations. If you should come across a nest, be sure to keep your distance.