Floats like a butterfly, stings like a bee: pollinator pair win August photo contest
9/2/2022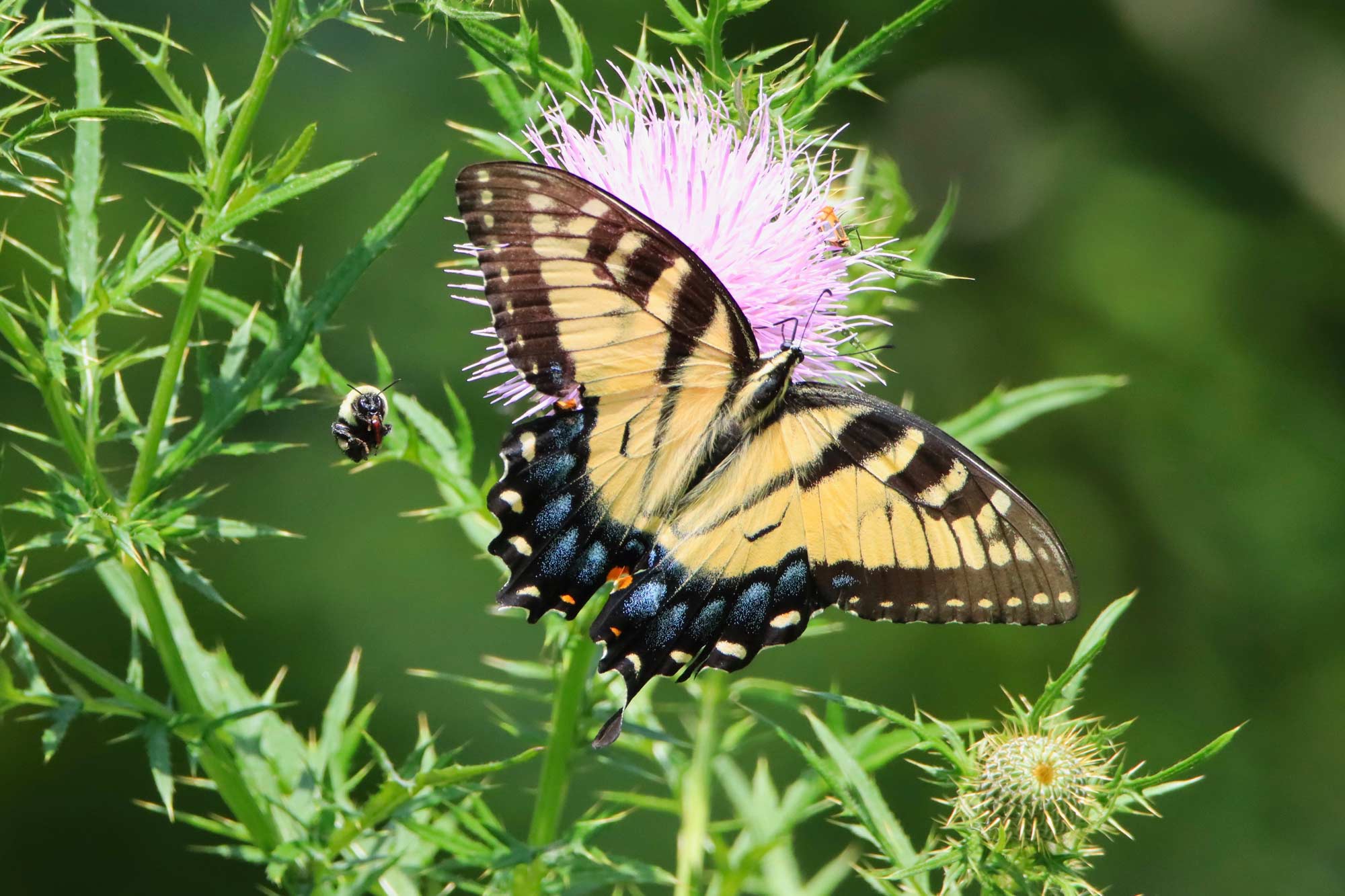 A perfect summertime photo of a beautiful butterfly and a buzzy bee won August's portion of the Forest Preserve District's Preserve the Moment Photo Contest.
Byron Morgan of Crete snapped the pollinator pair at Hickory Creek Preserve.
"I went to Hickory Creek because I always seem to get a good variety of wildlife and landscape pictures for my photography hobby," Morgan said via email after being notified of his win. "This butterfly found a good resting spot, and I was able to get many pictures before the bee showed up. Thank goodness I was able to get them both together."
The photo, which featured an eastern tiger swallowtail and a bee in midair, received the most votes through public voting on Facebook after being chosen as one of five finalist photos by Forest Preserve judges.
Facebook voters were amazed with the beauty of the photo. Here are some of the Facebook comments people wrote as they voted for the photo:
"This photograph is so lovely. It captures so much beauty and detail."
"This photo managed to pair these two wonders of the insect world! Just beautiful."
"It's like the bee is waiting for the butterfly! Gorgeous."
Morgan is the fourth monthly winner since the contest began in May.
The other finalist photos receiving honorable mentions in August were:
Four more monthly winners will be chosen through December. Monthly winners receive $75 MasterCard gift cards.
Once the contest concludes on Dec. 31, the eight monthly winners will vie for overall honors via Facebook voting. The top photos will receive gift cards of $500 for first place, $250 for second place and $150 for third place. Three contest participants chosen at random will receive $75 gift cards. All prizes are funded by The Nature Foundation of Will County.
Participants must be 18 years of age or older and amateur photographers, and the photos must have been taken in the Forest Preserve District's preserves after the contest began on May 1.
To enter the contest, all you have to do is upload up to five of your best photos for consideration at the conclusion of each month. Please read all contest rules and photo upload instructions before entering the contest.
To view all photo contest entries, visit the District's Flickr account.