Area vet clinic provides key assist in ornate box turtle study
7/11/2022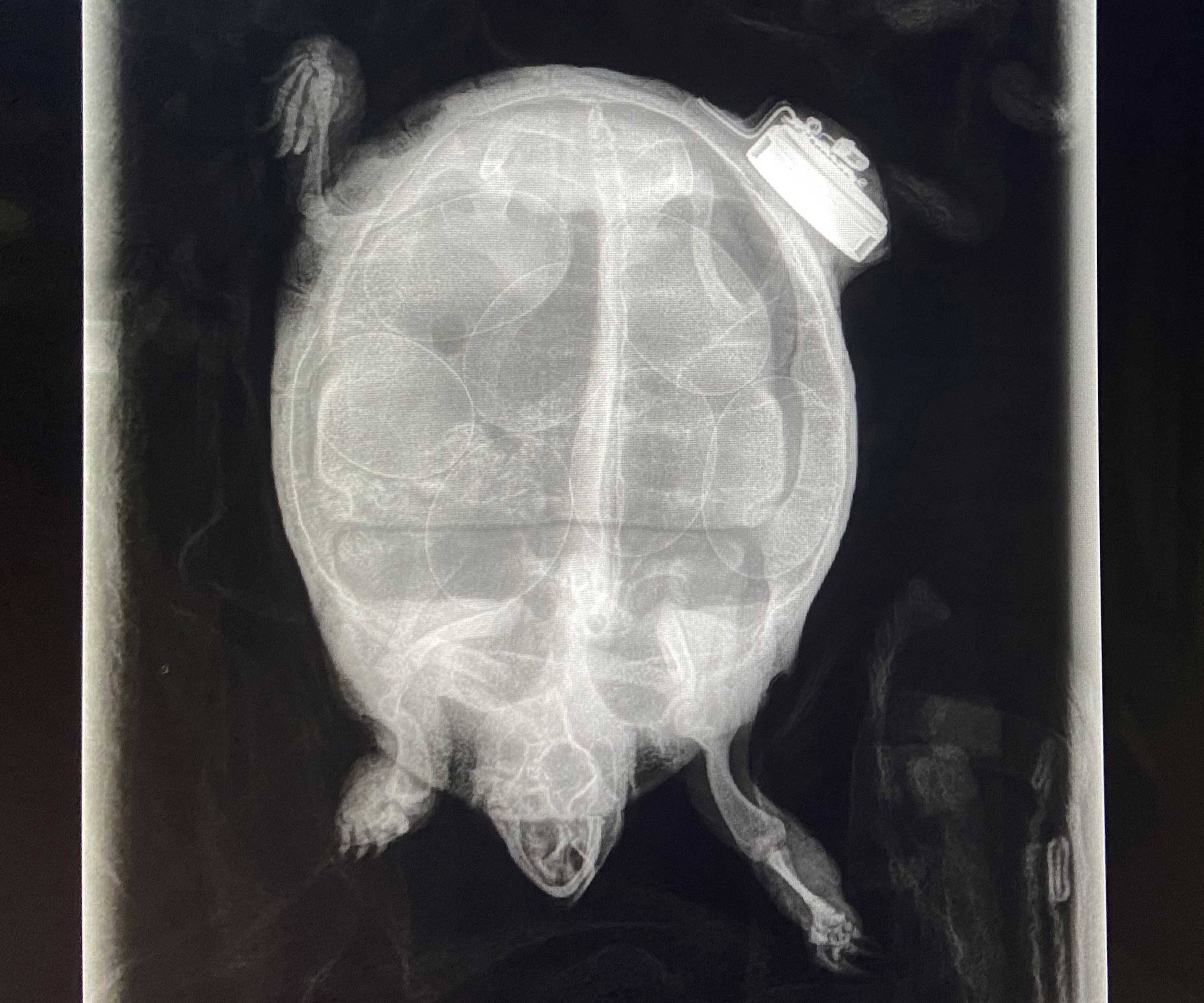 For the second straight year, a Forest Preserve District study into the ornate box turtle population in southern Will County has gotten a crucial assist from Lakewood Animal Hospital in Morris.
Becky Blankenship, the Forest Preserve's wildlife ecologist, began studying the ornate box turtle population in the southern part of the county in May 2021. Her study involves tracking the movement and habitat use of the turtles, as well as collecting reproductive data such as clutch size, nest site selection and nest success. The turtles are a state-threatened species, and her study will allow the District to better manage the habitat to aid in their survival and increase the viability.
The study has grown since its first year, and Blankenship is now tracking 15 ornate box turtles, seven females and eight males. The turtles are outfitted with transmitters that allow the turtles to be easily tracked so data can be collected. Among the data collected are habitat descriptions, activity and weather, along with notes and photos. At the end of year, Blankenship can then calculate the monthly and annual home ranges for each turtle.
An integral part of the study is getting radiographs, or X-rays, taken of the female ornate box turtles to determine if they are carrying eggs, and this is where Lakewood Animal Hospital has been a key partner, Blankenship said.
"This is the second year that the hospital has coordinated with me and assisted this project," she said. "I cannot thank Dr. Michael Miller, Dr. Stephen Carter, the technicians and the staff enough for their help."
Last year, a local veterinary clinic put Blankenship in touch with Lakewood because they are known for their work with turtles. After explaining her project to veterinarian Dr. Michael Miller, he offered to perform the radiographs on the female turtles at no cost, which he did again this year.
"(The X-rays) allow us to count how many eggs each female will lay, which can be used to determine average clutch size and, potentially, nest success rates after hatching is complete," Blankenship said, adding the females are X-rayed every two weeks from the end of May through June. "This data is invaluable in determining the viability of the population."
This year, six of the seven female turtles that were X-rayed were found to be gravid, or carrying eggs, Blankenship said. Knowing which turtles are gravid allows Blankenship and her team to better focus their efforts.
"Without the X-rays showing us which females are gravid, we would have to track every female every single night during the whole nesting season and hope they are carrying eggs," she said. "The X-rays from Lakewood Animal Hospital save us a massive amount of effort by allowing us to only track females while they are gravid."
As anyone who has ever had an X-ray knows, remaining still during the process is essential to getting good images. With animals, that can pose some challenges, but veterinarians, of course, have some tricks up their sleeves. For the study, it helps that X-raying the turtles to see if they are gravid does not require them to have their legs in a specific position.
"As long as the turtle is sitting still, we can obtain a usable image," Miller said. "Our trick to get them to sit still is putting them in a small plastic container, sometimes with a towel stuffed in one side to keep them from walking around, and then centering the container in the X-ray beam instead of convincing the turtle to sit in that spot."
Even for a layperson it's quite easy to determine if the turtles are gravid. "The eggs look like a thin outline of an oval, which makes them easier to find than many other medical conditions we look for on an X-ray," he said.
With knowledge of which turtles were carrying eggs, Blankenship and her team were able to locate and protect two of their nests. Although not all the nesting sites were found, they now know which area they nest in, which is helpful.
"This nesting season gave us a great deal of information that we can use in land management decisions," she said. "For example, having only a few suitable nesting habitats concentrates nest locations to those areas."
Understanding what kind of habitat areas the turtles choose for nesting sites makes it easier to replicate to increase the likelihood that the unprotected nests will survive until the eggs hatch, Blankenship said. It also allows the team to better survey the habitat areas for hatchlings and nests that have been destroyed by predators.
Wild turtles may seem like an unusual specialty for an animal hospital, but Miller said Lakewood has been working with wild turtles for about eight years, mostly treating animals rescued by good Samaritans and brought in for treatment. His work with Blankenship is the first time he has aided in a wildlife research project.
Miller has long been interested in exotic pets and is a member of the Association of Reptilian and Amphibian Veterinarians. He said Lakewood Animal Hospital does see some non-traditional pets as patients in addition to the more typical cats and dogs, and they are one of the few animal hospitals in the area comfortable working with reptiles, including lizards and snakes as well as turtles.
"People build human-animal bonds with their pet reptiles just as strongly as pet owners with dogs and cats, and we strive to provide the same level of compassionate medical care for all of these species," Miller said.