April's 'Buzz' nature show touts benefits of nature outings
4/21/2023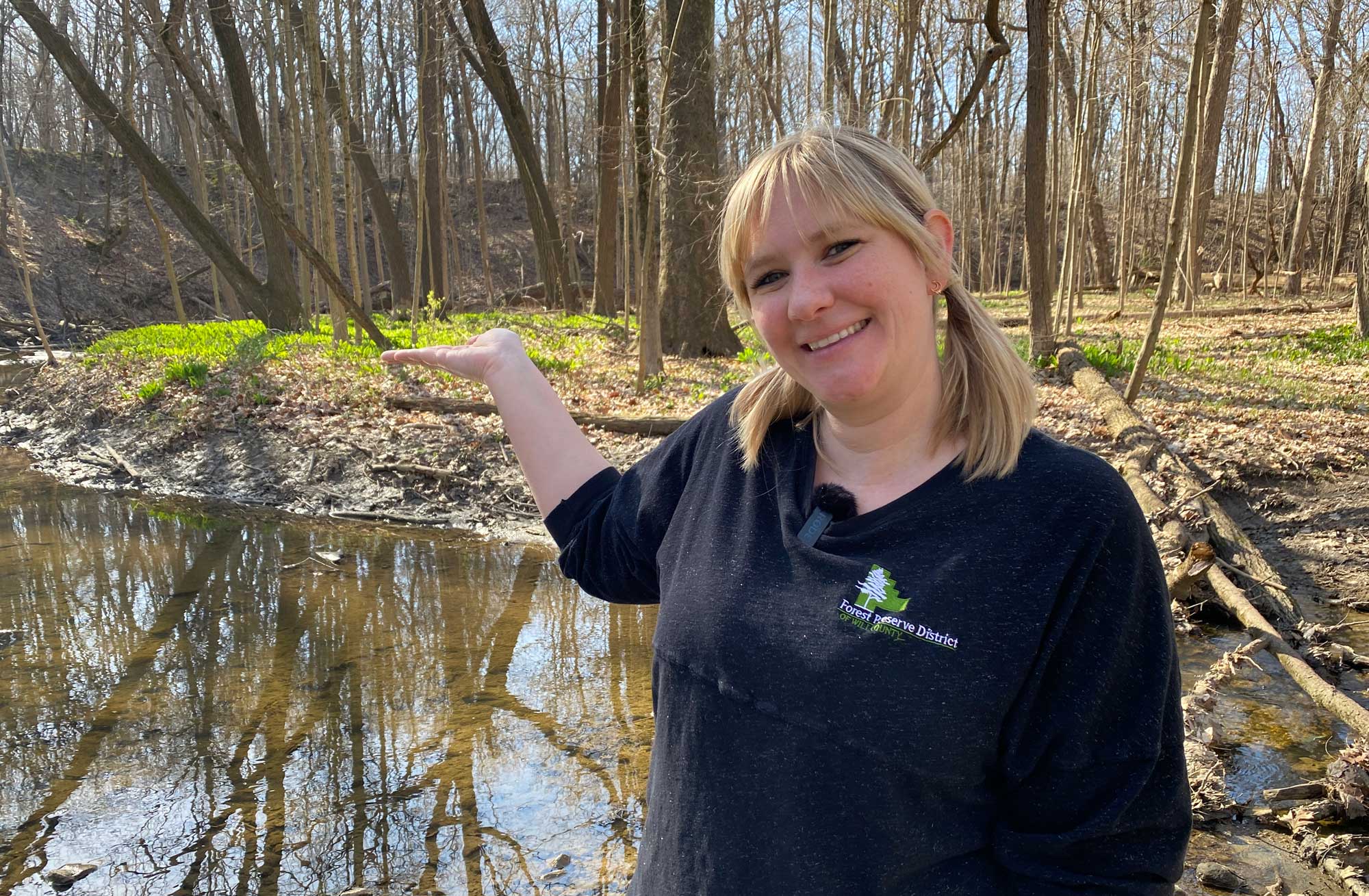 With spring in the air, April's episode of "The Buzz," the Forest Preserve's monthly nature show, will feature the benefits of being outside, how you can participate in the District's outdoor challenges, and tips for tracking wildflower bloom times.
"So many studies support that spending time outdoors is beneficial for both our physical and mental health," said program host Suzy Lyttle, a Forest Preserve program manager. "Personally, I have experienced the power of nature rejuvenating my spirit and relaxing my racing mind after a long day."
April's episode will debut at 8:30 p.m. Wednesday, April 26, on the Forest Preserve's Facebook and YouTube pages. The show also will air on WJYS TV at 9 p.m. Friday, April 28, and at 11 a.m. Saturday, May 6, courtesy of funding from The Nature Foundation of Will County. Local cable stations also carry the show in Joliet, Naperville, New Lenox, Romeoville and Tinley Park.
In addition to urging people to get outside, Lyttle said April's show will review tips for staying safe in the outdoors.
"For instance, even if you are just going on a short walk or a picnic, it is always important to tell someone your plan," Lyttle said.
Jen Guest, the Forest Preserve's recreation coordinator will join Lyttle in the second "Buzz" segment to describe the many recreational activities visitors can enjoy in the preserves.
"We cover hiking, biking, fishing, paddling and more," Lyttle said. "My favorite is paddling. Being on the water is just my happy place. Doesn't matter where, it always instantly wipes all the stress away!"
The show also will highlight programs coordinated by Guest including the Will County Triple Crown Hiking Challenge, the bike recreation club, and the fall Woods Walk hiking challenge, as well as the Take it Outside Challenge.
"So many people have joined the yearlong Take It Outside challenge and are completing missions and exploring the preserves using the free smartphone app, Goosechase," Lyttle said. "I have talked to a few challenge fans who said they are spending more time outside every week to get in as many missions as they can!"
April's Buzz Bit will inform people on how to track spring wildflowers.
"The wildflowers are only blooming for a short time, so it motivates me to spend more time in nature to catch as many blooms as I can," Lyttle said. "I have been tracking my favorite flower locations since 2012 and will give viewers a few tips on how to get in on the action."
View all episodes: