Adopt-a-Preserve: 'cleaning up and giving back to the planet'
12/2/2022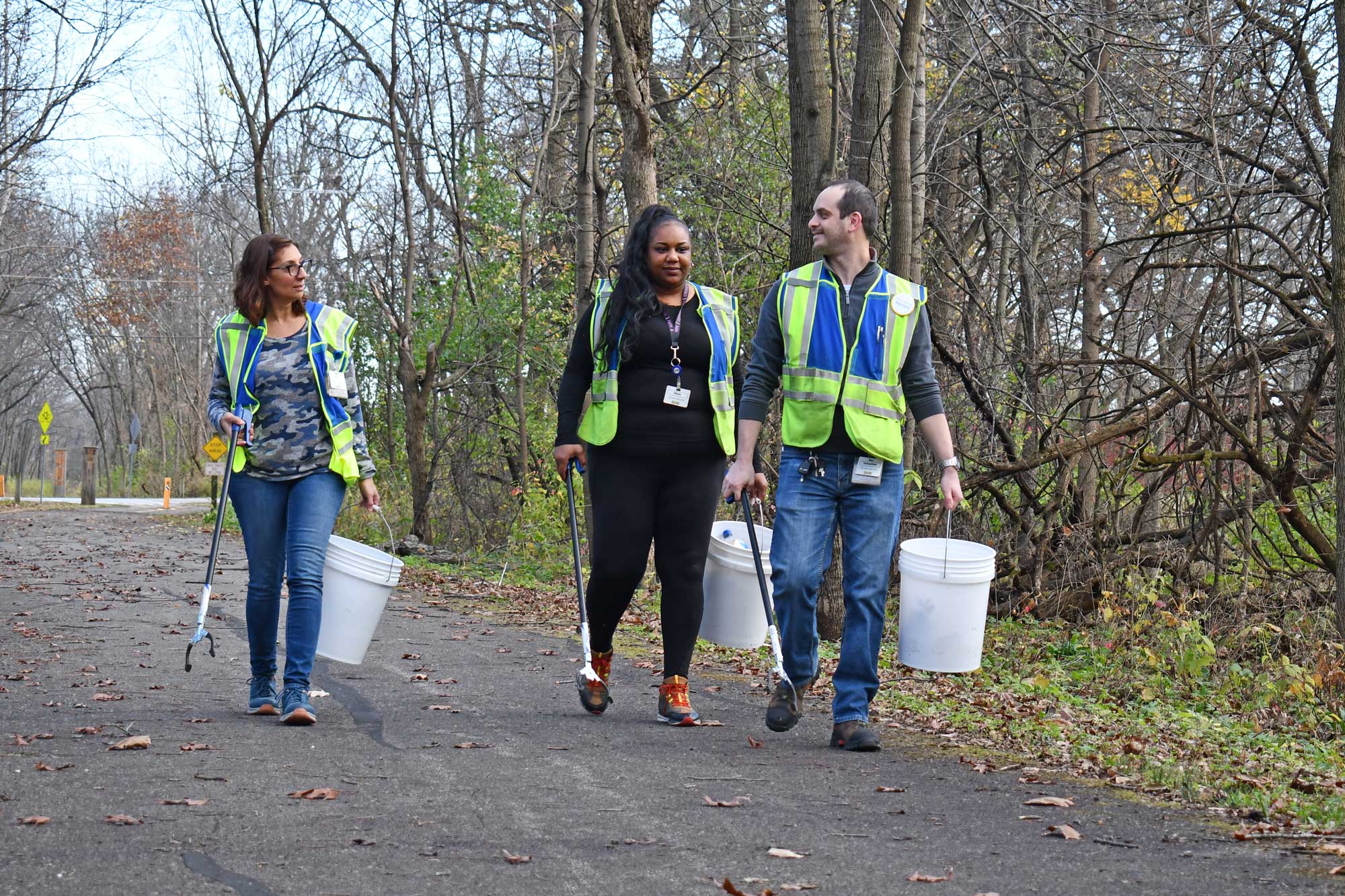 Once a month, IKEA workers head out to the Wauponsee Glacial Trail located just east of their distribution facility in Joliet.
They're not hiking or biking, they're cleaning a stretch of the path from Laraway Road north to Interstate 80. Earlier this year, the company adopted this patch of nature as part of the Forest Preserve District's Adopt-A-Preserve program.
"Overall, the experience has been amazing," said Sebastian Di Clemente, IKEA Joliet Sustainability Developer. "We're able to get out of the warehouse and enjoy all nature has to offer at a fairly leisurely pace, while at the same time learning about some local flora and fauna."
The monthly outings also are allowing coworkers to get to know each other better, he added.
"All while cleaning up and giving back to the community and the planet," Di Clemente said. "Everyone wins with sustainability!"
In the past several months, the group has removed "a vast array of debris," he said, including tires, bottles, cigarette butts, wrappers, and fast food bags and containers.
"We have already completely cleaned once-over and are starting a second pass," Di Clemente said.
Adopt-a-Preserve
The Forest Preserve's Adopt-a-Preserve program is open to both groups and individuals who join the Forest Preserve's Prairie People Volunteers team and are assigned a trail, trail section, campground, grove or preserve.
"When a new volunteer asks where help is needed, I can look at a map and point out places of concern," said Emily Kenny, the District's volunteer services supervisor.
Volunteers report preserve maintenance issues to District staff, but most of their time is spent cleaning litter, Kenny explained.
"We have grabbers, buckets, gloves, bags and vests for volunteers to use," she said. "Depending on the site, they may also help with bigger projects like wood chipping or restoration, activities that are coordinated with staff assistance."
Volunteer hours can be scheduled to meet a group or a person's needs.
"However, we do ask that individuals donate six hours a month year-round and groups donate a minimum of two hours a month for at least five members year-round at the same location," Kenny said. "And we hope they will stay for years, but at least one year is recommended."
The program is appealing to companies and organizations because groups have flexibility to rotate different members through each month, she said.
"And the program is rewarding because participants have a sense of pride in their efforts and regularly get thank-you's from the public when volunteering," Kenny said.
People and Planet program
IKEA adopted a portion of the Wauponsee Glacial Trail as part of the company's Caring for People and the Planet program, which taps into the company's goal of leading the way in sustainability, Di Clemente said.
"Our co-workers get a chance to experience our Caring for People and Planet value firsthand while serving the local community," he added. "The proximity of the trail to IKEA Joliet made this a perfect partnership."
The company has 25 workers who rotate each month in two crews of five on the trail service day.
"This activity and the many others that the company has taken part in are all designed to give back to the community and the world," Di Clemente said.
IKEA donates furniture, clothing, shoes and food to the community and employees have volunteered at many local organizations. Adopting a section of the Wauponsee Glacial Trail is just one more way the company is making a difference, Di Clemente explained.
"Living our values is about what we do and how we act every day," he said.
Filling a niche
Other groups have adopted additional sections of the Wauponsee Glacial Trail. Lincoln-Way High School's Air Force Junior Reserve Officer Train Corps adopted portions of the Old Plank Road Trail. And a homeschool group called Nature Schoolers has adopted Isle a la Cache preserve and cleans the site regularly, Kenny said.
All volunteer contributions are appreciated because they free up staff to perform work elsewhere around the District, Kenny said. Groups that stick with a site for at least six months get a recognition sign.
"I am grateful to everyone who keeps our natural areas clean," she said. "The Adopt-a-Preserve assignment is a small fraction of total volunteer programs, but it does fill a niche where people can focus on one area that could use regular help."
For more information about becoming a volunteer or adopting a preserve, contact Emily Kenny at 815-722-7364 or [email protected].