Take It Outside: Passport to the Preserves
Event information
Fee: Free!
Age: All ages.
Contact: 815-727-8700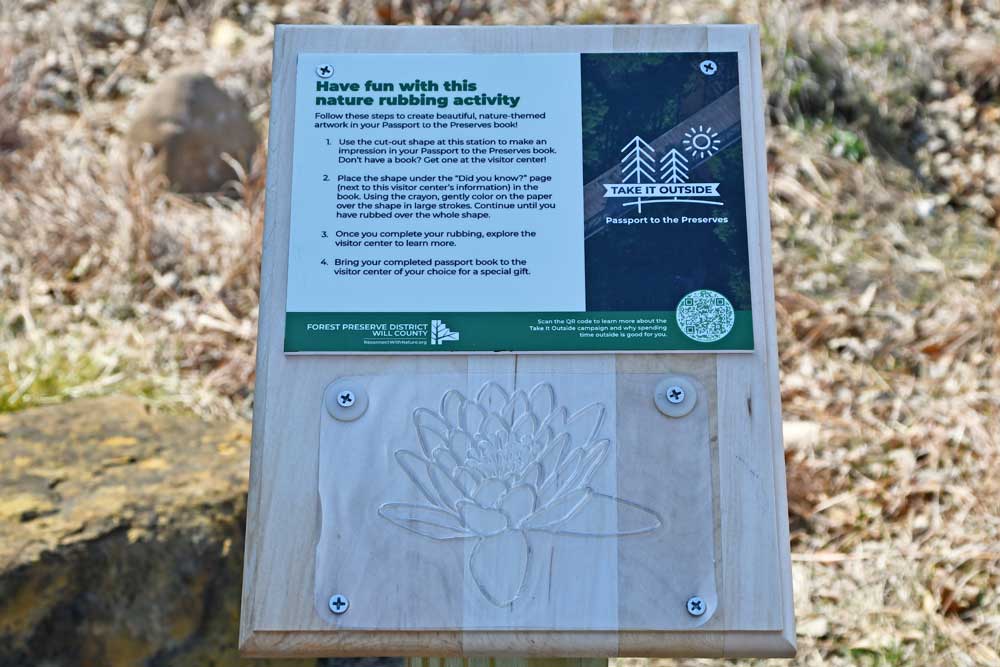 (Photo by Glenn P. Knoblock)
Event details
This ongoing program runs from Saturday, April 1, to Thursday, Aug. 31. Preserve hours are 8 a.m. to sunset.
Participate in the Take It Outside: Passport to the Preserves program to learn more about the District's visitor centers and preserves, while also creating some art. The passport program encourages everyone to visit the District's five visitor centers and to "stamp" their passport with a nature rubbing at each location. Stamp stations unique to each visitor center are available both inside and outside the buildings.
To create a stamp impression, simply place the correct passport page over the plastic plate and gently color over the shape in large strokes. Then, while there, explore the visitor center to see all the unique aspects of each site, including a 2,000-gallon aquarium, live animals, a beehive, exhibits, programs and more.
In addition to pages where the nature rubbings can be completed, the passport includes a list of top things to do at each visitor center as well as available recreational opportunities.
The five visitor centers are: Four Rivers Environmental Education Center in Channahon, Hidden Oaks Nature Center in Bolingbrook, Isle a la Cache Museum in Romeoville, Monee Reservoir Visitor Center in Monee Township and Plum Creek Nature Center in Crete Township near Beecher.
Everyone who visits all five visitor centers and completes each nature rubbing receives a special Take It Outside pin to adorn a hat, backpack or jacket. Just bring your completed passport to the front desk of any Forest Preserve visitor center to redeem your reward.
Event requirements
No registration is required for this program.
Passports may be picked up at any Forest Preserve visitor center, starting April 1.
All visitor centers are accessible. Anyone who requires an auxiliary aid or service to participate in this program should submit a request online no later than 48 hours before the program.