Stellato family's 'Happy Place': Loving nature and removing litter at Hammel Woods
8/3/2020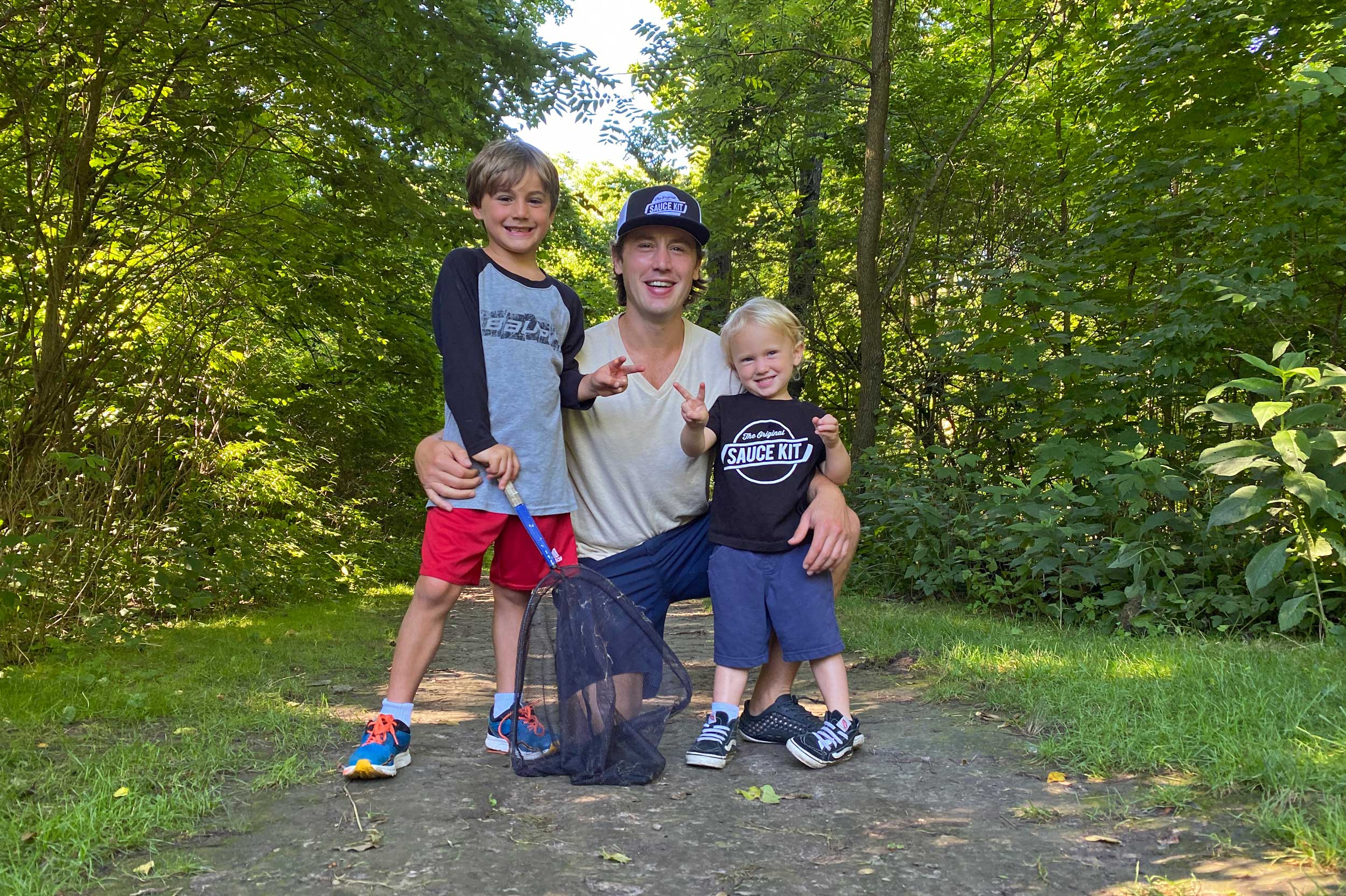 Some people see litter and they walk on by, but not Vince Stellato and his two sons, Vincent, 5, and Camden, 3.
The family trio can be seen most days walking the paths of Hammel Woods, enjoying nature, but also leaving the woods cleaner than when they started.
With his love of nature and his desire to teach his sons about the environment and why it is important to keep it clean, Stellato has truly made Hammel Woods his family's "Happy Place."
"It's our favorite for many reasons," Stellato said, while sitting at a picnic table in the preserve with his sons during a recent interview. "We love the woods (and) we seem to always find the coolest stuff here too."
Frogs, catfish, beavers, bunnies, bugs, woodpeckers, owls and snakes have all been spied by the Stellatos on their walks.
Family trio removes trash
Stellato has been visiting Hammel Woods regularly ever since he returned from living out West a few years ago and moved into a house across the street from the preserve. When Vincent turned 1, he decided to take the boy on walks through the woods.
"I think me and him kind of fell in love with it together," Stellato said of the Shorewood preserve.
When Camden was old enough to walk, he began tagging along on trips to Hammel Woods too. Now that the boys are old enough to learn about the trees, insects and creatures, Stellato said it is important to teach them to respect and protect nature by cleaning up the litter they encounter.
Stellato said he worked for the Forest Preserve District in the summer when he was 16 and one of his jobs was to pick up litter.
"You'd see certain places where people would dump whole garbage bags," he said.
So, it made sense for him to continue to remove the rubbish even when he had moved on to his own career.
"When we started going, we would just pick up piece by piece as we were walking," he said of his outings with his young sons.
When Vincent turned 3, Stellato decided to increase his efforts in honor of Earth Day and he filled a garbage bag with trash. The effort felt so good, Stellato said, he realized he didn't have to wait for Earth Day to pick up more litter with his boys.
"We started doing it every month, sometimes every week, and we will just bring out a bag and we will start picking up," he said. "It's been a learning experience for the boys. … We can just be out there together in the moment, be present together. That's what I most enjoy from it."
Stellato hopes his family's willingness to pitch in and pick up litter will inspire others and they will either remove refuse on their own or be less inclined to litter.
"I'm just hoping that as the generations go on, there's more and more connection to nature," he said. "Because if you're connected to nature and you respect it, you would not litter."
A place of healing
Stellato grew up in an outdoorsy, hockey-playing family and he often would walk or rollerblade on the Hammel Woods trails when he was a kid.
"It's something my parents got me into," he said. "My dad is always on the trail biking and my mom's very into nature. So, they brought me and my brothers out here when we were young."
He played hockey and his mom, Terese Stellato, coached for many years at Inwood Athletic Center. But the sport took its toll on Stellato's body. He said taking gentle walks in the woods when he moved back to Illinois helped reduce the stress of starting a business and heal some of his old hockey injuries.
"We started coming out here and it was like a release," he said. "It was serene, it was nature, it was beautiful. … "It's not only a happy place, but a place of healing for me."
Hockey also led to his profession. He has created a backyard hockey game, The Original Hockey Sauce Kit, similar to beanbag or horseshoe games. The game merges his love of hockey and nature and he wants his boys to love both as well.
Stellato rates the Forest Preserve District of Will County as the best in the state and he loves how interconnected the trails are and how therapeutic the woods are, especially the unpaved trails at Hammel Woods.
"You really just feel like you're immersed in nature," he said. "For me, owning my own business, it's super calming. It's some of the calmest and happiest hours of the day. And then for the boys it's a place they can be free, they can run wild, there aren't bikes going by and they can be out there having fun and exploring."