Four Rivers Environmental Education Center prepares to spread its wings
11/29/2021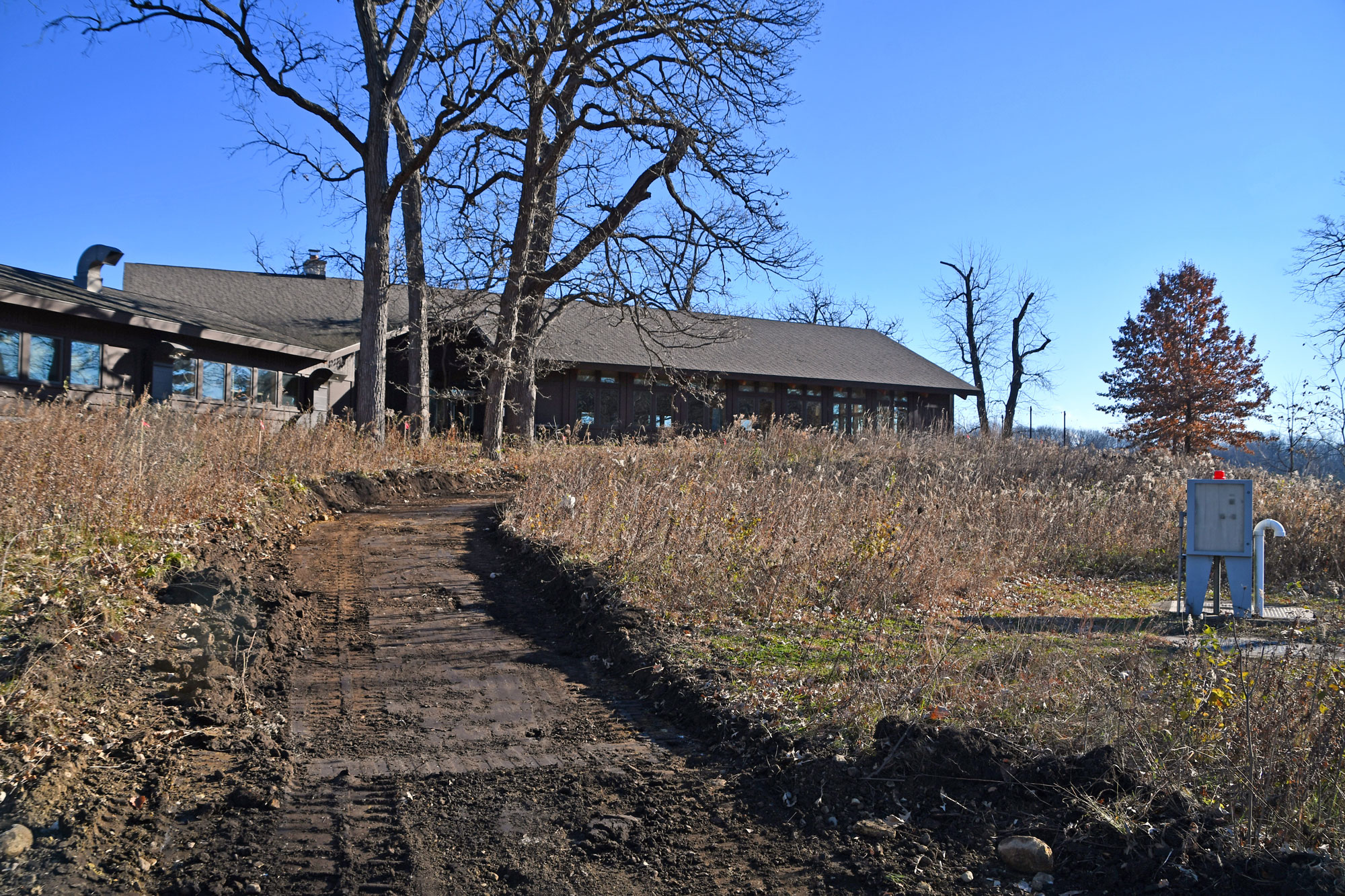 Four Rivers Environmental Education Center – a site in Channahon surrounded by water and teeming with birds – is transforming into a regional draw for indoor and outdoor nature experiences.
The whole plan is to make the building and preserve more user friendly and more enticing, said facility supervisor Chris Gutmann.
"Four Rivers Environmental Education Center will become a fully functioning nature center and it's happening at light speed," he said. "We have the opportunity due to a state grant, so we're making the most of it."
A remodeling project underway now will feature fish, mussel and bird exhibits and improvements designed to enrich the visitor experience. Some of the work has already been completed, including interior remodeling to create more storage and office space for staff.
But more is coming. Four Rivers visitors will be seeing ramped up activity in and around the building in the coming months.
Construction underway
Work is about to begin on an all-abilities trail that will wrap around a portion of the building. A giant aquarium stocked with river fish will be installed inside.
The work is partially funded by an Illinois Museum Grant of $750,000 that was awarded in 2020. Additional funds are coming out of the Forest Preserve District's capital budget for a total investment of more than $1.5 million.
"It's rare to come up with that kind of (museum grant) funding," Gutmann said.
The grant came at a good time, because the visitor center had opened for expanded public use earlier in 2020. Prior to January 2020, Four Rivers was open to the public only for rentals and programs. Now it is open Tuesdays-Saturdays, 10 a.m.-4 p.m. and Sundays, noon-4 p.m.
During a recent tour of the building, Gutmann showed where a wall in the building's lobby will be torn down to make way for the 1,000-gallon aquarium that will weigh thousands of pounds and be filled with the fish that can be found in the nearby rivers, including small-mouth bass, crappie, sunfish and catfish.
A path for all
The all-abilities trail that will lead to Wood Duck Pond will include textured strips for sight impaired visitors, trailside kiosks and panels that interpret different habitats and wayfinding signs to make the site more user friendly.
"It's intended to be an opportunity for people to dip their toes into the outdoor experience," he said. "We deliberately made it short and close to the building in case someone needs assistance or shelter. We tried to think of ways the path could help the most people."
Both the path and signage will be on level ground for those who have mobility issues. And, with advice from Easterseals of Joliet therapists, the District will purchase handheld reader devices for the visually impaired and for those who are not fluent in English. The devices will be loaned out to visitors.
"The devices recite written content on signs and could be used indoors, too," Gutmann said. "They also are GPS equipped, which should help visitors get around the preserve."
The path also will appeal to different senses. A panel on bird wingspans will be 3D so visitors can feel the wings. Another panel will allow path users to know what the orange bump found on pelican bills during breeding season feels like.
Flip panels will show what lies beneath the river. There will even be a scent panel that allows path users to sniff the difference between the smell of a mink and a beaver. Audio panels will include bullfrogs and northern cardinal sounds.
A portion of the funding for the all-abilities trail is coming from a $20,000 donation from The Nature Foundation of Will County. Half the donation is coming from foundation donors and supporters and the other half is a match from J-Power USA and the Jackson Generation Station.
Mussel masquerade
A mussel display will be installed inside the visitor center near the aquarium. Why mussels?
"It's an indicator species," Gutmann explains. "If you have good mussel diversity, that means your rivers are doing OK. Because of the rivers surrounding the site, this is a hot spot for local mussel diversity."
The "Mussel Masquerade" display will explain how adult freshwater mussels mimic minnows to trick fish into swimming by. Once the fish are close, the mussels eject glochidia, or larvae, onto the fish.
"The fish serve as chauffeurs for the baby mussels and when they drop off, that's where their new home is," Gutmann said.
The mussels exhibit delves deep into the river ecosystem that is a big part of Four Rivers and the surrounding McKinley Woods, Gutmann explained.
The building's floor will feature a map that shows how the DuPage, Kankakee and Des Plaines rivers all merge to form the Illinois River near the site, which is located on a peninsula.
Gutmann said the changes are all designed to make the interior of the building more interesting and more fun.
Even the people who plan their events at the site, including many weddings and receptions, are thrilled with some of the changes, Gutmann said. New lights hanging over the outdoor patio are proving to be very popular.
"People have gone nuts for them," he said.
And a wider doorway created for the Grand Hall allows for bigger exhibits and other items to be brought inside for special events, rentals and exhibitions.
Bird is the word
Birds will play a big part in the future Four Rivers experience, too.
A large bird feeding station will be installed outside of the exhibit room window. Visitors can hit a button inside to learn more about specific birds that they see outside at the feeder. Birds are a big part of the site because many birds stop over at Four Rivers during migration, Gutmann explained.
"A big theme for the site moving forward is the nearby rivers and the rivers of bird migration in the sky," he said.
The bird feeder is big, and it includes a large bird bath in the middle that will have flowing water year-round.
"People love bird feeders, so I wanted something that would be difficult for people to replicate in their backyards," Gutmann said.
Other changes that are coming include:
New rock outcroppings at Wood Duck Pond that will be used during pond exploration programs.
An augmented reality sandbox and river table that allows visitors to manipulate the water flow to show how the rivers change the landscape.
A weight scale that will show visitors how much weight they would have to gain to migrate if they were a bird.
Banners featuring pelicans, which visit Four Rivers by the hundreds during spring and fall migrations.
Exhibits inside the Grand Hall that can be moved out when weddings and other events are being held in the space.
Revealing the beauty
The investment in Four Rivers is warranted because the site is a hidden gem, Gutmann said.
"I know that (expression) gets used a lot, but it's true because of its position in these natural river corridors," he said. "Four Rivers has more going on than people realize and it's our job to show them or reveal it to them."
And sites like this are needed, now more than ever, he added.
"Human health and wellbeing are connected. Being in sight of nature or being able to hear birds or just walk in nature reduces blood pressure and stress. These are essential services and it's not a gimmick – you need access to outdoor spaces and nature."